For those who didn't know already, ice hockey is undoubtedly one of the more physical sports on the planet. And, at times, it results in some severe body checks and hits occurring. So, as you will expect, there are occasions when the timing is off or tempers are high, resulting in some horror tackles.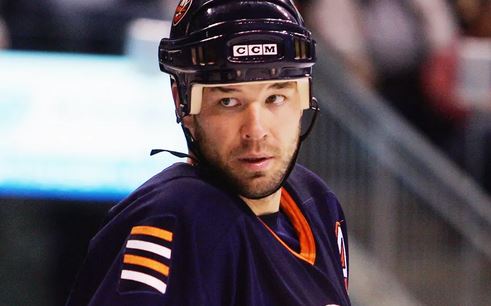 Chris Simon
You could describe Chris Simon as one of the hardmen of the NHL. The Stanley Cup Championship winner received nearly ten suspensions from the league throughout his career and was very much a Jekyll and Hyde character because of his calm nature away from the ice. However, in 2007, Simon collected a twenty-five game ban for hitting Ryan Hollweg around the head with his stick, which he then followed up by stamping on Jarkko Ruutu's leg at the start of the following campaign.
Dale Hunter
Dale Hunter is one of those players who played close to the line, which means he stepped over it on occasions. And, when he did, everybody knew about it. While there are a number of events where Hunter has caused mayhem, it's in 1993 when he checked Pierre Turgeon hard just seconds after he'd scored for New York that stands out. The hit resulted in a serious should injury for Turgeon, and a twenty-one game ban for Hunter, which he could have no complaints about.
Ulf Samuelsson
It's common for a player to be labelled as dirty, but it's not usual to see them known as that for a specific reason. Well, step forward Ulf Samuelsson, who is renowned for hitting opponents around the knee. And, as you will expect, it's an incident involving the knee of a rival that he's well-known for. During the 1991 playoffs against Boston, Samuelsson hit the fittingly named Cam Neely in the knee, which ruled him out for the foreseeable future. Many suggest the tackle by Samuelsson, which Neely never fully got over, as the reason why he was forced into early retirement.
Bobby Clarke
There is a lot to like about Bobby Clarke. He's a Hall of Famer, he captained the Flyers to multiple successes and overcame diabetes. But, alongside all of that, Clarke is also renowned for being an expert when it comes to the dark arts. He used to instigate clashes on the ice regularly, and there are multiple instances where he's let himself and his teammates down, such as in 1972, when he broke Valeri Kharlamov's ankle after hacking at it. As a result, Clarke was on the receiving end of a suspension, and Kharlamov, time in the treatment room.
While there are players aplenty, who have put in horror tackles, resulting in injuries and suspensions. Many will tell you that it all comes down to the will to win. But, we doubt that those on the receiving end, or their teams who must deal with their absence, see things this way.