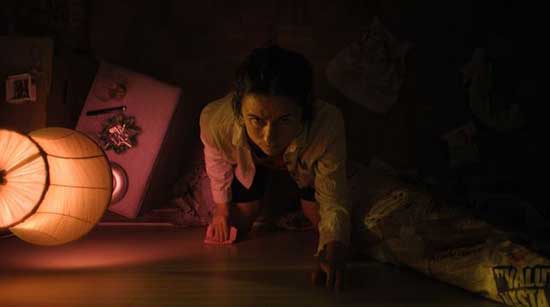 Ahead of the Pre-Cannes Screenings, which run in advance of the 2021 Marché du Film, worldwide sales arthouse genre outfit Yellow Veil Pictures announces the launch of a new North American distribution arm. The company will continue to focus on boundary-pushing genre cinema and will inaugurate the new venture with Frida Kempff's Sundance hit KNOCKING with a planned theatrical and digital release this fall.
KNOCKING marks the feature debut for Kempff who, in 2010, saw her short BATHING MICKEY take home the Prix du Jury at Cannes. The film stars Cecilia Milocco (INVOLUNTARY) as Molly, who after suffering a traumatic incident moves into a new apartment to begin her path to recovery. It's not long after her arrival that a series of persistent knocks and screams begin to wake her up at night. Molly's new life begins to unravel as the screams intensify and no one else in the building believes or is willing to help her.
Founded in 2018 and launched out of the Frontières Market at the Fantasia International Film Festival, Yellow Veil Pictures as a boutique sales company has facilitated the releases of Tilman Singer's celebrated feature debut LUZ by Screen Media, horror maverick Larry Fessenden's return to directing DEPRAVED by IFC Midnight, and most recently repped Philip Gelatt and Morgan Galen King's SXSW adult fantasy animation THE SPINE OF NIGHT, which will see release from RLJE and Shudder, along with the lost George Romero film THE AMUSEMENT PARK, which premiered theatrically in the US last month and on the genre streaming platform Shudder on June 8th.
Director Frida Kempff said "I'm so happy that we are partnering with Yellow Veil Pictures to get Knocking in front of the audience in North America. The team at Yellow Veil has been so supportive and enthusiastic about Knocking and to be the first film out of their distribution arm is really something special."
Knocking is written by Emma Broström and produced by Erik Andersson for Läsk in collaboration with SVT and the Swedish Film Institute through the initiative Moving Sweden with support from Norrköpings Filmfond. Federico Ambrosini served as executive producer on the film adapted from a novel written by Johan Theorin.
Hugues Barbier, Co-Founder of Yellow Veil Pictures says "Distribution felt like the natural extension of Yellow Veil Pictures, as our long time goal has been to be part of the success and visibility of the movies and creators we love. Having the chance to kick off this endeavor with Frida's dazzling and timely debut is the perfect way to convey the company's aspirations, as well as bringing to the North American audience an audacious and necessary experience."
The deal was negotiated by Yellow Veil Pictures Co-Founders Justin Timms, Joe Yanick, and Hugues Barbier with Bankside's Yana Georgieva on behalf of the filmmakers.