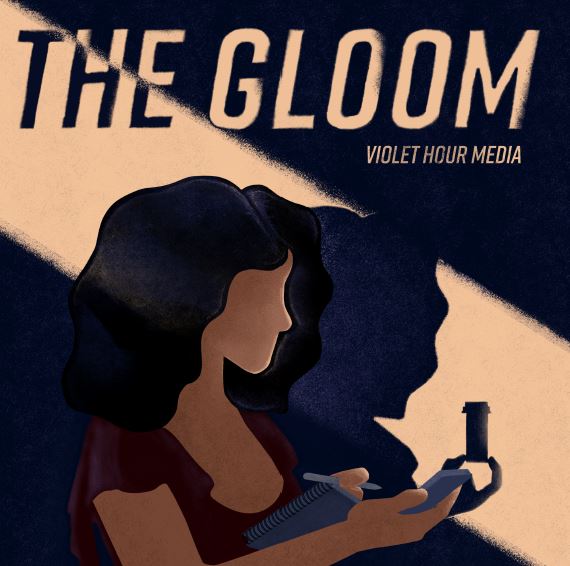 THE GLOOM
Written by Mike Assip, Pete Lancucki
Directed and Produced by Frank Merle
Executive Produced by Cassie Jozefov
A Production of Violet Hour Media
The fourth show to premiere on The Violet Hour horror podcast network, THE GLOOM is a story about a string of heinous, unsolved crimes committed by a group of teens in the 90s, which compels an investigative journalist to uncover the horrifying truth about a supernatural cover-up tied to her own past. It's The Ring meets Serial. This eight-part fiction series explores the seedy underbelly of psychiatric institutions and the mental health industry in a faux true crime podcast style. Starring Tobin Bell (Saw) as the depraved Dr. Lasher.
EPISODES
Episode One: "In Medias Res" / Samantha Williams, an investigative journalist, introduces the infamous unsolved early 1990s cold case of the Filmore Four, a group of teenagers caught up in a ghastly web of murder and destruction, tied to a Queens, New York psychiatric hospital, and quite possibly, their emotionally damaged therapist, Dr. Darlene Harrington. Episode Two: "Bedtime Stories" / After obtaining previously unseen evidence, Samantha dives deeper into the history of the Filmore Four, the hospital they called home, and the suffocating gloom that surrounded their lives.
Episode Three: "Cut Yr Nose" / Samantha examines Darlene's treatment of the Filmore Four and explores just how badly wounded they all were, feeling a commonality to their gloom. Episode Four: "Spite Yr Face" / Darlene's radical treatment methods cause irreparable consequences at Filmore.
Episode Five: "If You Have Ghosts" / After a series of bizarre and unsettling events, Samantha fears that her inquiry into the Filmore Four may be jeopardizing her life. Episode Six: "It's All Come Undone" / In the wake of a violent death, Darlene Harrington's medical practices are put to the test and her treatment of the surviving members of the Filmore Four is jeopardized.
Episode Seven: "Disappearing Act" / Samantha uncovers the true nature of the darkness on the tapes.
Episode Eight: "Elegy" / In the wake of tragedy, Marc Wingard, the producer of Into the Gloom, brings resolve to the story through a startling connection from Samantha's past.
EPISODES: The Gloom is serialized.
SCHEDULE: First two episodes released on 5/10/21, and the remaining six released weekly.
WEBSITE: violethourmedia.com
PRODUCTION
Written by Mike Assip and Pete Lancucki
Directed and Produced by Frank Merle
Sound by John Gzowski & Jean-Marc Brissat
Music Score by Talip Peshkepia
CAST
Tobin Bell as DR. LASHER
Kerry Wieder as DARLENE HARRINGTON
Galen Howard as DR. DECKER
Hunter Johnson as BRUCE RUSSO
Veronica M. Johnson as KIARA WALFORD
Jake Kaufman as DETECTIVE FILARDO
Angeline LeBris as ALICIA HIGGINS
Lanett Tachel as SAMANTHA WILLIAMS
Michael Clark as JOHNNY HIGGINS
James Cowan as MAX
Spencer Ortega as ROLAND IRBY
Charles Riffenburg IV as MARC
Keith Korneluk as CIVIL SERVANT
Danielle Taddei as OPERATOR
Eileen Dietz as DR. GLASSMAN
Erin Killean as BYSTANDER