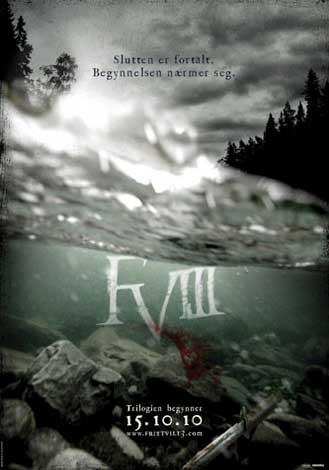 A full trailer in the third installment of the Norwegian slasher series, Cold Prey 3, is now available to view. The first two Cold Prey's(Fritt Vilt and Fritt Vilt II) boasted incredible actors, storyline, and probably some of the best editing you would ever see on screen today. And with the surprising success of both films, Norwegian fans will be treated to a third film come October 15th. No American release date has yet been announced.
The first two films center on a serial killer the size of a Mack truck who stalks and slays anyone who nears the seemingly abandoned hotel he calls home. The third film in the franchise will act as a prequel to the first two films and provide fans of the series with a look at what turned a young boy into the murdering monster he's become. The film is directed by Mikkel Braenne Sandemose and Peder Fuglerud and Lars Gudmestad wrote the script.
Synopsis
Five young friends take a snowboarding trip in the mountains, here lurks a hulking killer. In flashback's centers the killer's childhood and youth in the 80s.
Cold Prey 3 Full Trailer
[youtube]http://www.youtube.com/watch?v=CymhkcuwZOo[/youtube]