DARK OZ presents all-new old-school style sci-fi with "Retro Sci-Fi Tales" #8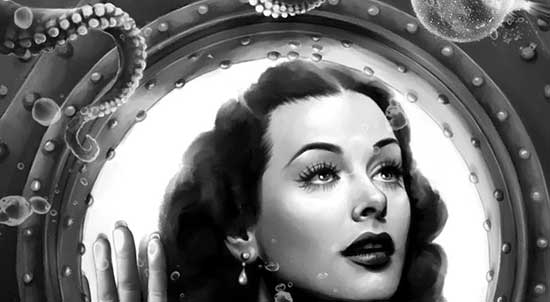 Publishing House DARK OZ is ready for the newest "Retro Sci-Fi Tales" – all-new old-school style sci-fi tales – anthology comics, showcasing Amazing stories & incredible art!
Issue #8 is now being presented on Kickstarter with the comic released mid to late September.
"Retro Sci-Fi Tales" Is Available with two regular variant covers, in equal quantities: The Green by Frantz Kantor, The Blue variant by Michal Dutkiewicz.
Who will LOVE Retro Sci-Fi Tales?
•Fans of classic sci-fi such as Flash Gordon, Dan Dare, Buck Rogers, John Carter, etc
•Readers of comic books like 2000AD, Heavy Metal, Alien Worlds, Weird Science
•Fans of the vintage science fiction authors H. G. Wells, Jules Verne and more…
•Fans of old science fiction magazines in the vein of Amazing Stories, Startling Stories, Astounding Stories, etc
•People who enjoy fun B-grade style science fiction movies from the 1950's
•Fans of shows like The Twilight Zone, Alfred Hitchcock Presents, The Outer Limits, The X-Files, and Love Death & Robots
And look for these two LIMITED EDITION variants – very limited (only 50 copies each)
Either a B&W variant, with the entire 52-page comic printed in Black & White (greyscale) and an exclusive cover, or The 3-D variant cover, with 3-D glasses included. This variant also contains 4 extra pages (56-pages total) featuring the other covers.
Published by DARK OZ – www.darkoz.com.au
Retro Sci-Fi Tales – anthology comics! Six stories per issue by dozens of incredible artists!!!
All-new stories in the classic style of fun sci-fi adventure!
Aimed at adults while kept to a family friendly PG rating – for all to enjoy!
Issues # 1 to #7 are also available – all in 1st prints!
Space adventure, Ray-Guns, Swashbuckling Heroes, Damsels in Distress, Rockets to the Stars, Time Travel, Giant Robots, Jet Engine Cars, Prehistoric Dinosaurs, Invading Aliens, Little Green Men, Bug Eyed Monsters, Martians, UFO's, Shrinking Rays, Invisibility, Space Elevators, Steampunk Safaris, and don't forget your Foil Hat!
All this and more in Retro Sci-Fi Tales!
A big (magazine sized) full colour 52-pages per issue. Anthology comics packed cover to cover with Amazing Stories and Incredible Art (no adverts)!
Six short stories in issue #8
1.Captain Ice: Terrors of the Deep – venturing deep below the surface of an alien planet, to an underground ocean, discovering a spectacular world of hidden wonders… and dangers!
2.The Lakes of Italy – romance blossoms during WWII, yet the events of the war drive them apart. After the war, marvelous new technology assists in finding lost loves!
3.Kat Knightly: Across the Atlantic – resolute reporter Kat Knightly responds to an SOS call, discovering a stranded monorail at a secluded resort on a volcanic island!
4.Marilyn meets the Space Vixens – in the swamps of an alien world, Marilyn and the Space Vixens face the Creature from the Dark Lagoon – is he friend or foe?
5.The Roswell Desert Incident – is it boredom or inherited insanity, in the search for Little Green Men – the results are a contagious conspiracy!
6.Rocket Man – there is no swimming at Lake Eyre, only dry salt flats for land speed record attempts – but what destiny awaits a rocket powered muscle car?
Go to Kickstarter and search for 'Retro Sci-Fi Tales #8', or follow this link – www.kickstarter.com/projects/467328161/retro-sci-fi-tales-8?ref=section-comics-illustration-projectcollection-1-category-distance&fbclid=IwAR1YRZ152iLNZA2UYNEU8l3ht69zladIoLWQ4JfckWH40t3fkQLyl_aSkow