"Unsettling…a brave breakout drama"
"Shocking in its bluntness and intensity"
SEXUAL IDENTITY, VIOLENCE AND MURDER INTERTWINE IN
THIS DARK, ACCLAIMED THRILLER BASED ON A TRUE STORY
AGONY
Street Date: November 27, 2018
DVD SRP: $24.95
The Feature Film Debut from Germany and Director David Clay Diaz,
an Official Selection at the Berlin Film Festival and Fantasia Fest, Will Also be Available on Digital and via IndiePix's SVOD Subscription Service,
IndiePix Unlimited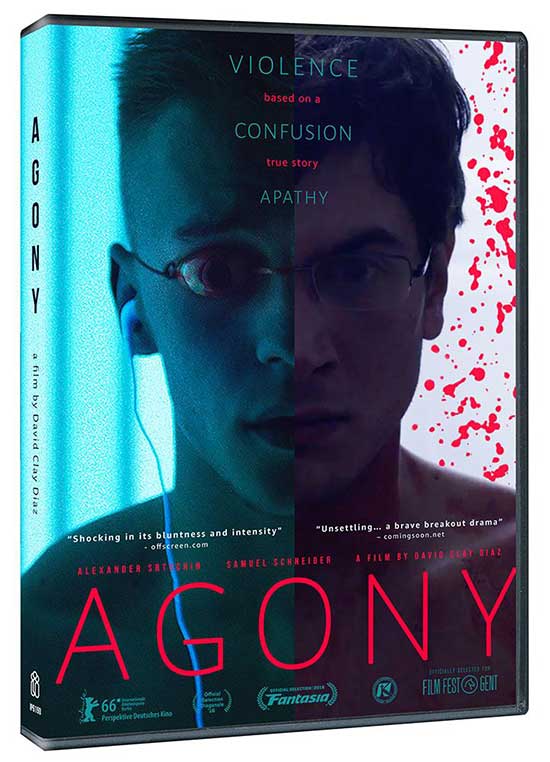 A young woman is murdered, her body dismembered, its parts dumped across Vienna and two suspects emerge without a clear motive: Christian, a law student who sells concessions part-time at a movie theater, and Alex, an image-obsessed rapper/boxer. Each young man is trapped in his expectations, set against the abstraction of a violent post-moderns news-scape. And one of them goes berserk and becomes a violent killer.
Much more than a slasher movie, AGONY, the acclaimed directorial debut from David Clay Diaz – and Official Selection at the Berlin Film Festival and Fantast Fest — is a split-narrative character study comparing two distinct millennials whose stories don't necessarily overlap, save for the fact that they both live in Vienna – if not two very distinct Viennas. Poignant questions of sexual identity are deftly brought to light in this dark thriller based on the true story of a shocking and inexplicable murder.
Along with its DVD and Digital debut, AGONYwill also be available on IndiePix Unlimited, the streaming subscription service of IndiePix Films.  For $5.99 per month at either Amazon Channels or
IndiePixUnlimited.com
, passionate cinephiles get 24/7 access to a highly-curated catalog of cinematic gems from both international auteurs and visionary new voices alike, joins other contemporary classics of world cinema including 2009 Cannes Camera D'Or winner, SAMSON & DELILAH, Iranian artist Shirin Neshat's feature-length debut, the Golden Lion-nominated WOMEN WITHOUT MEN and Noaz Deshe's powerful WHITE SHADOW.