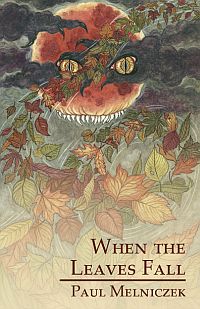 When The Leaves Fall by Paul Melniczek
(Bad Moon Books)
Every town holds its share of secrets.
Some more than others…
Halloween is coming soon to Haverville, and two best friends have decided to test their courage against the local haunted house, Graver's Farm. With the brashness and wildness of youth behind them, Chris and Kyle begin an October adventure which takes them beyond dark cornfields and dusky landscapes, forcing them both down an unexpected path which will change them forever, and ultimately threatens their very lives. The sights and sounds of Halloween surround them at every angle, but the night can wear some very unpleasant masks, as they will soon find out…
Paul Melniczek is quickly becoming to Halloween stories what Santa Claus is to Christmas.
With "When the Leaves Fall" Paul further cements his position as one of the best new authors in horror today. It is a short but powerful tale of small town life, youth, friendship and Halloween.
When Chris and Kyle decide to visit the town's haunted house they discover secrets that would have been better left alone. Secrets that ultimately change everything they thought about their quaint little town.
Coming in at 100 pages this is a book that can be read in one sitting. Which is good because once you start you won't want to put it down until you finish.
If you are looking for a little Halloween to inject into your life during this years Holiday season I would suggest using the links above to get this wonderful Halloween tale, I highly recommend it.
I also have to mention that this a really beautiful book with cover art by Caroline O'Neal.
Book Review: When The Leaves Fall – Author Paul Melniczek