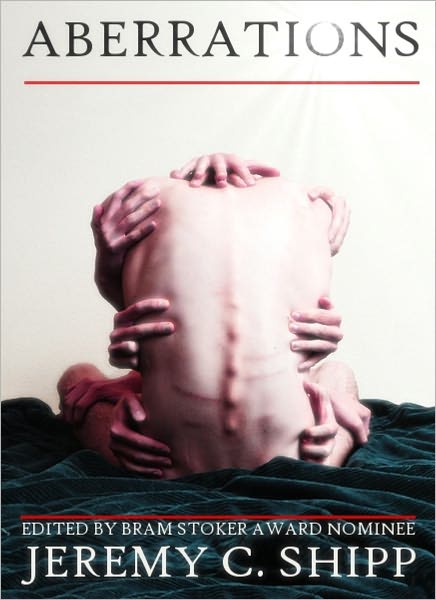 ABERRATIONS
If you take an interest in horror books (which it's probably safe to assume you do, as you're reading a horror book review), then chances are you'll have read, or have heard of, Jeremy Shipp. If you haven't, then seek him out. Maybe start here. This is an anthology of creepy shorts that he's edited and contributed to, all themed loosely with a monstrous subject matter. Here's your non-spoiler guide to the tales on offer.
Money Well Earned by Joseph Nassie
A version of the Mothman legend, with a mob assassin tasked with taking out the mythical creature. Naturally its reputation as an omen of disaster turns out to be true, though there's a clever twist that will catch you unawares.
Bug House by Lisa Tuttle
A girl goes back to visit her Aunt at a creepy old house. Auntie's at home. But unfortunately so is someone, or maybe something, else. A creepy crawly chiller.
The Thing in the Woods by Nate Kenyon
A warring couple's argument escalates into violence and an unsettling encounter with the eponymous wood-dweller.
Survivors by Joe McKinney
When you're a soldier tasked with eliminating legions of the undead, the last thing you want to do is go and get separated from your unit. More than just brains and gore. A zombie tale with a heart.
The Hounds of Love by Scott Nicholson
Another author who's building a reputation for excellence brings us his take on Pet Sematary, a debt which is openly acknowledged in the tale. A young boy from an abusive home buries his dead animals. Gage doesn't come back – but what does is equally chilling.
Goat Boy by Jeremy C.Shipp
Shipp's tales often defy cursory summaries, operating as they do on the fringes of reality and outside the conventional story-telling structures. The best thing to do is enter this surreal nightmare of demonic entities and cannibalism and just hope you make it out the other side in one piece.
Tested by Lisa Morton
A man hits something in his car. While his wife lies injured he has to grapple with a creature that's firmly outside his sphere of experience. Drive safely folks.
Bus People by Simon Wood
You know when you're sitting on the bus, and it stops, and you secretly pray that whoever gets on doesn't come and sit next to you? Well on this particular bus you better pray very hard indeed.
Beggars at Dawn by Elizabeth Massie
I like the ghostly atmosphere of this tale about a soldier returning from WWI to a hard life in the Appalachian mountains. A trip down into an old miners' tunnel leads to an unsettling encounter.
From Hamlin to Harperville by Kealan Patrick Burke
An imaginative exploration of the Pied Piper mythos. The rats, the pipes and the children are all there. But with a gritty and scary 21st century twist.
So there you have it. A solid anthology, with a wide range of writing styles and subject matter to enjoy. Or not, if you're of a nervous disposition. Four Black Stars. 
Book Review: Aberrations – Editor Jeremy C.Shipp