EXCLUSIVE HORRORNEWS.NET INTERVIEW:  NICHOLAS GRABOWSKY
BLACK BED SHEET BOOKS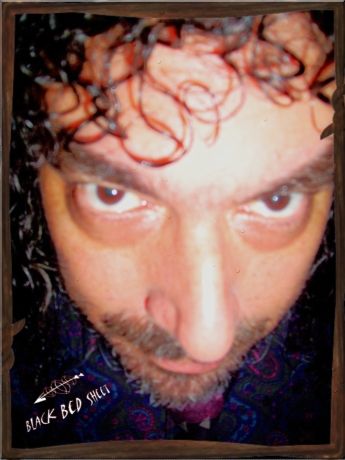 What is the secret to writing great horror?
I can't tell you because it's a secret. Actually, it's just common sense. First, you have to write. Then, you have to learn to write great. When you got that pegged you'll find you've been writing what's in your soul all along, and if what's in your soul happens to be horror, then you're writing great horror.
What is Black Bed Sheet books?
They are "fine publishers of exemplary literature, fiction & non," but specialize in horror. In 2008 I came to a point in my career where launching a bona-fide publishing venture and committing to it for perhaps the rest of my life was a road I needed to travel down, a venture which would not take away from my own author pursuits but rather compliment them. My publisher at the time abandoned me and a 150+ title publishing house, and in the aftermath of destruction I found a lot of authors looking to me for direction and I took on the old adage if you want to get something done, you gotta do it yourself. In no time I created a name (black bed sheets are versatile…..you know: drapes, Halloween costumes, table covers, photo session backdrops) logo, website, standard contract, registered it as a business, gathered a stable of authors, developed long and short term goals. Since then, I spend a full-time job of thousand-hour workweeks as its owner and operator. On a typical work day I'm kind of like a mad scientist in front of several laptops either at home or my Antelope business office, spending late nights swimming in a variety of liquid stimulants.
What makes Black Bed Sheet Books unique and exciting, though, isn't something as humdrum as me staring at computer screens or perambulating about in circles scheming for new ways to take over the publishing world as we know it. It's designed for author participation to the point of not only a teamwork between author and publisher, but between authors themselves so we all bring new ideas and ambitious efforts to the table for the benefit of all in a mutual effort to sell our books and push us forward. We pride ourselves on creativity, ambition and innovation. One thing that BBS has certainly become, hands down, is a place where authors go to be somebody. We are bleeding hearts for unsung talent, as well as taking established authors further in their careers. Authors are most important to us, for what are we without them?
How does an author become part of Black Bed Sheet books?
I'm accepting submissions right now. Go to our website: www.downwarden.com/blackbedsheet and click on "submissions" for more details and contact info. Query with a bio, synopsis, and first three chapters or three stories if it's a collection. Horror fiction is our focus. But take a look at the titles we publish and tell me why I should publish you.
What books should our Horrornews.net readers be on the look out for?
With me, always my Red Wet Dirt collection and its comics and graphic novels from A Shot in the Dark Comics. They have a different team working on each project and they are doing a phenomenal job bringing those stories to wonderfully illustrated life, as professional as Marvel. I'm also releasing a more affordable print version of my trademark horror epic The Everborn. With Black Bed Sheet authors, Gabrielle Faust & Solomon Schneider's Revenge is due out in time for Christmas, as well as Horn's slasher sequel Chophouse 2, Matthew Ewald's (star of the Fox Kids show GALIDOR and the movie TERMINAL ERROR) ghost chiller Whispers in the Cries, and more from the sensational Sue Dent of Electric Angel. With BBS, there's always books to look out for!
I'm curious to get some details on The Swiss Robber Show?
Somewhere around the end of fifth grade, nineteen seventy-something, when I was just getting over believing I was a "super vampire" since before kindergarten, I started drawing cartoon characters that resembled either musical notes with eyes or terribly-drawn human bodies with peanut heads. I was obsessed with Sunday morning newspaper comics and adapted my characters into paneled strips with simple stories with humorous endings, just like in the newspaper, and I called the thing Gooneyville. By the end of the sixth grade, the whole school was familiar with it, I had drawn piles and piles of Gooneyville stuff and regularly distributed it throughout the school and to my neighbors, and I had about a dozen friends drawing their own comic characters and paneled stories too. One kid had his own cartoon universe of puppies.
I soon started scripting movie-length stories based on Gooneyville and turned them into audio books with teachers and classmates voicing some characters, and by then I had my own voices for my main characters. One audio book was actually a musical called Swiss Robber Come Home, inspired by the cartoon Snoopy Come Home, and I wrote and performed all the songs. The Swiss Robber was Gooneyville's main character, two half-notes stuck together with eyes and something like a Zorror mask. At one point, I pulled together several cassette recorders and a CB radio, scripted and started a radio show that actually got listeners. And they were all truckers. I'd sneak a tape recorder with me to the movies so on the show I could edit the audio and interview Darth Vader or Captain Kirk or Superman. I had segments where I'd do an array of different voices and celebrity imitations like Groucho or Chico Marx or Jimmy Durante. And I called that the Swiss Robber Show. That phase of my life was over around the seventh grade, around the time I got interested in girls, my parents traded their involvement with a Chinese Christian cult in for a devotion to holy roller speaking-in-tongues sorts of churches, and my creative side wrestled between writing screenplays and acting and the increasing desire at the time to be a rock star for Jesus.
What are your memories of Antonio Moreno?
He died around the year I was born. In fact, from what I've been told, his side of the family avoided the other. At some point before I was born, my grandmother, my mom and my aunt visited his Beverly Hill mansion and whoever was there wouldn't let them past the door. His real name was Antonio Monteagudo, and when he changed his legal name to his stage name so did my grandfather, his half brother, and apparently Antonio didn't like that. I think his family was ashamed of his half-brother status somehow. But he was one of the biggest silent film stars there ever was. He got typecast when films turned into talkies, and these days he's most known for playing the chief scientist in the original Creature From the Black Lagoon. I'm certain if I met him nowadays we'd get along famously.
How did you become involved in Halloween IV?
A few months after my first novel, Pray Serpent's Prey, was accepted by my first publisher, Critic's Choice Paperbacks, and after I quit my job as a security guard to write full time and I was looking for more writing deals, that publisher telephoned me and explained how he was handed the script for a film currently in production and he needed someone to write the novelization. It was Halloween IV, and I couldn't believe they were making another one. And unlike III, Michael Myers was back. So it was a sweet opportunity. But I had one month to do it. I met my deadline, typing the manuscript on an electric typewriter and mailing it in, and when the movie came out, the book did, too. By the time of its release, I had taken on a part-time job in a video store and people actually used to go in to the supermarket across the way, buy Halloween IV, and bring it in to the video store for me to sign while my boss would get on my ass that I wasn't straightening the shelves fast enough.
Do you have an opinion on where the Halloween franchise should take the story now?
Yes, a very strong one. First, I must say that Michael should be revived in literature because there's an audience for it and it'll help get horror movie fans to read more, which is part of my grand scheme. As for films, I'm an old school Myers fan, though Zombie's reinvention was entertaining. I say take Michael Myers in the way a graphic novel would, without it being a remake or retelling but a stand-alone story, and not an origin story. Use fresh actors, respect traditional characters, and have Michael be the element of mystery again, the Boogeyman, without explaining him away too much, and he should be genuinely terrifying.
I know it's hard to pick a favorite but out of all your creative writing, what do
you hold closest to your heart?
The Everborn. It took me twelve years to write, it's epic, it's very autobiographical, it's a part of me, my single greatest creative achievement. At least, so far. Readers and the industry alike took me seriously after I first published it myself around 2002. It's funny, because after close to a dozen works traditionally published since the '80's it took a book I self-published to make me a respected and happy horror author. The Everborn is an aliens-among-us dark urban horror fantasy that incorporates serial killers, fallen angels, alien greys, genies, horror writing, time travelling, undead ufologists, ghost babies, Penticostal preachers, Sunday School acid trips, Dark Ages lore, Biblical lore, the meaning of life and rock n' roll. And it's very easy to follow.
Do you have any advice for up and coming writers?
You'll only get as far as your ambition. Find your voice if you haven't already, and if you haven't, keep at it and you will. Get into your work and have fun with it. Create challenges and go for them, and don't be afraid to experiment and let go. Favor creative abandon over fear of expression. Don't limit your imagination. Show your passion. Write from personal experience and use it as therapy. Get to know your craft, surround yourself with successful others in your craft, sell yourself to readers and be extremely grateful to them all, develop a strong body of work, demand the naysayers in your personal life eat horse crap, and never give up.
Interview: Nicholas Grabowsky (Black Bed Sheet)