EXCLUSIVE HORRORNEWS INTERVIEW: GEORGE "THE ANIMAL" STEELE
PROFESSIONAL WRESTLER AND ACTOR (MOVIE: ED WOOD)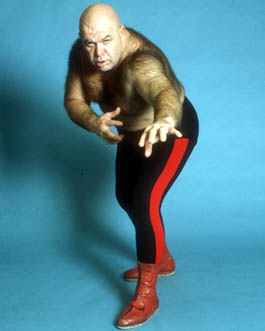 How did you get involved with Ed Wood?
Tim was looking the right person to play the part of Tor and my name kept coming up.
You worked with a lot of talent in Tim Burton, Johnny Depp, Bill Murrey, and Martin Laundau. How was the experience of working on the film, Ed Wood?

Ed Wood was like working with family.
Did you ever personally know Tor Johnson?
I never met Tor. I did learn a lot about Tor while researching the for part.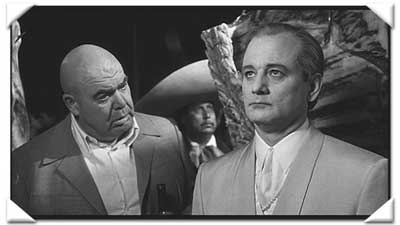 Do you have any favorite horror movies?
I enjoy fun films and there is humor in most horror movies. I do many personal appearances at horror movies festivals and really enjoy the folks..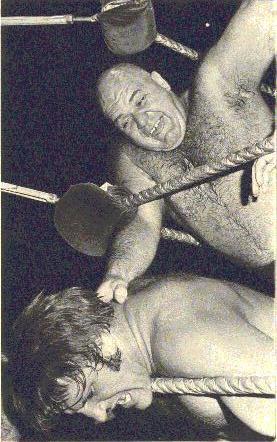 How did you first get involved in Pro Wrestling?

I was not a wrestling fan but need money. I was making $4,300 dollars a year teaching and coaching in Jr. High School. With a wife 2 children with another one on the way I need money. I umpired little league. Worked Wednesday night recreation dances. We were not making it. I taught drivers training in the summer time. I delivered flowerers on holidays.
I had to find a part job for us to survive. I decided to get a job as a bouncer in a bar. I figure I had great resume for a job like that but I did not like the idea. One thing I can tell you if you are looking for a job as a bouncer in a bar don't take a friend along and drink a few beers. Needless to say I did not get a job that night. The bouncer job would have paid $15 dollars a night.
Dave Perice was my drinking buddy that night. Dave was a big wrestling and had always told me that I should become a wrestler. Will I was not a wrestling fan and thought wrestling was a big joke. At 2:30am Dave talked me into calling the local wrestling promoter Burt Ruby to see about becoming a professional wrestle.
To my surprise Burt Ruby invited me over the next day after school. I had no idea of what to expect or what I was getting into and I didn't care I needed money.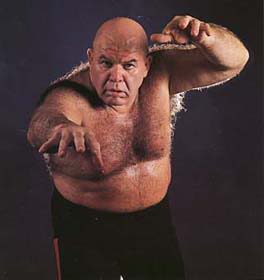 When Burt answered the door he took one look at me and said "beautiful" I thought aught oh a gay blade. I new I was not beautiful. Will Burt invited me in and introduced me to his wife mother in law and children and I relaxed.
He then took in his den and started asking me all kinds of questions mostly about athletics. He then ask me to take my sport coat and shirt off. when he saw the hair on my body he went into a frenzy (this scared me I figured Burt was a switch hitter). He then explained to me that one of the most important things in professional wrestling was how you look and that I had a special look. He seemed to like what I had to offer. I told Burt that I had a conversation with Foster Wilkinson, the Superintendent of the Madison School District. Foster said that I should wear a mask when I wrestled. Burt agreed and we decided that I would be called The Student. Burt set it up for me to meet some wrestlers in the basement of a church in Windsor Ont.
What inspired you to create the wild character of George " The Animal " Steele ?
I must have impressed someone from New York when they visited Cobo Hall. A while after there trip to Detroit I was invited to wrestle Bruno Sammartino in Pittsburgh Pa. I was so excited that I could hardly contain my self. I was going to wrestle for the World Championship against the World Champion. Do I sound like a mark? Will as I look back I was a major mark(THAT WAS A GOOD THING). When I arrived in Pittsburgh I was prepared wrestle as The Student. They did not want me to wear a mask and wrestle as The Student. I did not want to use my real name. Johnny DeFazio suggested a new stage name for me, "George Steele," in honor of Pittsburgh, the steel city.
I'm a wrestling fan of George " The Animal " Steele as a heel/bad guy / which did you prefer playing the role of , face/good or heel/bad?
I was a natural heel and enjoyed playing that role. I am not sure any other could have the switch that I made. A wild brawling heel to a lovable cartoon character. I enjoyed both roles.
The very first wrestling match that I saw on television was on Saturday morning and it was a tag team match w/ George " The Animal " Steele & Killer Khan ! You guys just destroyed your opponents. I was hooked. You've had a long history of memorable matches from Bruno Sammartino to Randy "Macho Man" Savage. Do you have a favorite career match?
I had so many matches that were over the top it hard to single out one. If I had to name one match that stands out it would be the funniest match that I ever had.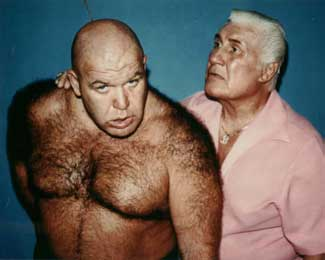 The Television rating week was coming up and promoter in Pittsburgh told me that "The Animal" was going up against Victor, the wrestling bear to boost TV ratings. There was two mistakes. Number one It was really Important to me that I be ask to do something. ( that old leverage thing) Number two I thought wrestling a bear was an insult to the profession and to me. So I told the promoter no that I would not wrestle the bear.
They did not get it. They went ahead and advertised The Animal vs The Bear. They plunged it all week. I told the promoter that I was not going to wrestle The Bear. Sure enough when I pulled into Channel 11 parking lot there was the bears truck and cage.
The promoter was begging. He told me that we could lose the TV time if I didn't. The promoter said Victor was trained, de-clawed, and would be muzzled. I argued that I was not afraid of the bear, . He urged me to enter the ring, launch into my wild animal antics, then the bear's trainer would jump into the ring to wrestle the bear. I finally agreed.
Poor Victor had been trained to wrestle humans , but had never seen anything quite like "The Animal." A few minutes into my shenanigans Victor got extremely nervous – so nervous that he emptied his bowels all over the ring as he scrambled in all directions to get away. I spun around to face the announcer, Bill Cardell. "Look at that! I scared the sh*t out of Victor." Cardell's mouth fell open as he stared at me dumbfounded.
I had forgotten that the bout was being televised – Live! – that the microphone was on, that what I had said was instantly broadcast across TV land. Television screens in homes went black, but Victor was still dashing around the foul-smelling ring, slipping and sliding in his own mess. This match really stunk the place out. I was never asked to wrestle Victor again.
We recently lost a great manager, Captain Lou Albano. He was your manager for awhile. How was it to work with the Captain?
Captain Lou Albano was much more then just a wrestling manager. Lou was a very close friend and yes The Captain was one of a kind.
Interview: George "The Animal" Steele (wrestler)