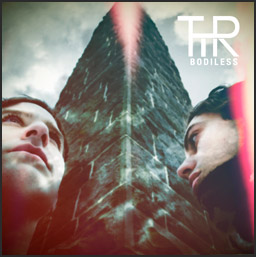 How did TWITCH THE RIPPER get its name?
The name comes from referencing Italian giallo films from the 60's and 70's. It's a bit of a play on few of the tittles that have influenced us artistically.
I think it's safe to assume that if you're a horror fan you like a good song, and if you a music fan you like a good horror movies. Does TTR have a favorite horror movie?
I love the favorite horror movie question because it's usually holds a variety of answers. My favorite horror movies usually are Blood and Black Lace, Buio Omega or "Beyond The Darkness" (a film I usually tell everyone who loves horror to see), The Man Who Laughs, The Howling, Black Sunday, Dracula, Deep Red I could go on, and on. I'm also sure you could ask me this next week and I'll have different movie answers for you.
If you look at some of the coolest rock and metal t-shirts, they scream horror. They're always plentiful with skulls, vampires, and zombies. Do you think there is just a natural connection between music and horror?
There is definitely a connection between music and horror, possibly more so with fans of experimental and/or aggressive genres. Whether it's electronic, indie or metal, I think those particular fans are drawn into the vibe it screams out. You can hear how certain styles will play nicely into soundtracks for the imagery. We have also incorporated a good amount of horror based images into our merch, and our fans have been able to pick out those films they belong to. I am influenced by classic American horror from the 20's, 30's and 40's, along with Italian giallo films of the 60's and 70's, so our visuals tend to be based in the genre. We have made shirts with images from Tod Browning's "Freaks", Argento's "Opera" and Bava's "Blood and Black Lace." At the moment we are working on new designs based on Val Lewton's "Cat People" and Bava's "Lisa And The Devil" and/or "Shock" for the spring.
Do you think horror fans will get behind TTR's Bodiless?
I think a good amount of horror fans do like Bodiless. In a funny way, I think fans of older horror, and artsy horror films may possibly like it more, but I could be saying that just because those are my tastes. A lot of reviewers have commented on an eeriness that is thick on the the record. The sound can be gloomy, while the lyrics and images they portray tend to be on the darker side so that is something horror fans cold possibly relate to.
How long did it take to record Bodiless?
The recording process was quite lengthy. We had a few months of pre-production leading up to tracking and mixing, then spent 2 solid months in the studio. We worked 10 hour days (sometimes more, especially towards the end), and 7 days a week. We also lived in the studio during the session. I remember tweeting about being in the studio after one of our final studio/video updates and people would constantly tweet back, "You're still there!?". It was really funny because we were definitely were reaching a level of crazed. I'm sure we will have a different process when we begin to record our follow up LP.
Do you have a favorite song off the Bodiless album?
I'd have to go with "Bright Is Impossible" and "A Place For Polaris." You can hear our influences and our direction for our future pretty clearly on these. It's a nice, reassuring feeling to know that a lot of the fan favorites are also mine. I do think they are a good representation for the band.
We've all heard of different "horror" stories from bands on the road. Does TTR have any memorable or scary incidents that happened while touring?
Luckily we haven't had any real bad luck on the road, and nothing worthy of a "horror" story. I am sure we are due and will get ours this spring. We've been really lucky with worst cases being forgotten gear, or accidents happening right in front of us. Now, I look forward to getting back on the road and really getting our horror story!
Are there any bands who you would absolutely love to tour with?
Eventually I'd love the opportunity to tour with someone like Fever Ray, A Place to Bury Strangers, Yeasayer, Ladytron. We had the pleasure of opening up for Nitzer Ebb last fall and would love to do a full tour with them.
Ok, If you could pick one of your songs and feed it into any horror movie at all. What song and horror movie would you pick?
I don't think I ever thought about that. Let's see, how about the outro from "A Place For Polaris" playing during the bathtub murder scene in 1972's "What Have You Done To Solange?"That would be intense.
What does the future hold for TWITCH THE RIPPER?
Right now we are rehearsing like mad men for our upcoming full US tour in support of Bodiless. We will be supporting two great acts, but we can't announce it yet so be sure to check our website very soon and to see if we will be coming to a city near you! (www.twitchtheripper.com). We are also working on our second remix EP which will hopefully be out this summer. And as long as we are home rehearsing, we are constantly writing. With that said, I wouldn't be surprised to hear new material from us this fall.