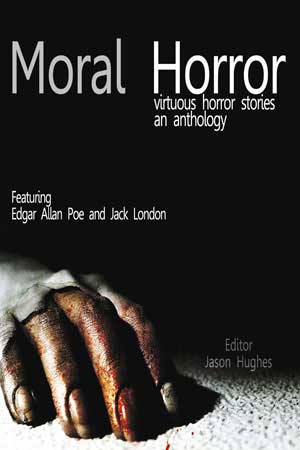 MORAL HORROR
Author Solomohn Ennis
Elise Hammersburg,  Jason Hughes (Editor)
Published by Black Freighter Productions
Publication Date: 2009
Format: color – 116 pages
Price: $15.00
I'm a sucker for short horror stories. Having just checked out the new horror anthology titled Moral Horror, I wasn't at all disappointed with the contents that were contained in this thin book. The stories themselves were dark in every sense of the word. Whether you have an appetite for a lot of gore, or if you're one of those people who love unhappy endings. This book has it all.
There's even a classic within the pages of this book from the master of horror literature himself, Edgar Alan Poe where we get a little refresher of his piece Masque of the Red Death. It was truly refreshing to see that short story written in the pages of this book. It goes to show that the editor who was responsible for putting together the book knew the type of stories he wanted within the pages.
If you're looking for that one of a kind story that will creep the hell out of you, then Moral Horror is that story. Some of the material is depraved as hell. One such story is Brimstone Broadcasting. If you want sick and twisted just read that story and find out what mankind is really capable if they want to be sick and demented. The other stories are written exceptionally well. The Room of Evil Thought was visually creepy upon reading it.
The other stories were well crafted and well thought out. If you're looking for a truly genuine creep out factor, then look no further in this horror anthology. Some of the best stories are written within, each of them are thought provoking and would have you wondering would be capable of committing a heinous act of violence like those of the characters within each story has committed? Just how far would you go to do something very sinister to another human being? To find out these answers, you would have to read this collection of short stories that are meant to terrify you and ultimately disturb you because those are the intentions of the  writers who present these short horrific tales to the reader.
The authors manage to do a very fine job of getting under our skin when they tell their tales of the darker side of humanity. They show us just how sinister a human being can possibly be as we gaze into the minds of these monsters disguised as ordinary people. These people could be anyone, our next door neighbor, a friend, a lover or it could even be you.
There's no limit as to what goes on inside the mind of someone who's capable of committing heinous acts of violence towards another human being. Contained within this book are some of the most horrific examples of just what anyone is capable of doing. Everyone has a dark side to them. Deep inside their very beings, there exists a monster in each of us. Something that's just dying to get out and do the most unspeakable act of violence that anyone could possibly do to another human being. The  authors do one hell of a job in painting us a horrific picture of just how sick and depraved we could possibly be as we get down to the root of all evil and see how truly horrific and ugly it can possibly be.
The stories written within are meant to shock and disturb you. They're meant to make you sit there and ask yourself, "Can I possibly do something as terrible as killing another human being? Do I even have it in me to take a knife, or a gun and use it against someone who I really want to kill?" Those are just two of the questions that you can ask yourself once you're finished reading this novel. The rest I'll leave up to you. Are you a monster? Can you plunge a knife into someone?
Available from Black Freighter Productions
Available from Amazon