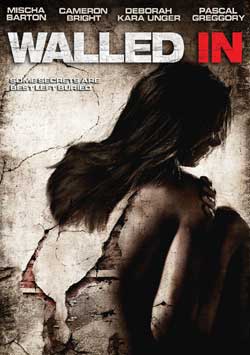 SYNOPSIS:
Young engineer Sam (Mischa Barton) is hired to oversee the demolition of a remote building. However, she learns that the architect, in a perversion of Egyptian mythology, buried people alive in the walls. As Sam works to unravel the mystery behind this awful place, she is haunted by the spirits of the victims — and the discovery that she may be next to die. Cameron Bright and Deborah Kara Unger co-star in this eerie thriller.
REVIEW:
You see so many repeat scenarios it's refreshing when something new comes along. Walled in, directed by Gilles Paquet-Brenneris filmed at one of the coolest building sets I've seen on awhile. As Mischa Barton who plays Sam Walczak in the film says its like its own gotham city in the middle of a marshland. Never has this been more apparent in the walk thru's of this enormous bit of architecture.
The story begins with a young girl walled into the architecture being buried alive as fresh cement pours in from all angles. As we cut to future tense, Young engineer Sam has just gradauted college and as a gift from her father has been appointed partner of the family business which deals with demolition of condemned buildings. Sam essentially goes in and lays out the demolition plans beforehand to send the specs back to the company for final demolition. Her first assignment happens to be this gigantic unique architectural structure (an apartment building) located out in the middle of nowhere. The structure is the product of Joseph Malestrazza was an eccentric architect obsessed with Egyptian architecture. Sam must deal with her first time out fears and the fear of a location that isunlike any other. Add to this, a strong fear of the dark and a sort of haunted sense that plagues her nightmares.
Back story of this monolith of a structure comes in the way of 14 years prior where 16 bodies were found entombed in the building. With the killer never really proved it was thought to be the result of a disgruntled engineer who had worked on the building. The rest is revealed over plot reveals along the way. Though for good measures, this is one creepy, enigmatic strange building that seems to demand more respect than a simple demolition order would entail. Mischa plays the cautious but confident role of demolition engineer with great ease. Deborah Kara Unger who plays Mary Sutter comes to the film with her usual talent of an offbeat mysterious lady with too many secrets. Even without saying a word, that notion alone can be seen in her eyes and emotionless demeanor. Cameron Bright as the role of Jimmy Sutter is soft spoken, shy and mischievous. While we never really trust him enough to buy the bread he's selling there is still is a innocence that follows through his performance. Jimmy takes a love interest in the Sam, though she plays it off as a crush of sorts that she entertains through most of the film as a quick friendship.
The film itself is the film version of best selling French thriller Les Emmeures by Serge Brussolo. It is apparent even with all the acting talent on board that the building is the true star. Even in the way it seems to hover over its barren environment suggest it to be a world within itself. Bertrand Seitz who supplied the art direction has been able to fully engage the audience in a believable world of its own. In fact in before watching the extras, I wasn't entirely sure it was a set as its shot so well on screen. Even the distant cutaways of the buildings outside suggest a a real potential structure lost in time. a remarkable accomplishment considering everything was set created and yet played off the actors, off the light and and off the narrative with great believability.
The thrill of this film is in its unsolved mysteries, allure of architecture and reveal of a truly eccentric mind. The plot cleverly uses all these elements to evenly work among themselves. The horror is subtle but strengthened by scenes of being buried alive, the sensibility of isolation and even the simple element of finding yourself thrown within a strange new environment that holds onto to its history as dark as it may be. Strangely fascinating and eerily intelligent.