Greetings, boys and ghouls! Welcome back to Horror Talk, hosted once again by your friendly neighborhood gorehound and indie filmmaker extraordinaire, Travis Legge. I have not gotten the ax as of yet, so apparently I must be doing something right!

Let me begin by giving a big thank you to the readers who shared and reposted the link to last week's article. I've already had the fortune of making some new friends and finding a few new fans as a result of this column! I'm always pleased to hear what you, the reader, thinks and what you would like to see. So, by all means, find me on twitter or Facebook and shoot me some feedback.
So let's get down to business, shall we?
In movie news, the Silent Hill sequel has been announced. Silent Hill 2: Revelations 3D will be filmed this winter in Toronto. The sequel will be written and directed by Michael J. Bassett (Solomon Kane) and is being produced by Samuel Hadida and Don Carmody, the producers behind Resident Evil: Afterlife 3D. According to the Internet Movie Database the story will focus on Heather Mason, who "on the eve of her 18th birthday, plagued by horrific nightmares and the disappearance of her father, Heather discovers she's not who she thinks she is. The revelation leads her deeper into a demonic world that threatens to trap her forever."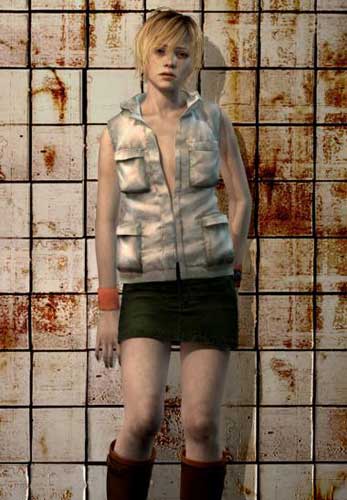 The synopsis sounds very much in line with the Silent Hill mythology. As a longtime fan of the video game franchise, I can't wait to see what they do with  this film. I would love to seethe 3D technology integrated to create an immersive atmosphere, rather than simply used to throw objects and creatures at the audience in a torrent of jump-scares.
The highly anticipated remake of the classic Troma film Mother's Day has settled on an April 1st release date. With Darren Lynn Bousman directing and Rebecca De Mornay playing the role of "Mother" I, for one cannot WAIT until April. No foolin.
Uwe Boll Released trailers this week for two films: Bloodrayne 3: The Third Reich and the campy superhero comedy Blubberella. While I'm personally apathetic toward the latest installment of Bloodrayne, I watched the trailer fro Blubberella and just about laughed myself to death. Blubberella apparently pokes fun at Bloodrayne 3 by focusing on a morbidly obese dhampir who fights Nazi vampires.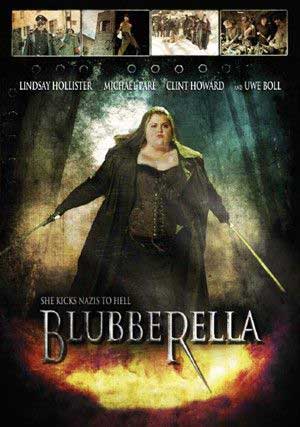 Based on the reception of Boll's previous Bloodrayne films, I think its great that Blubberella is coming out. It gives the fans a chance to laugh with Uwe Boll rather than at him.
Being an indie filmmaker from the Midwest, I would also like to make you aware of a few productions coming right out of the Illinois/Wisconsin Stateline area. First up is Justin Romine's Afraid of Sunrise. Taking a cue from True Blood, Afraid of Sunrise tells the story of a world in which vampires have gone public with their existence. These vampires are treated as second-class citizens and forced to feed at government-controlled blood banks. Toss a former vampire hunter who has fallen in love with a vampire, a vampiric conspiracy to overthrow the government and a cast including the ever-lovely Deneen Melody (Slices of Life) and Tom Lodewyck (Incest Death Squad, Incest Death Squad 2) and actor/producer/writer Andy Schatner (Innocent Looks).
Afraid of Sunrise is currently filming, and is projected for a 2011 release. You can learn more about Afraid of Sunrise on their Facebook fan page.
Speaking of social media, ultra-low budget filmmaker Ron Purtee has just finished shooting his shirt film The Social Media Massacre in which online dating via social media turns into a horrific nightmare.
Purtee has been running a social media based advertising campaign, which is rather tight lipped about the actual content of the short film, but plays heavily on the idea of lonely hears online becoming victims. On Tuesday he unveiled the short film, which you can watch online at http://www.becomingundead.com/ The Social Media Massacre has already generated some solid buzz from various horror news outlets, and Purtee is currently working on a feature length script based on the short. After seeing Purtee's previous short Becoming Undead, I will be watching closely to see how The Social Media Massacre unfolds.
At the Box Office, last weekend's top films, Saw 3D and Paranormal Activity 2 slipped to the number 5 and 6 positions on the charts, slipping quite a bit from last week's top two positions, but remaining firmly within the top ten.
Personally, I was thrilled to find I Spit On Your Grave still showing, unrated, on two U.S. screens!  Where they killed Hatchet 2 in less than a weekend, it seems that I Spit on Your Grave has been able to survive being unrated in independent cinemas for five weeks, so I'd like to offer a well-earned round of applause to all the filmmakers involved with that picture, and the theaters with the guts to keep supporting unrated horror!
For those of you who have a ridiculous amount of disposable income and a hunger for old school horror movie posters, Heritage Auctions will be selling a one of a kind 1935 teaser poster for The Bride of Frankenstein this coming Friday.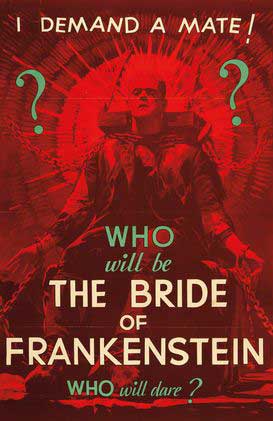 Apparently experts are saying the poster should go for around $700,000. If it does that will make this the most expensive movie poster in history. So break open your piggybanks and get to bidding!
In television news, it came as no surprise to anyone that AMC's The Walking Dead has been picked up for a thirteen episode second season. Over four million people tuned in for the second episode last Sunday, and the show is receiving a seemingly universal approval from fans and critics. As a fan of the comic, I couldn't be happier.
Frank Darabont has spoken often of planning to stay with the same framework laid out by Robert Kirkman in The Walking Dead comic book, while using the medium of television to take detours and explore aspects of the story that the comic has not touched on. Sunday's episode marks the first major detour we have seen, with the introduction of Merle Dixon, a white supremacist played by Michael Rooker.
Based on the previews for the next episode, this departure from the comic canon looks pretty interesting. If you have not yet seen The Walking Dead I highly recommend getting caught up by this week and joining in on the fun. It looks like this series will be around for a while.
Speaking of comics, Angel fans will be pleased to hear that IDW publishing is releasing a four part miniseries called Angel: Illyria. This miniseries will deal with Illyria's guilt over the nature of her rebirth. Enlisting the aid of Angel and Spike, Illyria will begin "a quest that will take her back into her past, and face the consequences of being made whole again in a world she does not belong in."
Angel: Illyria issue one hits comic book stores today.
That wraps it up for this week. Thank you so much for joining me for Horror Talk. I hope you had half as much fun reading it as I did writing it. I look forward to your feedback, and I encourage you to visit the Author Site link below to see what I'm up to. Drop me a line, let me know what you think of the article, my work, or whatever strikes your fancy.
Before we put this thing in the ground, I would like to extend birthday wishes to Neil Gaiman.
It would be nothing short of criminal for me to try to encompass your contribution to the horror genre and the literature of our time in a single blog post. Thank you so much for your work!
Many Bloody Returns,
Travis Legge