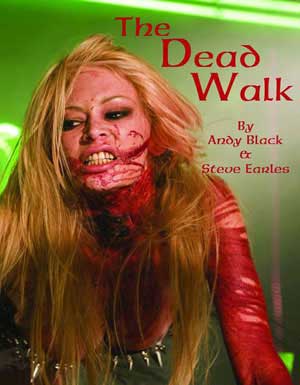 THE DEAD WALK (PAPERBACK)
by Andy Black, Steve Earles
Published by Noir Publishing
Publication Date: 2009
Format: Black /White with color photos – 288 pages
Price: $28.95
Before even reading a single word I'm sure any horror fan would be impressed with this book. with 288 pages, color photos on almost every page and printed on great stock nicely bound this is a fine addition to horror reader libraries. Now depending where you purchase it, $21 is a drop in the bucket for such a nice product. Ok course almost everything that comes from the UK blows away USA printing but this product especially is a great find.
The Dead Walk is Author the talented writing team of Andy Black and Steve Earles who are obvious intelligent horror fans. The kind that readers like to hear from. This enormous undertaking is a written focus on the world of the undead as seen in horror films. So we get our share of Zombies and other creatures of the nonliving contributions to the genre. With a volume like this, we get a mix of coverage. Some chapters feature some more historical aspects of the creatures while others concentrate on analysis and movie review type coverage. There also is an obvious homage to great directors, great products and great accomplishments.
Films like Night of the living Dead and Dawn of the Dead get a dose of facts presented to run in union with the accolades. For readers who have grown accustomed to film bashing on the internet, this book takes the high road and gives it readers a reason they should respect and treasure these great horror contributions. Often the authors take us into behind the scenes information and production issues that read nicely with the results found on the end products themselves. One special bonus is a section that goes over the original script concept for the Day of the Dead before budget constraints set in. The section Brave New zombies is our tour of recent. Films such as REC, Vanguard, Doomsday and Quarantine make an appearance of which some have just been released. Of course there is alot of comparisons of old style and new style zombies. which I think can both coexist in the genre. Proof of this appeared in the Dawn of Dead and Dawn of Dead redux versions.
There is alot to see and read in this volume. What I noticed right off the bat is that you'll find many new films mentioned with the classics. So you get the updated version with films as recent as "Grind house" and "Diary of the Dead" included. Published in Oct 2008, the book is as up to date as I've seen on the market.
Now getting back to the content, the authors have spent considerable time covering Romero and Fulcis contributions and still keeping an honest realistic point of view on the works they contributed to. Moving forward thru chapters, you get the best of both worlds old school and recent. This was a nice inclusion especially when making references or comparison to different era works. A whole section on Jason and the Argonauts? Yep, you go it…as it is mentioned the works of Harryhausen have had a profound effect on later films with its mix of undead characters, such as Army of the Dead for instance. Nice overviews are given on classic such as Phantasm, Dead and Buried, Evil Dead, Re-animator and Horror Express. Of course this is only the tip of the iceberg.
You'll get this sense when going through the pages that this is in essence the product of 2 books combined. An older edition and 21st century film releases combined. I'm perfectly at home within this . For one, it helps to shed light on older classics that fly under the radar and 2 the images within give you a visual glimpse to reference. As the title of the book says "The Dead Walk." In essence this is a zombie book but it doesn't stop there. It is able to tie in films such as the Mummy, Hellraiser, Resident Evil, LifeForce and a whole lot of scifi and Asian releases into an easy to read fact based tour of the best of the undead. Highly recommended to horror fans as great looking and great reading edition that has alot to offer!
Available at Noir Publishing
Available at Amazon