From the Night Shift
Interview with Sherri Lyn Litz .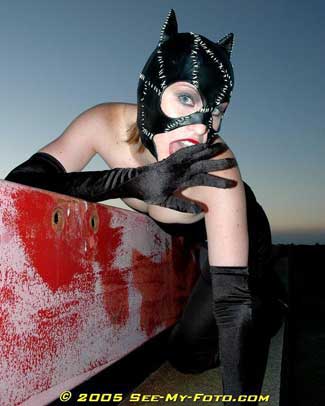 Sherri Lyn at first look is a statuesque woman with a piecing glaze. When she talks she has a strong intensity and a clarity in her words. A strong woman who knows what she wants. Her modeling pictures are eye catching and done with a ease. A natural. A lover of Halloween and dressing up she has moved her talents to acting.
Currently she can be seen in the short film "The Pigman" and has five movies, "Binary Samurai" "The Final Night and Day", "Crimson", "Decayed", and "Dusk" in different stages of development. We will be seeing a lot more of her in the future.
You have been modeling for a while what make you interesting in becoming involved with it?
I became interested in modeling at a very young age. When I was a little girl I remember posing for pictures and my family telling me to use my modeling pose. I was taught to walk with a book on my head, to always keep a straight posture and to sit like a lady. Later on in life, it was the images in art and magazines that interested me. The beauty of the image. As an artist, I realized that modeling could be an outlet for my creativity.
Of your modeling work what is your favorite style and/or series of photos?
I stand behind all of my photos and it is impossible for me to have favorites. What I love most about my modeling portfolio is that is shows my versatility. My only hope is to grow and improve with the images.
Some of your work seems to be less classic model poses and more genre (horror) based, does the beauty have a dark side?The macabre and horror genre is another layer to my expression. There is a beauty to this genre that captures the viewer and can be hypnotic. There is a sort of sad and dark beauty to death that fans of the horror genre can and do appreciate.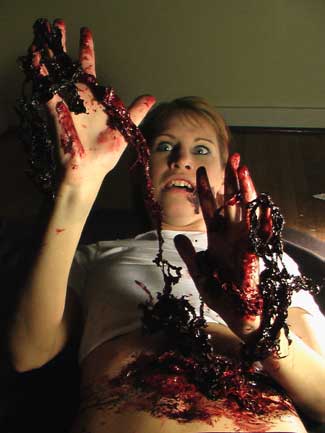 You were in the short "The Pigman" which is local legend involving a murderous man in a pig mask, how did you get involved?

Rod Durick of Zombified Studios made mention of the audition in passing and my sister was the one who said "why don't you have Sherri audition?" Rodney then informed me of the time and date of the audition and the rest is history.
Any stories come to mind when you think of shooting "The Pigman" with Director Jay Mager?I had an absolute blast working with the cast and crew of "The Pigman"! I'll never forget the moment when Dave (Born to Die), Jennifer (Slime City Massacre) and I all got into the tub together to wash all of the muck off of ourselves (fyi: we kept our under clothes on). It was a riot! And just the fun everyone had behind the scenes made me feel appreciative to be a part of "The Pigman"
You were asked to perform as a zombie in "The Final Night and Day" with Adam Steigert. How was the experience different?I had a little bit more experience when Adam Steigert contacted me for "Final Night and Day". Lets just say I brought plenty of baby wipes. The experience differed in that I was a brain-thirsty zombie instead of a character (victim). I enjoyed both roles but, the zombie role was much more physical than my character role.
You were also a zombie in two different scenes, can you tell us about them?
My first appearance in the movie is as "Hill 'Jill' Billy" Zombie; in which I get to attack one of the main characters. I am one of the first zombies to emerge out of the darkness. It is unclear what is going on in this "deserted" town until that moment.
My second appearance was as a "Catholic School Girl" Zombie, I parade down Main Street along with 300 plus extras and they decided to place me right in the front middle of the entire group. By this time in the movie it shows the utter carnage that zombies are capable of.
So next what can we look forward in the busy world of Sherri Lyn?

I have a few projects in the works in the acting world. I make an appearance in "Binari Samuri" and "Crimson:The Motion Picture". Both local independent films due to be released by 2012. And I look forward to working with Michael O'Hear on "Dusk" , Emil J. Novak on "Last Call" and Jay Mager again on "Born 2 Die 2". I am looking forward to more challenging roles in the future.
As for my modeling portfolio, I will continue to create images that hopefully will seduce, intrigue and inspire those that view them.
Can't wait to see more of Sherri Lyn's work.
Until next time
~~The Insomniac
Sherri Lyn's Links:
(Modeling)
http://www.zombifiedstudios.com/sherri.html
http://www.modelmayhem.com/40539 (The Pigman)
http://vids.myspace.com/index.cfm?fuseaction=vids.individual&playlist=31187400&pt=1&i=1&videoid=35125968
(The Final Night and Day)
http://www.youtube.com/watch?v=w8j_IPDoqnM