Like romance and action movies, gambling is widely represented in cinema. There are thousands of movies based on gambling that perfectly describe the life and career of a gambler who has mastered it all for a living. Of course, some of them show the ugly side, but there aren't always only benefits to gambling after all. Are you looking for the best blockbusters of all time based on gambling? These eight movies would make great entertainment!
1.  Casino
All the arguments about whether Casino is the best gambling movie ever made are well-founded. We believe it is. In Casino, two old friends, Robert De Niro as Sam and Joe Pesci as Nicky, tell us about their lives in the capital of second chances. And, funnily enough, one of them doesn't get a second chance. The film's other protagonist is Ginger McKenna as Stone, who marries the overbearing Sam but can't get over her ex-boyfriend Lester. So what will happen to them in the future?
The most appropriate words to describe the movie Casino, in a nutshell, are simply to say 3 hours of pure bliss.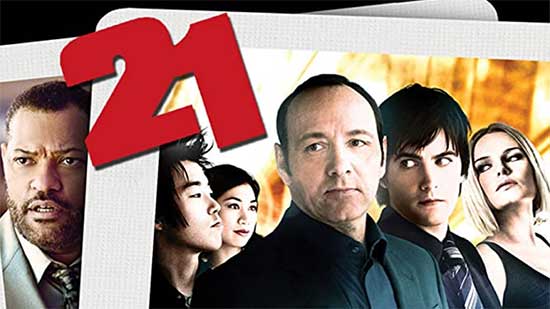 2.  21
This is a movie with the consummate Kevin Spacey in the lead role. The film directors were inspired by Ben Mezrich's book Bringing Down the House: The Inside Story of Six MIT Students Who Took Vegas for Millions. The plot describes the story of Mickey, who is the leader of a blackjack team that hemorrhages money from casinos using card counting and covert signaling. Envy, distractions, and greed get in the way of a good game, but there's something to learn as you have to go either for Mickey, the villain everyone hates so much, or for his students. This is just the perfect movie for any punter out there who's skeptical about online casino blackjack winning strategies.
3.  The Gambler
The producers and directors of this film tackle the difficult subject of compulsive gambling. The blockbuster stars Mark Wahlberg as a professor who's down the bankruptcy path due to gambling. His mother, Roberta, gives him enough money to pay off the $250000 he owes to loan sharks, but he ends up losing it all on gambling. He resorts to a deal with another loan shark to make money on basketball bets, which he can win enough to pay off his debts and have enough money for a good life. Will he succeed?
4.  Kenny Rodgers as the Gambler
Starring Kenny Rodgers, Kenny Rodgers as the Gambler is a movie based around the famous Kenny Rodgers song, Gambler. Like the song, the film emphasizes the need for every player to know when to hold when to fold, when to walk away, and when to run. But, most importantly, never count your money while sitting at the table, as you will have plenty of time to do so after the game. This is an old movie, but one where you will get to listen in to Brady's teachings to Billy and apply them in real life.
5.   Holy Rollers: The True Story of Card Counting Christians
The Holy Rollers film tells a card-counting group of Orthodox Jewish men that goes by the alias The Church Team. The members of the group, consisting of pastors and church leaders, make living counting cards, at times achieving astounding success. However, some of them begin to doubt that they are on the right track. This film is a must-see for anyone looking for something that draws the line between gambling and religion.
6.  The Good Thief
In the movie, Nick Nolte plays Bob, an old heroin addict who is desperately trying one last time to break the score at the Monte Carlo Casino. To do this, he must, first, assemble a team of like-minded people, and second, outsmart the police chief, who already knows that he is up to something. So will he live to retirement with millions or end up in jail? There's only one way to find out!
7.  Bookies
The movie Bookies revolves around the life of four college kids who decide to delve into the bookmaker business. They become remarkably successful, which they flaunt with a sophisticated lifestyle that soon attracts the attention of the authorities and a girlfriend to one of the members. That is, however, the least of their worries as they have two potentially dangerous Italian bookies to outsmart.
8.  What Happens in Vegas
Are you looking for a gambling-themed movie that will make you laugh? What Happens in Vegas is it! After partying hard in Vegas, Ashton Kutcher (Jack Fuller) and Cameron Diaz (Joy) find themselves compelled to live as a husband and wife as a fateful jackpot is at stake.
Conclusion
It is almost impossible to exhaust the list of gambling movies out there. These 8 are just the tip of the iceberg or simply the best out there to get you started, so grab a bowl of popcorns and get binging!