INITIATION is in theaters, on demand and on digital now.
The feature directorial debut of John Berardo, he co-wrote the film with Brian Frager (A Persistent Illusion) and Lindsay LaVanchy ("Scream: The TV Series"). LaVanchy also co-stars in the INITIATION along with Jon Huertas ("This Is Us"), Isabella Gomez ("Head of the Class," "One Day at a Time"), Froy Gutierrez ("Teen Wolf"), Gattlin Griffith (Green Lantern), Patrick Walker ("The Resident"), Bart Johnson ("High School Musical 3: Senior Year"), Shireen Lai, Kent Faulcon (Selma) with Yancy Butler (Kick-Ass 2) and Lochlyn Munro ("Riverdale").
In INITIATION, during a university's pledge week, the carefree partying turns deadly serious when a star athlete is found impaled in his dorm. The murder ignites a spree of sinister social-media messages, sweeping the students and police into a race against time to uncover the truth behind the school's dark secrets…and the horrifying meaning of a recurring symbol: a single exclamation mark.
Hi John, I watched The Initiation twice, I think? I loved it.
John- Oh, I love hearing that.
I want to say, I think it was an homage to Scream and Wes Craven but an homage to the horror fans and the horror community.
John- Yes, yes, your absolutely right.
I was also freaked out when Lindsay's character was sort of dressed like Sidney from Scream.
John- YES! You are three for three, wow.
(Laughing)
It was wild. I loved it. How did this idea manifest for you?
John- Thank you. I'm a Scream fan. I'm the biggest fanboy you'll meet. The movie spoke to a lot of kids that grew up in the 90's in a way that some people can't articulate, it is just embedded with 90's culture. I took a class called Making Media for Social Change and the goal of the class was to make a movie with a social issue that created a call to action. I wanted to make the first scene of Scream but with a guy and Facebook. So, I ended making a short film. It did really well and I knew I had a good idea. So, overtime I just incorporated the college environment, I grew up in Norman, Oklahoma and then I went to UCLA and then I went to USC. It was really the perfect environment to sort of take what I learned on the short and apply it to characters that I felt needed a voice in film and TV that we haven't seen in an authentic kind of way, and what better genre to take on these issues than a slasher. That's just an inherently misogynistic genre and so if your able to take something that is the opposite of the message you're trying to go for and flip it, it actually works in your favor.
I agree. This cast was great. You had Debra De Liso, Mel Fair, Lochlyn Munro, and Yancy Butler.
John- Yes, I love Debra.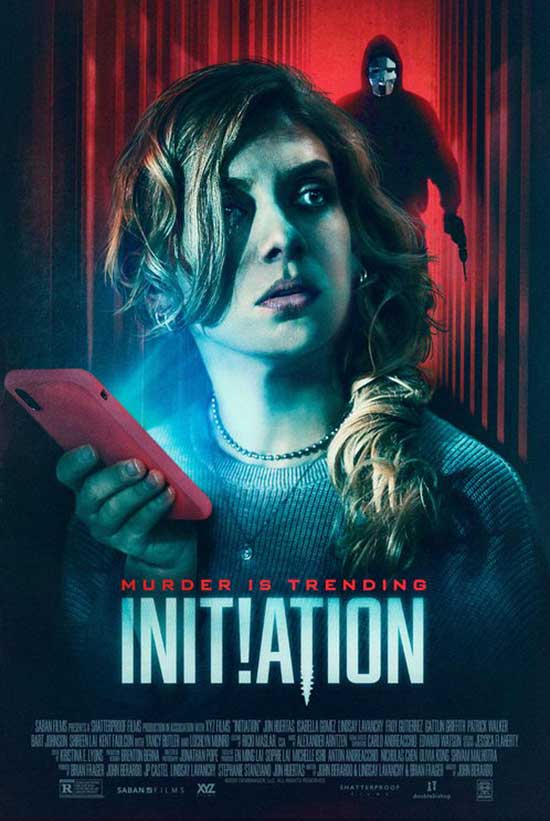 What was it like working with everyone?
John- I could not have been happier, our casting director was a god-send. She's from Oklahoma and I think the reason she went out of her way was because I'm from Oklahoma. We didn't have a lot of money when we hired her, we we're not a 100% greenlit yet. She really took a chance on us.
How did you prepare and what was it like directing this cast?
John- I like to break everything down. I come from a theatre background and I have a theatrical approach to breaking down text even if I wrote it. It gives you a perspective of what you write, and so I broke down the script and did the basics. I met with the actors once or twice each and discussed things with them. My job onset was to put them in the mindset of the world and give them something to work with. I have a great relationship with my DP (director of photograph), Jonathan Pope. He did the short with me as well at USC. Jonathan and I are meticulous with our shot list and storyboards. We had such a short time to shoot this movie, I had every shot, I drew out and on storyboards and I drew them all out. It gave me a detailed view of the movie and I needed to be prepared.
I don't want to give away spoilers but this was a prepared killer. How did you come up with the mask that the killer wears?
John- A long time ago, I read an article that talked about the Scream mask, and the brilliance behind it. The article said that the Scream mask is the victims looking at themselves right before they die. They are screaming because they're terrified. I took that and I ran with it. I wanted a reflective party mask and the other thing is, you don't always know about the origins of a horror mask. Some movies do give you that, it was important for our movie to do that, to make the killer as realistic as possible. I didn't just want this to be a mask that the audience accepted. I wanted this to be a mask that the audience has seen before. I think in terms of being creative with the kills, when you write a horror movie, you're writing three movies. You're writing the script that your writing, you're writing the killers script, and you're writing what you want the audience to think. It was challenging, but fun. You watch Scream versus Halloween, in Scream you head his voice, he stumbles, and he's a human. Halloween, the killer has non-human qualities. It was important to make sure our killer was human.
Thank you so much John and I was so happy that Lindsay LaVanchy was one of the writers.
John- Oh, me too. The script was better because of it. She's a phenomenal writer and actress.
Thank you so much John. This movie was awesome. It was so much fun.
John- Thank you so much, and be on the lookout for Initiation II.
That would be awesome. Thank you so much.