It is October and for those of us who like to read Horror Fiction this is a time of year we look forward to. Why, you ask? Not only is this our favorite time of the year but this is also when Paul Miller of Earthling Publications gets ready to release his latest book in his critically acclaimed and much loved Halloween Series. This is the seventh book in the series which consists of:
#0: MR. DARK'S CARNIVAL by Glen Hirshberg
#1: BLOOD RED by James A. Moore
#2: THE UNBLEMISHED by Conrad Williams
#3: THE HAUNTED FOREST TOUR by James A. Moore and Jeff Strand
#4: MOONTOWN by Peter Atkins
#5: OCTOBER DARK by David Herter
The only book in the series I don't have and haven't read is Mr. Dark's Carnival. Every other book has been awesome and this years might just be the best one yet.
By Wizard Oak by Peter Crowther
It's just a book that the folks of the small town of Magellan Bend recall reading. A little gruesome, perhaps … and, in more than one instance, not the reader's usual fare. But it's just a book. Nothing more.
But when the town's resident sleeper awakes from an eight-year nap, his memories are much more than mere words and phrases in a cheap and gaudy horror novel. And as he becomes more and more aware of the shocking truth, the knowledge spreads like graveyard mist sending a clarion call far and wide … but not only to the townsfolk. No, indeed. There are other things out there, things that ride the night winds on All Hallows Eve … and they know a lot more about the events recorded in the fabled By Wizard Oak And Fairy Stream.
Clearly, there is unfinished business in Magellan Bend this October and, as the night turns smoky and the world settles down for the onset of winter, the visitors arrive. Again.

And no, it's not just a book.
No way.
By Wizard Oak is everything a great horror novel should be. It grabs you by the throat from the beginning with an opening scene that will leave you severely shaken. It is a blast to read, has wonderful characters, atmosphere and frights, and the most decadently evil witches since "The Wicked Witch of the West".
Being frightened to the point of running out of our living room screaming and hiding under our kitchen table as a child when "The Wicked Witch of the West" made her first appearance, I have a soft spot for witch tales and By Wizard Oak is the best one I've read since I read the original "The Wonderful Wizard of Oz" many years ago.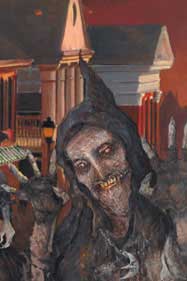 By Wizard Oak is a fresh and terrifying look at those strange women dressed in black with pointed hats and broomsticks. These are not Dorothy's witches. Mr. Crowther's witches are the witches of your worst nightmares; loathsome creatures with extraordinary powers, unnatural hungers….I don't want to spoil anything by telling you anymore.
This is Halloween storytelling at it's finest and is one of the finest Halloween tales I've read to date…it is that good.
According to the publisher Paul Miller , this is already more than half sold out. My advice would be to click on the book title link above and head on over to Earthling Publication's site and order this right away, you will not be disappointed.