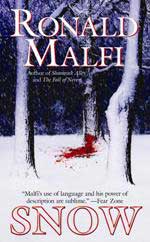 Snow by Ronald Malfi
When a brutal snowstorm shut down all the flights in and out of Chicago, Todd Curry and a few other stranded passengers rented a Jeep to drive the rest of the way to their destinations. But along a forested, isolated road, they picked up a disoriented man wandering through the snow. His car wouldn't start and his daughter had vanished. Strangest of all were the mysterious slashes cut into the back of the man's coat, straight down to the flesh….
When they arrived in the nearest town it seemed deserted. Cars sat in the streets with their doors open. Fires burned unattended. But Todd and the rest of the travelers will soon learn the town is far from deserted, for they're being watched…and hunted. Soon they will discover the inhuman horrors that await them in the…SNOW
Ok, I'll admit I am a little behind on my reading. I have been reading praises about Ronald Malfi's Snow for about six months now and finally got around to reading it last week. All the reviews and praise are certainly warranted.
This is an absolutely top notch horror novel. Wonderful characters, atmospheric prose, with just the right amount of psychological terror and gore to keep any lover of horror happy.
It is action packed and bleak; desolation literally drips off the pages. I live in New England, I know what being in the middle of a blizzard entails and Ron captures it beautifully.
The thing I most loved about the book has to be the creatures that Ron created for this story. They are new, fascinating and decadently evil; the best new monsters to come along since Mary SanGiovanni's Hollower's and John Everson's Ligeia.
Even though this book has been out for a while, if you haven't had a chance to read it go to Dorchester Publishing or Amazon and grab yourself a copy, you will not be disappointed.
His new book The Ascent is also available at Amazon.