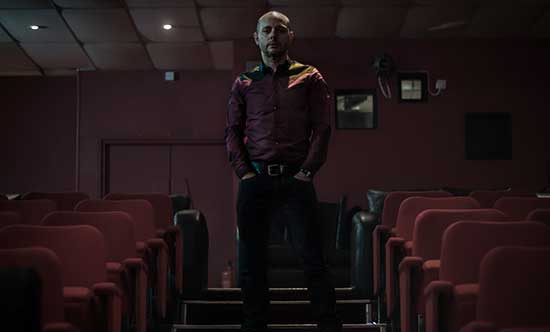 Hello Thomas, thank you for taking the time to do this interview for HORRORNEWS.NET, please tell us about MONOCHROME?
How did you get involved to direct MONOCHROME?
I'd written and directed a short film called Three Sides of the Coin about a female serial killer using luck to determine whether her victims lived or died. I then had the idea of the detective with synaesthesia and the thought it would be interesting to create a story of two socially isolated characters on either side of the law.
You have an amazing cast.  What was the process like directing the cast?
We had a strong cast thanks to our super hard working and amazing casting director Jane Anderson. Once we had a completed script, Jane was the first person we contracted to work on the film. Unusually for a low budget indie film we had for over 40 speaking roles. She really had her work cut out!
I really enjoy working with actors and more experienced I've become, the easier it's been to coax the best possible performances. Some actors need lots of work on set and others, such as James Cosmo, just rock up on set and require almost no direction from me at all. The first time he read my dialogue the hairs stood up on the back of my neck!
Did you face any challenges while filming MONOCHROME?
All films are challenging but making a self-financed indie thriller where we needed to build an open plan police headquarters with over a hundred extras was especially difficult.
The hairiest part for me personally was having to hang out of a helicopter at 600ft above a raging sea whilst trying not to drop one of my RED cinema cameras. We took the doors off but all I had to hold me in was a flimsy lap belt. At one point, wind that had rebounded off a nearby cliff rushed into the helicopter cabin and nearly tipped us over. It was genuinely petrifying even for the pilot who was a Falklands War veteran. Lee Boardman, the actor playing Walcott, looked like he was going to throw up. Once landed he revealed to me that he had a fear of flying and hoped going up in a helicopter would cure it. "Did it?" I asked. A firm "No." was the reply.
MONOCHROME has so many great twist.  It's exciting,  scary and has a psychological feel to it.  Do you think the actors captured everything the way you saw it happening?
When you write a script the film plays out in your mind and you have a preconception of how it will look. However, once you actually pick a location and cast your actors, it all changes. An easy mistake to make is to insist on the actors performing the script in the particular way it played out in your head when you wrote it. I've found it's better to approach it fresh on the day and be open to whatever they come up with.
Did you have anyone that inspired you professionally?
Directing; I would say Scorsese, Kubrick, Fincher and Greengrass. Writing; Sorkin, Coen Brothers, and just about every barman, taxi driver and random person I bump into whilst traveling.
What would you like to say to the fans and audiences that will be watching MONOCHROME?
There's a distinct lack of lightsabres and Ironman isn't in it. Sorry.
Thank you so much for taking time to do.  You are brilliant!!!!!  This movie is a top five favorite so far!!!!  Thank you!
No problem. Glad you enjoyed the film.