Not that we need one, but Halloween season is the annual excuse to gorge on horror. It goes without saying that we'll revisit the classics, but it's also the perfect time to search out new scares. When it comes to comics, you'll doubtless be steered toward the likes of Hellboy and The Walking Dead, and while they're great, here's a slightly different list of books to go by your bedside this Halloween.
THE BELFRY – WRITTEN AND DRAWN BY GABRIEL HARDMAN, PUBLISHED BY IMAGE COMICS
This one shot tells the story of a plane that crashes on a remote island inhabited by human sized harpies. These giant vampire bat-folk systematically bite each of the surviving passengers and drag them off naked, and into a cave where they must await their transformation. If they don't change then they become slaves, having another common bat trait forced upon them by a very sharp stick. The Belfry was described by its creator as 'coming at horror from an oblique angle' and it certainly isn't your typical vampire tale. It doesn't give you any why's or wherefores and takes you through the story so swiftly that you share the confused dread of the passengers as their fate becomes all too real. The art keeps you in the dark, so you see things as the characters do, and the design, from the monsters to the sound effects, will keep your eyes on the page well after you've read it. Plus it'll probably put you off flying for a few months.
I AM A HERO – WRITTEN AND DRAWN BY KENGO HANAZAWA, PUBLISHED BY DARK HORSE
You can't make a serious list of horror comics without including a few manga, and this book carries on the idea of coming at the genre from a road less travelled. Hideo is the would-be hero of the title (the Japanese characters used to spell his name actually mean 'hero') though he is anything but. A failing manga artist suffering from anxiety and hallucinations, his only plus points are an overbearing girlfriend and a shotgun; something few people in Japan have access to.  We follow Hideo through his mundane, unfulfilling existence while a strange infection spreads in the background. The zombies in this story are unassuming locals turned berserker nut jobs, and their style juxtaposes Hideo perfectly. Nobody quite knows how to react, least of all Hideo, and following the most unlikely survivor through an apocalypse is what makes this one of the freshest zombie books on the shelves. If you like funny, socially pointed, gloriously grotesque horror told through a different lens, then this is the hero you need.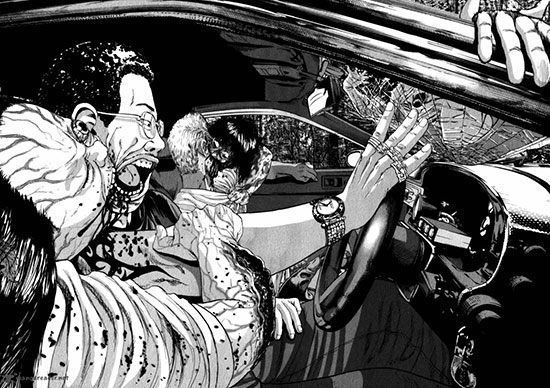 THE MAN THAT DANCES IN THE MEADOW – WRITTEN AND DRAWN BY SAM ALDEN
The most haunting stories often sit somewhere between what we imagine and what we think we know. The Man That Dances in The Meadow is a short web comic that tells the story of a young woman who becomes obsessed with a strange figure she sees dancing in a meadow where she takes her lunch breaks. Sam Alden has made a name for himself in the indie comic sphere by making readers feel uneasy, and this strip is one of his best. The central character is trying to cope with big life changes and a breakdown in her relationship, and we never quite know if the Man That Dances is some malign catalyst, or if her preoccupation with him is entirely her own creation and what's really causing her life to stutter. This is also a great use of the digital format as you scroll down waiting for the next cringe. Send this one to all your friends while they're working.
http://www.samalden.info/work/#/the-man-that-dances-in-the-meadow/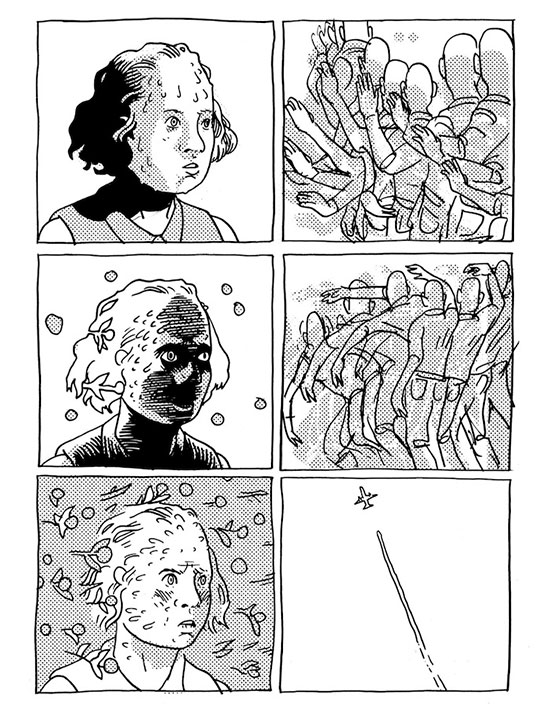 RAWHEAD REX – WRITTEN BY CLIVE BARKER, ADAPTED BY STEVE NILES, ART BY LES EDWARDS, PUBLISHED BY ECLIPSE GRAPHIC NOVELS
Rawhead Rex was one of those VHS boxes that enticed me as a kid. I didn't see the movie until well into my thirties and while it's not as bad as some people make out, the 1994 comic adaptation is quite literally a different monster altogether. Rawhead is the last of his kind, a monster king from centuries past, buried deep in the bowels of an English village. Accidentally freed by a farmer, he terrorizes the green and pleasant hamlet of Zeal, searching for homes to burn and flesh to devour. This story has some renown, mainly for the gore and the scene where Rawhead urinates all over a priest, but Barker's original prose paired with Les Edwards' masterful, hand painted art is truly grim. Unlike the biker Frankenstein of the movie, this Rawhead is a gangly, nine foot nightmare with an enormous penis glans for a head and a maw of spear tips for a mouth. He kills for sport and glory; a dark age conqueror unleashed on a microcosm of modern day civility. Make no mistake, this adaptation is horrific. It's bodily fluids, naked innards and decapitated children… so don't leave it in reach of your kids. It's fitting that this is adapted by Steve Niles, as he is to horror comics what Barker is to prose, and with Edwards' incredible art you have one of the most astonishing and genuinely ghastly horror comics you could imagine. Hail to the king, baby.
BONGCHEON-DONG GHOST – STORY AND ART BY STUDIO HORANG
Not that many comics come with a warning these days, and if they do it's usually a gimmick. In the case of Bongcheon-Dong Ghost it's just good sense. This Korean web comic has earned a reputation in folklore on par with its story. Told as an alleged eyewitness account and based upon a real incident, we follow a young girl home from night-school as she recounts seeing a strange woman up ahead. The less said about this one the better, but it's vital that you ensure the sound is turned on your device, and you have a flash player installed. To be on the 'safe' side it's ideally watched on a PC or laptop, and you may want to consider reinforcing your underwear before you read it. You have been warned!
http://www.webtoons.com/en/thriller/chiller/bongcheon-dong-ghost-horang/viewer?title_no=536&episode_no=2277
KILLING PICKMAN – WRITTEN BY JASON E. BECKER, ART BY JON REA, PUBLISHED BY ARCHAIA
Our macabre fascination with serial killers has created a horror sub-genre that's splattered all over cinema and television. Killing Pickman screams movie adaptation, but the little quirks in this book are why comics should sometimes just stay as they are. The story opens with Detective William Zhu canvassing a neighbourhood for info on a missing girl. He comes to the home of Richard Pickman who readily invites him in for tea. Almost goading the detective, Pickman asks about several missing children and it's not long before Zhu realises he's got his guy. Unfortunately for Zhu, his guy is in cahoots with demonic forces and despite several gunshots to the chest, refuses to die. From here the story settles into a war of attrition between a beleaguered, obsessive detective and a sadistic fiend armed with mind games that could make Hannibal Lecter look like a counselling student. If that's not enough to sell you on it, the page design brilliantly echoes the subject by having little comments written underneath key parts of the panels, as though both men are making notes on what we're seeing. The page composition is made to look like a notice board you might find in say, a detectives office or murderers basement, and that only adds to what is already a disturbing experience. Pickman is a complete and total bastard, and by the end you'll want him dead too.
EDGAR ALLEN POE'S SPIRITS OF THE DEAD – BY RICHARD CORBEN, PUBLISHED BY DARK HORSE
Edgar Allen Poe pretty much created the cautionary horror tale that has informed and arguably shaped the horror genre since the early fifties, while Richard Corben has been putting knots in stomachs and lumps in throats since the early seventies in such stellar publications as Heavy Metal and Creepy. Pairing the two is the horror equivalent of a multiple title winning super team so if you've never read any of Poe's stories or Corben's comics then you are a shameful creature and should be punished immediately. Originally released as a set of one shots, Spirits of the Dead collects Corben's adapted Poe shorts, all narrated by his recurring character, Mag the Hag. Included are The Raven, Masque of the Red Death, Fall of the House of Usher and Conqueror Worm. Corben draws horror like he's being conducted by devils, capturing the already grotesque aspects of human nature like greed, covetousness and revenge with such macabre perfection that you're already sickened long before any of the gross stuff happens. Nobody renders shock quite like Corben, and this book is full of duplicitous ne'er do wells who come to justifiably hideous ends. So, on the off chance you haven't read much of one or either of these remarkable creators, promptly treat yourself to this collection, lest you hear a rapping at your chamber door.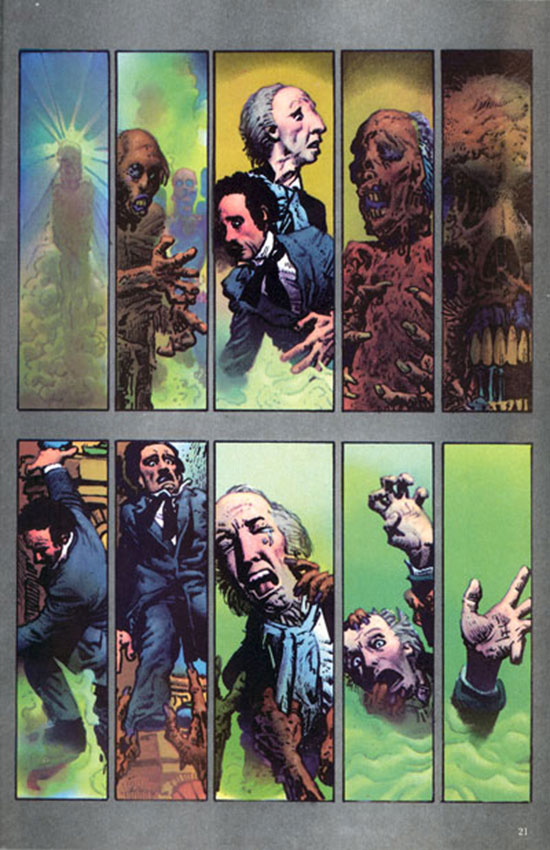 HEXES #1 THE BOY WHO CAME CLOSER – WRITTEN BY SIMON BIRKS, ART BY EGE AVCI,
PUBLISHED BY BLUE FOX COMICS
We plan our life without any thought of when it may end, so says the central character in the first issue of Hexes.  It is with that in mind that we meet Brendan, a little boy wandering the woods near his home until he meets a strange, hulk of a man who tells him he's going to die soon. He's quite insistent about in fact. The book then jumps forward several years as Brendan moves back into his empty family home with the help of a friend who's really more 'the one that got away'. The narrative jumps back and forward from childhood to Brendan's extended stay in his old house, where he begins seeing a child-like apparition haunting his hallways. Hexes is an unsettling, all too real feeling story despite its supernatural leanings. Fear of death, isolation in an old house, these are classic horror tropes, but what Hexes does brilliantly is weave it around a childhood scare that may or may not have just been a coincidence. The art has a gorgeous, bleary eyed quality that enhances the line between tangible fear and imaginary dreamscape, with the backgrounds projecting a constant sense of foreboding into every panel. The subsequent Hexes books are totally unrelated so don't get too attached to these people. This is a comic for folks who like their questions left unanswered and their eyes all teary.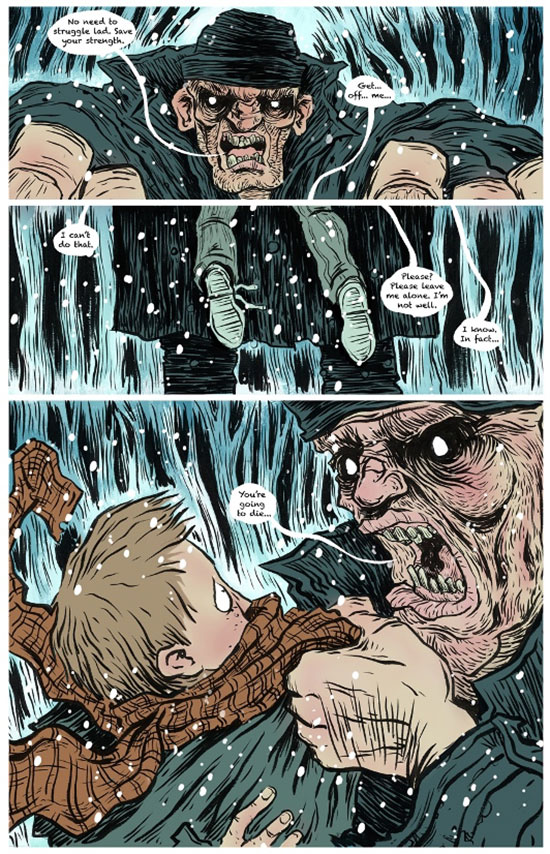 BRAM STOKER'S DRACULA – WRITTEN BY ROY THOMAS, ART BY MIKE MIGNOLA,
PUBLISHED BY TOPPS COMICS
I make no apologies about being a sucker for a good movie adaptation, but I must beg forgiveness for not knowing that the 1992 Francis Ford Coppola version of Dracula had been adapted, let alone drawn by a reasonably unknown Mike Mignola. Published by Topps (they of trading cards and chewing gum) to coincide with the release of the movie, they break the story down into four issues. While the movie is something of a love/hate experience among horror fans, one thing you can't deny is the design of that film is really something to behold. So filter that through the man who gave us Hellboy and you have some of the most gorgeous comics you'll ever see. While Mignola's style is slightly less refined and dare I say, blocky than we've come to know, it was made for Dracula. In fact, if it turned out that he was secretly responsible for the whole idea and the movie was really an adaptation of the comic, then I'd quite happily swallow that. Whether it's the Harker hungry brides, the man-wolf and bat Dracula's, or the carnage of the former Prince Vlad, Mignola's art is exquisite. Adapting a script into a comic is not as easy as one might think, and Roy Thomas does so effortlessly. But then he is the man who brought Conan the Barbarian to the American comic book and succeeded Stan Lee as the Marvel editor-in-chief, so if anyone has the chops, he does. Hunting these down will take Van Helsing like resolve, and the odds of finding them bagged along with their original trading cards are about the same as a Romanian vampire Prince finding his long dead lover reincarnated on the streets of Victorian London. But it shouldn't stop you from trying.
UZUMAKI – WRITTEN AND DRAWN BY JUNJI ITO, PUBLISHED BY VIZ MEDIA
Whoever said save the best for last was on to something, as that's just what I've done. There are horror stories that tap into our primal fears, bed time tales that compel us to keep the light on, or campfire stories that make us dwell on our histories. Well screw all of that! How about something that will leave you as rattled and twisted as it's concept? Uzumaki tells the story of a small Japanese coastal town that is literally haunted by spirals. They hypnotize the townsfolk and the environment into an obsession with spiral patterns so if they aren't trying to create them then they are being possessed by them. This yields some bizarre, alarming and absolutely horrific results, from a human Jack-in-the- Box, to murderous living hair, actual creepy pasta and slug children. No spiral is too weird, no death too mind boggling. 'Master of Horror' is not a title that comes with an actual badge, but if it was then it should be pinned to Junji Ito. The palpable dread of a good horror film is transferred to the page so precisely that it's on a par to the movie theatre experience. I can think of no better example of a horror comic. Read it, squirm, check your household for anything spiral, and revel in the utterly bonkers, nerve shredding tome that is Uzumaki.