Producer, Director and writer. Peter Winther ("independence Day" "The Patriot" "Stargate") is a talented man. His new film "Painkillers" stars Tahmoh, Lesley-Ann Brandt, Colm Feore and Julia Voth. Peter spoke with me for a Horrornews.net exclusive. "Painkillers" is available on DVD on January 12, 2016
You wrote and directed "Painkillers." Where did the idea for "Painkillers" manifest from?
Peter: You know what it is an idea that percolated in my head for a long time. Back when I was a producer on "Stargate" we kind of delved a little bit into this world. I had this other idea I wanted to explore and I just never had the opportunity to. Finally, I just took the time and sat down and wrote it out and together with my brother we collaborated with Peter Horn and Julie Mitchell, our Canadian partners and we kind of said hey, let's do this film. Everyone liked the story so we went for it.
You have an incredible accomplished cast including Colm Feore, Lesley-Ann Brandt, Tahmoh Penikett. What was it like working with all of these incredible actors?
Peter: It was such an incredible pleasure, I cannot even tell you. All the cast was hand-picked because I have been a fans of theirs for years. Tahmoh, I loved him since his "Battlestar Galatica" days. I was looking for somebody who has a strong presence who didn't need to say much. He was struggling to find out and he couldn't remember who he was so there has to be a lot coming from his physicality and his emotions.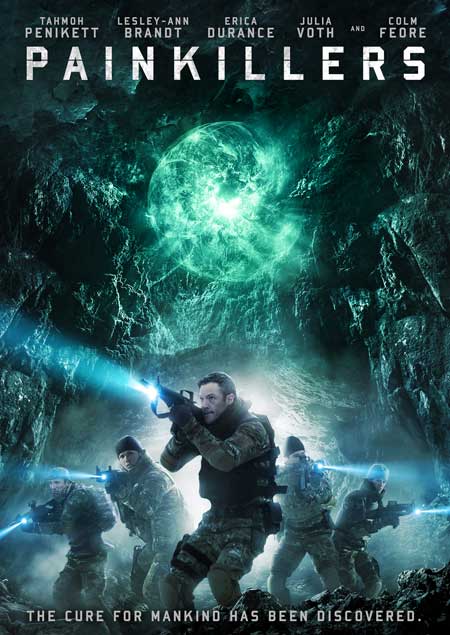 He is always simmering. Lesley-Ann, I produced a film she was in and to be honest she was always playing girlfriend parts and stuff like that. When I met her, she is a beautiful woman but you don't mess with Lesley-Ann! I wanted to write a part for her to show this other side of her. I really wrote the part specifically for her and she nailed it. Colm has been a legendary actor and especially in Canada he is a giant. He is a great Shakespearian actor as well. The story has a Shakespearian quality to it and I needed an actor who has to say a lot of dialogue, explanatory dialogue and finding a way to make that interesting you need to have someone who can dive into it, which he did. It was just a joy to work with him.
This film is intense and has a lot of action and incredible scenes. What challenges did you face filming?
Peter: It is an intense film because it is a story about people who are losing their minds and they are fighting to regain it. Sometimes you just have to go to places that you don't necessary want to go to.
As a director and a writer, which one do you feel you have learned the most from and which has been the most challenging for you?
Peter: Director for sure I would say I have learned the most from and has been the most challenging. When you are writing, you are in your own room and its more about trying to stop yourself from going crazy and have discipline and commit to get it done. As a producer it's all about providing an environment for everyone to succeed in. As a director you have to answer all the questions so you have to live, breathe the story you are telling because you have to lead all these people into battle so to speak. You have to learn to trust your instincts and stick to your guns. You have to go for it with no fear, even if you do have fear you have to pretend you have none. You learn a lot about yourself so I think that is the job I learned the most from.
What projects do you have coming up next?
Peter: My brother-in-laws and I have recently formed a company so we are executive producing a film called "Wakefield" starring Jennifer Garner and Bryan Cranston and Robin Swicord is directing. Then we have another film that starts in the Spring called "The God Four" which we are just casting it now, which again we are producing that one. The next one I am going to direct is called "Irrefutable" and I start shooting at the end of the spring. I am going to produce these two movies first and then I am going to direct.