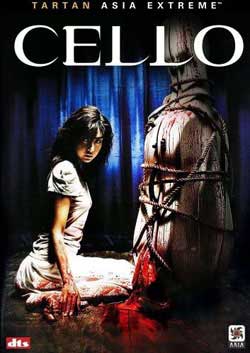 SYNOPSIS:

Mi-Yu, a virtuoso cellist, survives a horrific car accident and decides to become a music teacher. But just when her life seems to be in order, a series of eerie events involving her mute daughter, a creepy new housekeeper, and a dangerously obsessed former student, makes it clear that all is not well
REVIEW:
Director: Lee Woo-cheol
Cast: Choi Ji-yeon, Park Da-an, Hyeon-a Seong
The Examination: Could someone please get a fresh idea, PLEASE?!
Mi-Yu (Hyeon-a Seong) is a part time music professor with a caring husband and two lovely young daughters, with the older of the two, Yoon-jin, having a learning disability. Also living with Mi-Yu is her happy go lucky, soon to be sister in law, Kyung-ran, and eventually a weird housekeeper with a very spooky and tragic history.
The movie opens with Mi-Yu being harassed by a student that received a failing grade from her and feels the grade was undeserved. The student is upset to the extent of leaving dead animals lying around, threatening phone calls, and slashing Mi-Yu's tires. But it just so happens to be Mi-Yu's birthday! And this is when the really strange and disturbing events begin to happen. Haunting memories surface when Mi-Yu discovers that Hae-Yeong, the younger sister of her former classmate and best friend, Tae-Yeon, will be performing at a local venue. Mi-Yu receives an audio cassette from Hae-Yeong and on her way home from the performance decides to listen. Moments after the music begins , she begins to faint and is nearly hit by a truck. Mi-Yu is unaware that this is only the first of a series of eerie events that will slowly unravel around her.
The following day, Mi-Yu takes her older daughter, Yoon-Jin, to the doctor. On the way home, Yoon-jin unexpectedly demands that her mother buy her a cello. Why is Yoon-jin acting so strangely in conjunction with her new-found love of playing the cello? I'll tell you now that that cello opens up a whole lot of karma! More weird things begin to happen when Mi-Yu begins to complain to her husband about the spooky housekeeper, such as that very night, a ghost appearing Mi-Yu's home and beginning her reign of terror, or payback shall I be so bold to say. 
Even Kyung-ran, Mi-ju's annoyingly happy sister-in-law, suddenly loses her fiancé, who is in America and tells her it's over because he's met someone else.. Kyung-ran later receives a strange phone call from her ex, with the phone unplugged from the wall, and winds up dead under mysterious circumstances, having seen the same nameless long-haired female ghost that has been plaguing Mi-Yu.
It turns out that threatening phone calls to Mi-ju from the angry student were never actually made and it seems that all of the spooky events center around Kim Tae-Yeon, who Mi-Yu refuses to talk about.
As Mi-Yu's family begins to die, a connection is made between the cassette and the new cello, and she must come to terms with what happened to Tae-Yeon , and what is happening in the present. Mi-Yu quickly discovers that everyone around her, from her husband and children and even her pets, are in danger. It is over the course of a few days that Mi-Yu finds the past is not always dead, and just because something is buried, does not mean it will stay there. 
I felt a little cheated with this movie. It's competent, even though there are a lot of plot holes, but a little uninteresting, except for the revenge factor, which I liked! The supernatural parts of the film seem to stem from RINGU (this time with a cursed cassette), JU-ON (female ghost with a pale face and heavy black eyeliner) and PHONE (Mi-Yu receives phone calls on her cell throughout the movie). The cello itself seems to be borrowed from THE RED VIOLIN but it is never fully disclosed as to whether the actual instrument is possessed or cursed. Not a total waste, but it would be great if K-Horror directors could stop riding the off the wave of A Tale of Two Sisters.
This film really is no different than most K-Horror films, even if it does try to add more story than its predecessors. Despite it all, once more details are revealed towards the end, it does pick up. Worth a check if you're a fan of K horror.