From the early nineteen seventies, horror movies have inspired different bands. In a way, Horror films have inspired a genre of music in itself, Heavy Metal. The one band that inspired and began the metal movement was inspired themselves, by the Horror genre. They are called Black Sabbath. The guitar player has taken his love for Horror one step further with recently making his own Horror franchise entitled ominously enough… Black Sabbath.

 Not only did they inspire a whole genre of music and subgenres, but there are other bands in the Punk and Death Metal genres that are inspired by Horror as well. They dedicate their image, music and film subject matter. Shock Rocker, Alice Cooper, has been another deeply involved member in the horror driven music scene. His on-stage antics represent a horror based theme throughout. He has also been involved in horror soundtracks, such as Friday the Thirteenth part six: Jason Lives, with his ode to the hockey masked killer, Man Behind the Mask (which even uses the Friday the Thirteenth theme within the song) and Wes Craven's Shocker, which also included his own song No More Mr. Nice Guy, performed by eighties metal band Megadeth. Alice now attends Horror conventions as well. Feed my Frankenstein is another highly induced by Horror tune of Alice's. He once said that Metal and Horror go great together… Like peanut butter and jelly.
During the seventies a Punk rock outfit called The Misfits terrorized audiences the world over. With a label such as Plan 9, albums such as Famous Monsters, Cuts From the Crypt and songs such as Horror Business and Night of the Living Dead, the inspiration is graphically clear. The Misfits, plus Horror have inspired many other Punk bands to come.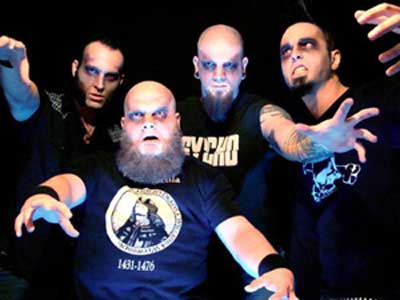 A lot of them today tour on the horror convention circuit. Bands such as The Horrifics have appeared at conventions among many other underground Horror Punk bands.Legendary Punk band, The Ramones, had a tribute to Stephen King with Pet Sematary, which was also featured in the film. Kate Bush as well as others have dedicated songs to Stephen King's stories. Popular eighties Speed Metal band, Anthrax, has two songs dedicated to Stephen King novels (and an album title of the same name)… Among the Living ( The Stand) and Skeleton in the Closet (Apt Pupil). Some performers, such as GWAR, KISS, Exhumed, Necrophagia and the inspiration to them all, Alice Cooper, bring Horror theatrics to the stage as well.
A metal band that has been around in the Dallas, Texas area and beyond since the eighties is Rigor Mortis (featuring members of Ministry, The Toadies, GWAR and the new Metal band, Warbeast). They are another band who tours on the Horror convention circuit as well as many other shows and venues. They are legendary in the field of Horror Metal. Songs such as Wizard of Gore, and their cover of The South will Rise again (from 2,000 Maniacs). At The Texas Frightmare Weekend Convention in Dallas, they performed the song with the Herschel Gordon Lewis himself. It was an awesome experience to behold. The group's former singer, Bruce Corbett, can be seen sporting various Horror t-shirts on stage at their performances. Another eighties metal band, Dokken, contributed to the Nightmare on Elm Street franchise with their ode to part three: Dream Warriors.
Another Metal band of the eighties with the Horror theme tagged to their name was (and still is today) Necrophagia. Their lead singer, Killjoy, is very much a Horror fan. Philip Anselmo (of the bands Pantera, Down and Superjoint Ritual, among many other music projects) was recruited to play guitar for the rebirth of Necrophagia. He too is a huge horror fan. He has a collection of thousands of Horror films. He also collects the collectibles. Phil formed a Haunted Halloween attraction in New Orleans called The House of Shock. Not only does he scare the hell out of many visitors of the Halloween season, but he also writes Horror scores to be the score of the unholy journey through the "house…" The House of Shock is going on its sixteenth year. Underground Horror director, Jim Van Bebber (Charlie's Family, Deadbeat at Dawn and Roadkill) have directed brutal, horror movie-ish videos for the band. The Last House on Dead End Street and Roadkill are also featured in the video. The now legendary metal band GWAR (God, What Awful Racket) is actually a band of Special Effects Artists that met in college. All with a love of the Horror genre.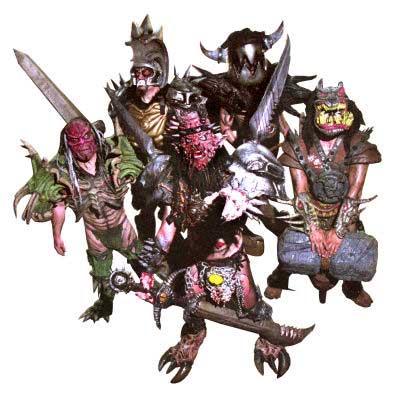 Another breed of metal music, known as Death Metal, is also highly influenced by the Horror theme. Bands such as Exhumed and more popular, Mortician, also have a Horror as a back bone to their grinding music. Mortician uses samples from Horror films on every album and between every song. Their live shows are the approached in the same way, only much louder. They also have Horror influenced album/ song titles (such as House By the Cemetery, named after Lucio Fulci's classic Italian Horror film). Samples from The Texas Chainsaw Massacre, Henry: Portrait of a Serial Killer, Phantasm and many other famous (and some not so) Horror films can be found gracing every album. Even the Tall Man himself was on one of their shirts but they were harassed by the film company and discontinued the pressing. Some of their group photos are taken in front of classic Horror posters. A horrific atmosphere is set at their live shows with the film samples and dense fog to top off the time spent watching this Horror induced grinding band. Death metal band Cannibal Corpse is also inspired by the zombie/ Horror genre, from their album covers, to their song content, which is a bit more brutal in content matter than the above mentioned.
From Alice Cooper and Black Sabbath… to Mortician and Exhumed, the horror genre continues to haunt the ears of many throughout time. New Horror induced bands are popping up all over the place. Even bands such as Horror score influenced, Zombi (which has contributed to films such as Murder-Set-Pieces and The Redsin Tower) carry on the flame of this undying genre. Scott Hull of the Death Metal band Pig Destroyer and Steve Moore of Zombi have created a Horror music making monster called Zombi Destroyer. They also contributed to The Redsin Tower's haunting score. There is a band by the name of Zombie as well, with the same style. They are mostly influenced by the band Goblin, which is famous for the genre. Goblin performed the theme song to Susperia and many other Horror classics.
Not only metal, but Rap (I won't put the word "music" in the same sentence, although technically, I just did) has been influenced by the Horror genre as well. The Ghetto Boys have a song dedicated to Charles Lee Ray, himself called "Chuckie." They spell it with an "I E," instead of a "Y," but that's who they're referencing. They even use a sample of Andy saying "Chucky is here and he's going to kill meeeee." Eminem has referenced Jason Voorhees in one of his songs. D.J. Jazzy Jeff and the Fresh Prince had a song about Freddy Krueger called A Nightmare on My Street and The Fat Boys had a song entitled Are You Ready For Freddy. The original appeared in A Nightmare on Elm Street four: The Dream Master. The word on Elm Street is that it will re-appear in the re-make (I'm just as excited to hear it again as I am about the re-make, itself… That would be not at all). The Rapper, Necro dedicates his lyrical content and album art to Horror films as well as Autopzy. They are a bit more brutal in content than their elders and use Horror movie samples as well.
The Horror genre in itself has been around for dark ages and will be for the darkest ages to come. It has made its way into our eyes through comic books, magazines and films. Now, and since the seventies, we have welcomed it into our ears in another form as well… Blasting Audio Terror. Horror is alive and well and all over the world… It haunts the music industry… It seems to have no end.
The Horror Genre's Inspiration On the Music Industry