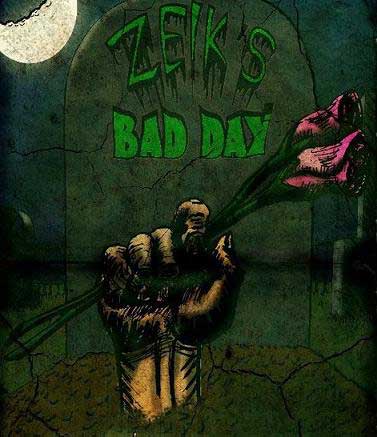 It's that time of year again, when all our sick little fancies ooze out of our psyches, after an eleven month stint being buried deep within repression-land, and everyone gets to be whoever, or whatever, they want, if just for the night. Yes, Halloween is a magical night, (and to anyone who says different I hope it's tricks for you,) when all the Boils and Ghouls (John Kassir, forgive me) can go out into the night, find one another and maybe, just maybe, find love. Because yes, my friends, everyone just wants somebody to love, even a zombie named Zeik.
Zeik's Bad Day is a 3-part web based mini-series by VCC Film and Freak Daddy Productions, from exec. producers Ralph Clemente and JJ Ramos, director Ryan Shovey, writer Laura Sica, and since I did say something about zombies, and luckily for all you gore hounds and FX freaks out there, the series features makeup by Lee Grimes, who zombie fanatics might know from the awesome Woody Harrelson Zombie/Comedy Zombieland.
Described on the film's Facebook as "A 'love conquers all' story… with zombies.…" Zeik's Bad Day tells the story of Zeik in his quest to win over the girl he loves, even after he is hit by a truck, dies, and returns with the zombie apocalypse."
Now if you think you've seen all there is to see from the zombie genre, well … you'd probably be right, but maybe not. I think there's plenty left to offer from this once clichéd, and much maligned, genre and after Sean of the Dead, I've given up giving up on zombies, because if there's one thing I know about zombies it's this, they don't die easy. Don't believe me, then why is one of the greatest directors of the last twenty years, Frank Darabont, putting all his significant effort and creativity into The Walking Dead, a prime-time television series on a major cable network, based on the full-on zombie loving Graphic Novel of the same name? (Which you should all watch, and read, tonight and every airing thereafter on AMC, because this is truly and unprecedented show, but that's another article….)
So, over the next week or so you'll get a chance to see my interviews, videos, and photographs from HNN's Exclusive set visit during the production of Zeik.
Now, while other projects like The Walking Dead virtually guarantee face-ripping fun, Zeik offers an antidote, with slightly less emphasis on brain eating (, but only slightly less.) At times Zeik has more in common with a John Hughes film rather than a Romero flick; think Sean of the Dead meets Sixteen Candles. If that doesn't seem like a recipe for thrills and chills to you, again you'd probably be right, but you'd be missing the point.
Now, I'm' not going to tell you Zeik's Bad Day is anywhere near as good as Sean of the Dead, or Zombieland, it's not, it's not even in the same ballpark, but while Zeik is far from being perfect (this was essentially a college film that grew bigger and bigger) it does have a lot going for it in front of the camera (including the super-likable Ross Christian Alagna as "Zeik", and the lovely Kimberly Sarachino as "Alaina"; who steals most of the scenes she's in) and behind it; Lee Grimes and the rest of the makeup team did some of the best work I've ever seen on such a modestly budgeted production.
FX aside, the rest of the production was no cake walk, it came with all the usual drama and creative differences that happen on every set regardless of size (and those things can get magnified when you're dealing with newer, younger professionals) and there were certainly budget restraints that bring with it all the usual "quirkiness" that we know and love and tolerate from our beloved and oft under funded, horror genre, but that's what gives film, all film, character, no? Anyway, however they did it, they did it. Difficulties and differences aside, they put their heads down, they made full use of the resources they had and thankfully someone on set knew how to stretch a buck, because ultra-low budgets aside the overall look of the series is great, at times bolstered by director Ryan Shovey's use of stylized cg animation, which he previously had put to effective use in his award-winning short ( a re-telling of Poe's The Tell-Tale Heart.) Like I said, however they did it, they did it. And more than that they succeeded.
At its best Zeik is a fun, heartwarming zombie series that doesn't take it self too seriously and done by a young and dedicated cast and crew, with a little help from some seasoned pro's and a dedicated film program in VCC Film, Zeiks Bad Day shows tremendous heart and potential and proves that even the undead still have feelings
Happy Halloween!
Want to follow up on Zeik? Check back here throughout the week for parts 2 and 3 featuring my interviews with the cast and crew including director Ryan Shovey, makeup designers Lee Grimes and Amanda Schaffer, and "Zeik" himself, actor Ross Christian Alagna. Want to see it for yourself? Watch the first two episodes below!
Episode 1
[youtube]http://www.youtube.com/watch?v=Ozm4c918uqc&feature=player_embedded[/youtube]
Episode 2
[youtube]http://www.youtube.com/watch?v=9GXN5I_WQ4o&feature=related[/youtube]
 Check out Zeik's Facebook Here.
Check out VCC Film Here.
Check out Freak Daddy Productions Here.