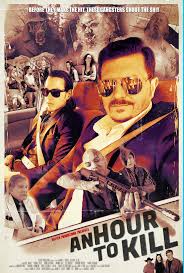 SYNOPSIS:
Two assassins have an hour to kill (so to speak) before their next hit. To help pass the time, they entertain themselves by sharing horror stories to one another. With bizarre titles such as "Valkyrie's Bunker" "Assacre" and "Hog Hunters" – which hit-man's story will be deemed most disturbing when all is said and done?

REVIEW:
If Tarantino made a troma film, the bizarre anthology flick is a beautiful homage to classic B-movie horror. Complemented with action and comedy, An Hour to Kill is refreshing take on a familiar style. Each tale is filled with grotesque comedy, action and disturbing characters, three things director Aaron K Carter is becoming accustomed to after Dead Kansas (2013). A farmers land is consumed with 'rottens', himself and his daughter must fight for survival against the undead, a unruly gang and an approaching tornado. The post-apocalyptic zombie film brought back more than the dead, after winning The best zombie film at the 2014 FAntastic horror film festival.
"Cash is king"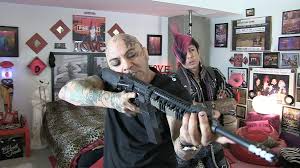 Following two hitman who have An Hour to Kill before their next job, not one minute before or one minute after. During this time tensions arise when they suspect a rat amongst them, anxieties increase when they assume one to no longer be trustworthy. Gio (Aaron Guerro) must choose between his gut or his boss, when his apprentice Frankie (Frankie Pozos) is suspected to be working with the enemy. Apprehension between them is dispersed when the two find entertainment in sharing fearsome stories with each other, each as blood curdling as the last. The obscure trilogy of tales may even strike fear into men who kill people for a living. Don't say we didn't warn you.
"I'm not staying here alone"
An urban legend surrounding the location of Hitler's child Valkyrie, who fled after the loss of WW2 subsequently finding refuge in the Santa Monica Mountains in an area the 'Locals' call Valkyrie's Bunker. In 1981 five stoner friends think they've hit the jackpot when they hear rumours of a free batch of weed hidden at the back of the abandoned bunker. With a few familiar faces; leader of the group Amanda Rau (Living among us), Penthouse pet Veronica Ricci (Treasure Chester Horrors 2) and Stephanie Strehlow (Truth or Dare).
The girls start dropping like flies, could this be the dreaded Valkyrie, or are the girls stealing the batch?

"Live a little, it's not like it can kill you."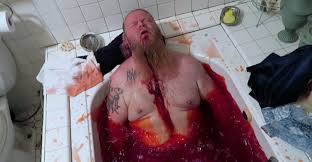 This fabled tale from Frankie's fragmented past, explores a short period of time where he was a competitive eater. Told by the Brendon, a vlogger from channel Wetmovie1 (Brendan Mitchell), another contestant of the pound burrito challenge. Things spiral out of control after two sore losers play a not so innocent joke on the winner. The hottest chilli in the world causes more than the usual stomach aches. An unholy venture to the bathroom creates a legendary ASSmascre. That bathtub must have been a mess to clean up.
"What kind of test? One word HOGS!"
A group of yeehaw bowlers, hold a crazy initiation night for their potential new member Lenny. This happy little story starts with a farmer named Z, who got a little too comfortable with his livestock. The group of bowlers decide to test Lenny before allowing him to join their team, taking him out to go hog hunting. Except these are your typical hogs and they love dark meat. Lenny could become the new leader of the gang when he has to save his team against these abominations.
The film is out now on Amazon Prime.
Find trailer here: