The latest news to hit the horror film scene is sightings of clowns lurking in woods near residential areas. Many speculations have started to arise some of which involve horror movie releases.
There are quite a few well known clown characters in the horror film genre, most popular being Pennywise from Stephen King's "It." Pennywise is a frightening clown played by Tim Curry, who is a killer on the loose that lures young boys into the depths to abduct them. There is also Rob Zombie's, House of a Thousand Corpses (he seems to enjoy clowns in his films), that includes Captain Spaulding who is a murderous clown; a part of a family that enjoys torturing and tormenting people that cross their path.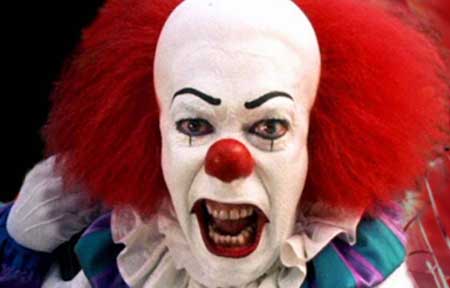 Some have come to believe that the clown sightings have been prompted by the upcoming release in 2017, of a remake of Stephen King's "It."
A local TV station within the Carolina's has mentioned the idea of the clown sightings starting due to the release of Rob Zombie's new release of 31, a film which involves carnival workers. The speculation is that the film is involved in some sort of "guerilla marketing" but the distributor said that is not the case, according to MSN.com.
With reports going as far back as 2014 and coming from the Carolina's, Wisconsin and as far as California, this mystery has caused quite a stir within some local communities. People have run after them with machetes in Greensboro, North Carolina. Others have heard whispers and seen laser lights in the woods before the clowns ran off. Some clowns have even focused on just trying to lure kids into the woods as well.
According to PEOPLE magazine, the Greensboro North Carolina police spokeswoman says there are not laws that prohibit people from dressing as a clown but there are city ordinances that prohibit people from wearing masks within city limits. Although this may not be the case for every city and all sightings have been harmless and the scare tactic has only been used, people have become "really" scared.
While clown sightings have shown to be harmless as of right now, it has brought a lot of attention to new horror films that are being released and how horror films can be enjoyed to a certain level of normalcy.  When taken to the streets and intentionally involving the weak-hearted, it prompts a more serious effect emotionally.
Rob Zombie's "31" was released on September 1st. It stars his wife Sherri Moon Zombie, Elizabeth Daily, Malcolm McDowall and many more.
Stephen King's "It" (2017) is an anticipated release starring Bill Skarsgard as Pennywise, Finn Wolfhard, Javier Botet, and many more.