In 2013, horror fans everywhere were heartened to hear that Bates Motel would be making a modern-day comeback. Made famous by the film Psycho, which was released all the way back in 1960, the setting of the movie had become a pop culture icon – one that sends an involuntary shiver down our spines even now.
Recreating this famed horror-movie hotel posed its challenges. While it was daunting enough to reimagine Psycho's terrifying killer, perfectly cast as Freddie Highmore, the series aimed to show its principle character in a new light, allowing room for experimentation and deviation from the source material.
With the building, however, set designers had no such creative license. They knew that fans would be expecting a suitably creepy take on the original – one which, as far as possible, stayed true to its cinematic inspiration.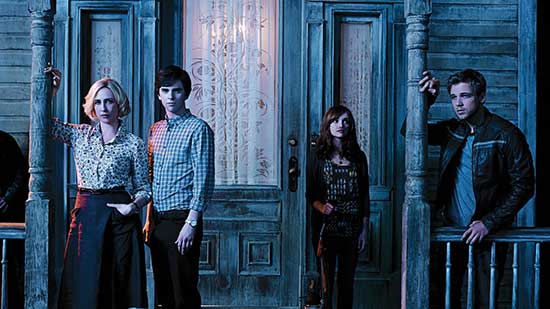 According to co-creator Kerry Ehrin and production designer Mark Freeborn, this was the team's greatest challenge (one they arguably rose to). Though the series finished in 2017, they've talked us through what it took to bring Bates Motel to life, and what happened to the set when they were done filming.
Inspired by the original
From the moment Bates Motel was first imagined, it was always intended to pay homage to the film by Alfred Hitchcock. To do this, its titular backdrop needed to recreate the eeriness and chilling aesthetic of its predecessor, while being as close a carbon copy as possible.
To help its creators achieve such a feat, Universal provided them with blueprints from the original movie, which had been filmed on one of their backlots. Challengingly, however, it was soon discovered that the drawings were not done to scale, forcing the production team to scrap their initial attempt and start over.
This proved to be slightly more complex than first imagined, with it becoming necessary to build two sets: one on a soundstage in Vancouver, which acted as the interior of the motel, and the other 45 minutes away. This latter construction was what would eventually function as the outside of the house.
A super-sized interior
In the world of television, it's typical for sets to be built quickly, and Bates Motel was no exception. Constructed in a mere seven weeks, it went from the germ of an idea to a completed structure in the blink of an eye.
Because of the speed required to stay on schedule, building a set can be risky, so certain precautions have to be put in place. These include everything from safety briefings and assessments to appropriate insurance. The latter is not dissimilar to the way another business might take out a general liability policy, and is designed to ensure that there is sufficient financial protection in place should something go awry during the process.
Luckily, the Bates Motel construction went without a hitch, and the interior was soon completed. Designed to be significantly larger than the external structure, its rooms were deliberately extended to give the production crew more space for moving around cameras and equipment.
Caving into their own creative urges, the team behind the production admit that they did make the modern Bates Motel slightly grander than its predecessor. However, they wanted to create as many similarities between the two as possible, even managing to replicate the lamp that sat on the master staircase in the original Psycho film.
However, they state that their set was not – nor was it intended to be, an exact match, with the creators aiming to give a more contemporary feel to the TV show. As Freeborn explains, they deliberately chose not to make the franchise into a period piece.
Smoke and mirrors
Although the motel ended up looking rather grand on screen, its creators say that filming was not always reflective of this. The exterior of the house was constructed on a decommissioned landfill, which meant that when it rained (which it frequently did in Vancouver), the smell tended to be less than pleasant.
In addition, the construction had a tendency to sink, dropping by roughly eight inches over the five-year period when the show was filming. This meant the production company were forced to continually refill the parking lot.
Interestingly, the house also lacked its trademark tower throughout the filming of the entire first season. This was due to budgetary limitations, which meant that the roof had to be incorporated using CGI until it could eventually be added on permanently.
The end result was arguably impressive, proving spooky, spine-chilling, and a perfectly fitting setting for a franchise that frequently left us on the edge of our seats. Sadly, however, it was not to last, being demolished as soon as filming wrapped up. All that now remains in its former spot is an empty parking lot.
As Ehrin laments: "It's the price… for what we do. It's not forever, it's temporary. That's what makes it special and magical at the same time."