Interview with jovanka 04.22.09
Heya Freaks and Minx!
I'm so excited to bring you this interview!
For those who may be unfamiliar, Jovanka is the EditorInChief of Rue Morgue magazine, one in which if you've never picked up a copy you must have just gotten into the genre and need to recognise! Haha
This woman kicks absolute ass and it is an honor to bring her to you. Without further ado, read on! ;)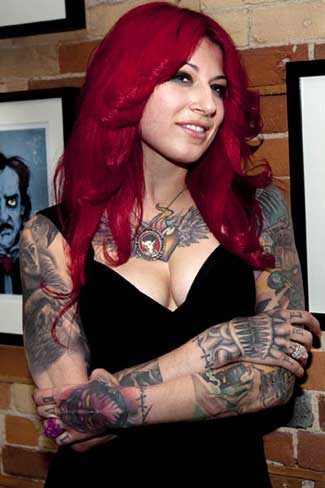 Thank you so much Jovanka for joining us today!
Thanks for having me, sister.
Tell us a bit about Rue Morgue Magazine for those who apparently live under a rock.
Rue Morgue is a horror in culture and entertainment magazine. We're a print publication that celebrates the genre in its many incarnations – from books to movies to comic books, art fashion and beyond. If it's dark and cool, we're into it. We're in our 12th year of publication, during that time the company – started by our publisher and original editor Rodrigo Gudino – has expanded to include Rue Morgue Radio, The Rue Morgue Festival of Fear, Rue Morgue Presents CineMacabre – our monthly movie night programmed by Dave Alexander – and Rue Morgue Cinema, which showcases Rod's ability as a film director. But the magazine is the original heart and soul of the company. It has always been independent and I think always will be. That gives us a kind of freedom you can't find in entertainment journalism. We basically fill the pages full of things we find interesting – not necessarily things that everyone else is covering. Stories like The History of the Werewolf or the Ouija board or the art of Hieronymus Bosch , death photography, hearse bikes – these are the culture articles that make Rue Morgue special.
You are now the EditorInChief of the mag. How did you acquire you position of queen over one of the best horror mags to date?
I had known Rodrigo for a long time and would travel to conventions with the Rue Crew, working the booth. I was working as a digital effects artist at the time but was a lifelong horror fan. One day it occurred to me there weren't enough women writing for Rue Morgue so I approached him about writing. I figured it was something I could do while my machine rendered FX shots. I wrote a review, which he nearly published verbatim, then he assigned me a secondary cover story, then, shortly thereafter, he sat me down and said "What would you think about taking over Rue Morgue?" After I picked myself up off the floor, I told him I had no experience in journalism whatsoever and knew nothing about running a magazine.
To which he responded, "That's okay, I can teach you all that, you've already got what it takes." Evidently I was a natural at writing; he had been testing me all along to see if I had the chops. The core knowledge and passion for the genre was already there, a stable backbone upon which he and I could build on. Of chief importance to Rodrigo was the awareness that I would continue on in the good tradition of Rue Morgue; that I'd never sell out, that I shared the same vision as him. So I gave up a huge job opportunity in LA in Visual Effects to stay here and run Rue Morgue. I was hired on as Managing Editor and Rodrigo trained me over two and a half years before taking over as EditorinChief. I learned the way things are done here at Rue Morgue, a very unorthodox and special magazine. So it was a lot of hard work but I'm proud as hell to be here and have never regretted my decision. I love my team, they're my family.
Tell us a bit of your background. When and how did you find your love of horror?
It's just always been in my blood. If you asked my mother, she'd tell you I've always loved monsters, that when it was my turn to pick a movie at the video store, I'd run straight for the horror section. I probably started watching them FAR too young, but I turned out okay nevertheless. I suffered from childhood insomnia as a result of trauma I had experienced. So I'd stay up all night watching movies on television – everything from Ray Harryhausen epic monster movies to Roger Corman's Poe films – my introduction to the late great Vincent Price – to The Exorcist, which left a permanent wrinkle in my psyche. I'm sure all these horror films didn't do much to help my sleep disorder, but they sure did provide for great escapism. After a while, horror became something uniquely my own. I decorated my bedroom with pages torn out of magazines, posters pilfered from the video store and mail order items. It became a way of life for me. It still is.
Your tattoos have become a legend in their own right. What are they and where? Sorry, I love tats! haha
I have a Blade Runner sleeve, in tribute to my favourite scifi film, portraits of various horror icons including Nosferatu, Vincent Price (from Theatre of Blood), Boris Karloff (as Frankenstein), Elsa Lanchester (Bride), Lon Chaney Sr. (London After Midnight), Christopher Lee (Taste the Blood of Dracula), H.P. Lovecraft, Edgar Allan Poe, a character called Andy from a fantastic Canadian horror film called Deathdream, the Pale Man (Pan's Labyrinth) Santi (The Devil's Backbone), Cthulhu (designed for me by Mike Mignola) among others. I also have a venus flytrap on my right hand, a hanya on my left, a crawling eye (in tribute to the eponymous film), a flaming jackolantern (for Washington Irving), the words PURE EVIL tattooed on my knuckles and so on. I'll probably keep going until I'm covered.
You have set a standard in a sense and really knocked down a lot of walls for women in the journalism part of the industry. I personally have you to thank for that. You also have just recently been profiled in a documentary about women in horror. Tell us a bit about it.

Thank you, but I don't really think I got you your job, you got it for yourself. You earned it all on your own and you should be proud of that. As for Pretty Bloody, it's a documentary about women working in the horror industry – behind the camera and in front, publishers, authors, radio hosts and so on.
Donna Davies, the director, who also created the documentary Zombiemania, is a fantastic lady. I'm grateful to her for allowing me to be part of the documentary. It basically takes a look at the lives of women who work professionally in the genre. It examines the issue of empowerment, which I don't think it is couched in a single genre at all. I think it's much bigger than that. It parallels what's been happening in society. Over the course of the sexual revolution, women have been slowly gaining more equality. You're seeing more women in high powered positions, including the once maledominated careers of executives and politicians. With that empowerment, stronger characters have emerged in entertainment media. Most modern women want to be in control of their destinies. Obviously art has to reflect that or it would be failing at what it aims to do: imitate life. Empowered women aren't going to identify with victims, so it's no surprise we have been seeing an increase in female heroes, villains and other strong characters in the art we create.
But it's important to note that it's actually not a new phenomenon. Tura Satana (Faster Pussykat, Kill! Kill!) has been doing it in Russ Meyer films since the 60's! Then there's Vampira, Pam Grier (Foxy Brown), Barbarella, Carrie Fisher (Princess Leia) Dyanne Thorne (Ilsa: SheWolf of the SS), Sigourney Weaver (the Alien films), Linda Hamiltion (Terminator 2), even Japanese women (Audition) and schoolgirls (Machine Girl) have been featured in prominent, empowering roles. Those strong female characters span decades. In the case of Kill Bill, Quentin Tarantino is actually borrowing heavily from Asian cinema particularly the Pinky Violence film Sex & Fury (for the female sword fighter lead) – and a film called Thriller: A Cruel Picture (for Darryl Hannah's character), so it's not like it's a completely novel idea that's never been tried before, it's just emerging in the mainstream more, courtesy of people like Tarantino and filmmakers, who have an interest in those types of characters.
What sets you and your magazine apart from the rest in your opinion?
We don't bullsh*t you. That's what's most different. We don't do advertorial, we can't be bought and we're opinionated as hell. Allowing our writers to truly have their own voices – without censorship – really gives the magazine a lot of balls.
It's a collection of very unique voices. I may not agree with every one of them, but that's what makes the mag special. We're also very much interested in the past and exploring aspects of the genre that are traditionally overlooked. The magazine was named Rue Morgue in part because it was a nod to Poe's singular mystery story (the other part is a nod to our bilingual Canadian heritage). Rod saw the genre as a great big mystery that he was going to use Rue Morgue to investigate. Through investigating the genre, we learn much about ourselves. It's been almost as much a personal venture as it's been a business venture. It's been my genre university and also a part of my journey to know more about what makes me tick. It's been incredibly rewarding in that manner.
Ok, now for some fun stuff!
What were some of your favorite films when you were growing up?
It's impossible to pick just a few so I'll give you one: The Thing it's a perfect horror film a story welltold (and it incidentally does not feature a single female character, proving tits and blood a horror movie do not necessarily make). It also features some of the most astonishing, groundbreaking special effects ever to grace the silver screen from EFX legend Rob Bottin. It doesn't get much scarier and cooler than The Thing. And it's still topical we're more afraid of each other now than we ever have been. Throw on The Thing, turn out the lights and watch it alone on a cold winter night. If you're not creeped out, you're probably not human. In fact, you're probably The Thing!
What are some of your favorite films now?
I am impressed mostly by foreign films lately, such as Let the Right One In, À l'intérieur, Vinyan, Taxidermia, Embodiment of Evil (the new Coffin Joe movie) even Dead Snow – the Norwegian Nazi ZombieComedy. There's something fresh about those films that the Americans – who are obsessed with remakes and sequels – just can't hold a candle to, save for maybe New Yorklensed Mulberry Street – which has about as much heart as a movie can have. I'm really looking forward to Lars Von Trier's new movie, Antichrist, it's an adult movie in a sense that it has adult characters dealing with adult themes. I long for more films of this nature.
What are some of the films that you just absolutely thought were horrible?
The Friday the 13th remake, most of the Japanese horror remakes, most of the American remakes and sequels for that matter – and pretty much anything aimed at teenagers. I don't identify with teenagers and usually can't stand the absurd scenarios we're expected to appreciate. I also find the socalled "torture p*rn" movement monumentally pointless and boring. These guys are mostly just trying to oneup each other. I'd rather read a book and learn something than watch a pissing match, you know?
Favorite guest ever to appear in Rue Morgue?
I love all of my horror brethren, I could never pick favourites! But definitely my interview with Clive Barker was a highlight. The Brothers Quay are also a unique pair, I very much enjoyed featuring them. We've since become pen pals.
Best part of your job?
Working with Dave, Monica, Gary, Justin, the rest of the Rue Crew and our stable of writers. They're like my family. I don't think many people can say that about their coworkers.
What do you think of the industry as it is now and where do you think its going?
Right now we're in a terribly low period of recycling. It's actually the worst its ever been. But the genre is cyclical and it'll swing back as soon as Hollywood has beaten it to death and gotten bored of it. Us diehards will still be here and some will continue to make unusual films outside the studio system that challenge the genre (like Douglas Buck's his upcoming feature Broken Imago, which I'm really looking forward to). Those are the movies that really keep the genre alive – not remakes and sequels.
Who are some of your picks for most promising up and coming actors and directors? Who do you think will be changing the industry soon?
I don't think anything's going to CHANGE the industry per se. Not since The Blair Witch Project has a single film or filmmaker had a really profound impact on the way horror movies are made. So there are no "saviours" out there. But I'd certainly like to see Tomas Alfredson (Let the Right One In) do another genre film. He's not really a horror film director, yet he made the best horror film of the year. Curious isn't it? Perhaps it's not going to be the young guys who are deliberately making straightup horror films that will reinvent the genre. Perhaps it will take someone coming from a different place, with a fresh perspective. Perhaps it will be a woman? You never know…
I want to thank Jovanka so much for talking with us! She truely is an inspiration to me and it was an honor!
For more info on Rue Morgue magazine, well take your lazy butt to your local book store or news stand and pick up a copy!!