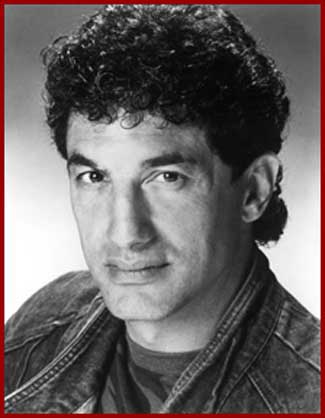 WHO: DAVID HESS
MOVIE: LAST HOUSE ON LEFT, SMASH CUT, FALLEN ANGELS
Heya Freaks and Minx!
I had the chance to sit down with the infamous and ultra-amazing DAVID HESS (LAST HOUSE ON THE LEFT, ZODIAC KILLER, ZOMBIE NATION, SMASH CUT) for an interview about his upcoming film SMASH CUT as well as a couple questions about his life in the film business. (If you've ever heard me talk about him especially his films, you know my obsession over 'Krug's' "Piss ya pants" moments. Still best scene for me in a movie! Haha) He's a actor, director, producer, musician, husband, father, and such a great guy all around.
I'm so happy and excited to bring you are interview in full and hope you enjoy!
Dai: Hi David! Thanks for joining us on HorrorNews.net today! How is everything going?
David A. Hess: It's going!
Dai: You are such an iconic figure in this industry I hardly know where to start! ;) Let's start with, tell us a bit about what you've been up to.
David A. Hess: On the Festival Circuit with the new film, Smash Cut…that's been taking up most of my time. Gotta few projects happening at the end of the year, small films…cameo roles for some skrilla (money), I'm in the middle of finishing up the first draft on my own project which we'll start filming in Canada early next spring and mostly trying to weather this f*cking economic storm we got ourselves into.
Dai: Tell us about SMASH CUT.
David A. Hess: A black comedy about a failed director who's last film is a booed out of the theater. He drowns his sorrow at the local strip club and hooks up with 'Gigi Spot'. The get in his car heading who knows where and have an accident, she's killed. He stuffs her in the trunk and the next day when he arrives on set to film, the special effects are so bad that he clears the set and substitutes Gigi's body. The Studio heads go wild for the new rushes, so Able Whitman decides to use real people instead of props and goes on a killing spree in order to finish his calling card epic.
Dai: Wow! That sounds awesome. Tell us a bit about your character Able Whitman.
David A. Hess: Always wanted to do some comedy, always wanted play a director. So the part came pretty naturally. He's kind of a pathetic character in that people don't take him seriously. I think he's a metaphor for how we treat each other in general. Never taking the time to look inside the other person to find out what really makes them tick.
Dai: You have quite the penchant for playing the dark and more sinister type roles don't ya ;) It doesn't seem to really fit your real life personality. What do you personally have to go through to transform into these figures?
David A. Hess: Not much…it's all in me! I have a penchant for playing against character. I use music as my muse when I'm acting and hear the film as a symphony of disparate musical elements.
Dai: Well an actual very unknown fact for some reason among some fans is that you are very into music. You have actually composed some of the scores for your films. How is your music coming along?
David A. Hess: Doing a new album. Hopefully have it finished by the end of the year. We're planning on recording live in Ottawa during the local premier of the film. It was filmed in Ottawa. If I don't record in Ottawa, I'll go to my friends studio in Topanga and do it there, but I will do it.
Dai: What are you recording?
David A. Hess: The CBC is going to do a live recording of a concert that we're planning on giving either before or after the screening at the Mayfair Theater in Ottawa. If that doesn't happen then I'll record it a my friend's studio in Topanga near L.A. He's a well known musician, Greg Hilfman and we've been making records for years.
Dai: Well I'm looking forward to hearing the finished project. You have been is so many films, what ones do you look the most fondly on?
David A. Hess: I think the trilogy of 'Last House', Hitchhike, and 'House on the Edge' is probably my most fondest memories. but it's all been good. The two series I did in Italy and the western I did in Russia, and working as a writer with Fassbinder in Germany those are also highlights. I never zeroed in on one thing because for me the work and the creativity was the most important.
Dai: That trilogy is what actually helped laugh you into 'Cult God Status" among a huge fan favorite. What are some of your memories from those days?
David A. Hess: Mostly travel, raising a family. Putting food on the table. Funny, though, now that my children are all grown, they remember more than i do. And they are totally comfortable on the set, which, to me, is half the battle. I remember things when specific films are shown and when scenes are recalled. But to do it off the top of my head is difficult.
Dai: Have your children ever seen your films?
David A. Hess: They've seen most of them…They used to sneak VHS's back in the day and show them to their friends when my wife and i were out…They know the films by heart and have no fear of Daddy. I'm low man on the totem as far as they're concerned. I can't even get a massage from my wife who's the top Therapist in Marin. See what I mean…?
Dai: Haha! That's terrible! How do people other than family treat you? Do you get treated as if you were really one of your characters?
David A. Hess: Sometimes, but mostly if they take the time get to know me, they loosen up.
Dai: With all the talk about desensitization nowadays, do you think the roles that you played desensitized you any to real life horrors or were you able to shell those experiences?
David A. Hess: On the contrary…i was able to grow because of the roles. I'm pretty well put together, so the roles were intense, but the recovery time was fairly consistent. i learned from them and made it point very early on in my career to keep my private life separate from my public persona. i think that any time anyone does a controversial role it's going to be somewhat encumbering for awhile. I'm not part of the Hollywierd machine so i don't have a P.R. person getting out positive feed on me. It's what the public sees and how they react, so interviews and tv and mags. can change that perception, but it takes a little longer…AND most importantly, my life is not only about acting, there's more to me than a character portrayal.
Dai: That's a great answer! You have been working the convention loops lately. How is that going?
[11:14:51 AM] David A. Hess: I'm not real high on Conventions. I prefer the Festival circuit. I've always had problems selling my auto and cd's etc. I think if someone pays at the door they deserve it for free, but the producers are reluctant to give guarantees, so one has to sell their wares to make any money. It's a bad situation, but the fans are good about it and I'm there for the fans.
Dai: That is why you have so many ;)
David A. Hess: You're sweet :)
Dai: It's all an act, I'm really a big bad bitch troll! haha. Where can people see you and your new film SMASH CUT?
David A. Hess: Well…we're going to screen it on Oct 15th in Toronto for Rue Morgue Mag. and then at the Trinity of Terror Fest. in Las Vegas over the Halloween weekend. I think there'll be a screening at the New Beverly Cinema during the American Film Market Nov.4-11, and the production company is working on more screening through the end of the year. The film is being released on DVD the first quarter of 2010 and from what I hear they're doing a pretty big push. The Euro Fest circuit is going to kick in about that time so there are lots of possibilities to see the film in the future. It's sad that it's not getting a theatrical release, but that the state of the industry at this point.
Dai: It is hitting everyone pretty hard right now. I am looking forward to seeing the film!
Well thank you so much again for joining us! Do you have any last words for our readers?
David A. Hess: Cult film and genre film making is alive and well and the fans are the best and the most loyal. SO!!! Stay with it, we will have our day in court. I think that our fans are the best and the most knowledgeable and if they/you keep telling us what you want to see, the films will get made. You dictate and we provide. And we love you for it. AND!!! If one eventually has to qualify what kind of film 'Smash Cut' is, then look to the word 'fusion', it really is a new genre cobbled from all that's gone before.
Thank you guys so much for joining us and thank you again David for hanging out!
To check out more about David Hess and his upcoming and past projects, please visit:
You guys be good and keep an eye on HorrorNews.net for more announcements and updates on where you can see David and his films!