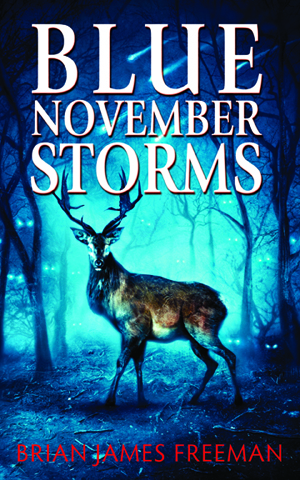 Several years back I read a novella called BLUE NOVEMBER STORMS written by a then up and coming writer Brian James Freeman. Years have past, things have moved on but this one thing has not, BLUE NOVEMBER STORMS is one of the best stories I have ever read, period. It has been long out of print but that is about to change and the reason why may actually be better than the novella itself.
The press release from Cemetery Dance explains all and I truly hope that all of you will consider picking this one up. It is worth it for the story alone but the fact that all involved are donating the proceeds to help Rick Hautala's family makes it a must do, if you're able.
We're very pleased to report that Blue November Storms by Brian James Freeman, which was originally published in the Novella Series years ago and has been out of print since, is being republished as a value priced trade paperback!
This new edition features a revised version of the text, an exclusive introduction by Ray Garton in which he explains why you should never go into the woods, 20 original illustrations by Glenn Chadbourne, a beautiful new cover painting by Vincent Chong, a bonus interview with Chadbourne about his artwork, and a new afterword by Freeman… all for just $9.99!
This trade paperback edition is not being published by Cemetery Dance, but we've arranged for all of the preorders we sell for the next 10 days to be SIGNED by Freeman, Garton, and Chadbourne at no extra cost to you!
Considering how quickly the signed Limited Edition and Lettered Edition of this book sold out way back in 2005, this is a terrific deal! (The signed copies will ship approximately one month after the unsigned copies.)
About the Book:
It's been twenty years since the group of friends known as the Lightning Five visited their hunting cabin together. Twenty years spent living in the shadow of something they did in high school, an event that forever defined them in the minds of everyone in their small town.
Now they're returning to the cabin to reminisce about old times and forget their troubles, but mother nature has other plans in mind. Before too long supplies will be running low and the Lightning Five will have to make some hard choices… like who gets to live and who has to die.
NOTE FOR COLLECTORS — SPECIAL COPIES TO HELP RICK HAUTALA'S FAMILY:
As you may already know, long-time Cemetery Dance author and friend Rick Hautala passed away suddenly earlier this month. Fundraiser efforts are currently under way to help his family in their time of need, and Glenn Chadbourne and Brian James Freeman have decided to create a special version of this novella to help speed that fundraising along.
We're now accepting preorders for special copies of this novella featuring stunning COLOR REMARQUES by Glenn Chadbourne. Glenn will be donating his entire art fee to the Hautala family. Brian will also be donating all of his earnings from each of these special copies. (A remarque is an original drawing made in the actual book by the artist, which makes that copy of the book a unique collectible. You can see some of Glenn's more elaborate color remarques here.)
These special copies will be also signed by Ray Garton, Brian James Freeman, and Glenn Chadbourne. Glenn is going all out to make these copies unique for the collectors who help us support the Hautala family and these remarqued versions of the book will ship approximately one month after the signed copies.
Great story, great cause, what more can you ask for.
CLICK HERE AND GO ORDER THIS NOW!!