Toronto, Ontario, Canada
As an avid cinematic aficionado since early childhood I'd embraced the opportunity of attending the annual Canadian Film Fest with bedazzled awe. With mixed feelings of neurotic nervousness and preconceived notions the event would serve copious quantities of artsy, pretentious content that would require an interpreter for later translation I walked into the gala ready for anything and everything. My initial impressions could not be further from the truth.
Kicking off the four day extravaganza was the opening night party on Wednesday, March 28 at Li'ly Resto-Lounge nestled in the heart of Little Italy's College Street and Bathurst Street in downtown Toronto. In unique, casual setting, aspiring independent film makers and press alike had opportunity to rub elbows and talk shop with the who's who of The Canadian film industry. Directors, producers and talent alike could not be more down to earth offering advice, opinions and rebuttals on every topic under the sun. Perhaps most impressive was the enthusiasm from the entertainment veterans rivalled that of first time attendees alike. In the unlikely circumstance that anyone was submerged in an undesirable conversation there was always the Molson Canadian draft and the hockey game projected on the big screen in the back drop. Those in attendance had little to worry about however as everyone engaged in fascinating conversations in true Canuck hospitality that we're globally famous for and proud of.
Next on the itinerary was the official screenings of numerous movies limited not only to the horror/thriller category but also drama, documentary, adventure and comedy genre as well. The demographic in attendance for each screening was as diverse as the content in itself. Torchwood public relations did a phenomenal job of providing a venue for Canadian film makers to showcase their efforts outside of the Hollywood norm and encourage them to produce future projects. Awards were also slated to be presented to best Feature film, Best short and People's pick for best flick and Reel Canadian Indie at the end of the four day schedule.
Thursday evening got to the true grit and guts of the matter for horror fans commencing with a panel discussion at the rustic and grandiose Royal Theatre. (see article titled The Gory Details With the Sinister Seven) The theme on the docket was the future of the horror genre within the Canadian film market. Moderated by filmmaker Warren P Sonoda (Todd and the Pure Book of Evil, Servitude) also in attendance were George Mihalka (My Bloody Valentine, Lost Girl), producer Wilson Da Silva (The Unleashed), director Casey Walker (A Little Bit Zombie) director of marketing from Anchor Bay studios Susan Curran, Rob Herholz director of sales and general manager of Anchor Bay studios and film maker Justin McConnell (The Collapsed) the panel offered insightful, informative and enlightening aspects of the film making experience. An open forum was also held for aspiring film makers and fans to ask questions and offer feedback and comments. Billed as The Canadian Genre Movie Scene those in attendance were graced with a fantastic experience attaining little known facts, tips, general trivia and amusing anecdotes behind the scenes.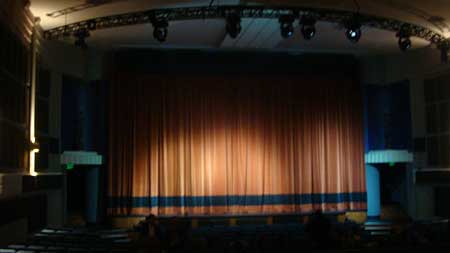 With a tough act to follow scream fans were in vast attendance to the Toronto premiere of Below Zero directed by Justin Thomas Ostensen and starring Edward Furlong (The Terminator 2 Judgement Day, American History X), Michael Berryman (The Hills Have Eyes, One Flew Over The Cuckoo's Nest) and Kristen Booth (Young People Fucking, Defendor). Ms. Booth was in attendance shining on proudly as the psychological thriller was received with a warm round of applause and standing ovation. Below zero is a tale of Jack a screen writer with a dreadful dose of writer's block struggles to resurrect his career and gratify his agent's persistence by agreeing to be locked in a meat locker within an abandoned slaughterhouse for one week to ensure his project's completion. One stumbling block after another his manuscript seemingly comes alive as one heart pounding twist unfolds before another. For more on Below Zero see review. The capacity crowd in attendance was left in silenced awe as the climax unveiled was a bona fide shocker even to the most cynical of terror fans.
Friday night was no exception for spookaholics as the eerie screening of The Unleashed was presented. Directed by Manuel H. Da Silva (see interview titled Unleashing Manuel Da Silva) starring Trisha Echeverria, Jessica Saiguerio, Colin Paradine, Caroline Williams, Malcolm McDowell this chiller is a tale of Ouija boards, the unknown and how one curious participant opens a flood gate to blood curdling ghouls and demonic possession. Madison must fully engage in her past of turmoil and tribulation in order to have any hopes in hell of overcoming the unholy entities from beyond.
Da Silva and McDowell gave a brief introduction prior to the opening credits as the audience was brandished with one jolt (or as Manuel affectionately refers to as stings) after another. The cast in attendance were greeted with resounding praise and congratulations with a very enthusiastic standing ovation. Rest assured The Unleashed will remain a conversational piece among insomniacs for years to come. For more on The Unleashed see forthcoming review.
Upon conclusion of the festival Walker's A Little Bit Zombie was awarded Best Feature. The comedy, gore spectacle received rave reviews among colleagues and fans alike. In its Toronto premiere the distribution rights were picked up by Anchor Bay much to Casey's delight thus proving there's still some bite left in the overwhelmingly popular zombie mish-mash genre.
It's encouraging to see fans of the theatre experience resist technological conformity and engage in the interactive celebration presented to us, the consumer, the audience and at times the critic and fully appreciate the creative integrity these producers, directors and cast deliver to entertain, captivate and enchant us year after year. This cinematic aficionado has a rekindled admiration for the craft of horror and I highly recommend your local Film Festival to attend, watch, interact and of course always seek out the next blood curdling scream.
Note: A special thanks to Alma Parvizian and the team at Touchwood public relations for an unforgettable experience. For more information on the Canadian Film Fest go to www.canadianfilmfest.ca