SYNOPSIS:

Charles Dexter Ward's wife enlists the help of a private detective to find out what her husband is up to in a remote cabin owned by his family for centuries. The husband is a chemical engineer, and the smells from his experiments are beginning to arouse the attention of neighbors and local law enforcement officials. When the detective and wife find a diary of the husband's ancestor from 1771, and reports of gruesome murders in the area begin to surface, they begin to suspect that some very unnatural experiments are being conducted in the old house. Based on an H.P. Lovecraft story.
REVIEW:

Few will argue with me when I say that Dan O'Bannon is a legend. His contributions to the genres of horror and sci-fi are without a doubt some of the most important of the last 40 years. He wrote "Alien", a "Heavy Metal" segment, and "Total Recall" among others. As a director, he only had two films under his belt. His first being "The Return of the Living Dead", which is put simply "a masterpiece". In my opinion, a perfect film. His second film was much less heralded and many don't remember much about it. "The Resurrected" aka "Shatterbrain" was released direct to video in 1993 to a lukewarm response. I remember watching that film when it was first released and I loved it. I haven't watched the film since then. I did buy the DVD when it was released in 2005. It has been sitting on my shelf, still sealed, and collecting dust. The one thing that I did remember was how much I loved Chris Sarandon in the film. And after watching the terrific documentary "More Brains!" and seeing O'Bannon's last interview, I became much more curious to see it again.
Apparently the film was taken away from him in the editing room and the final version released was NOTHING like his vision. With O'Bannon's passing in 2009 from Crohn's disease, it is highly doubtful we will ever see that version. When I was asked to review the film, I was excited since this is one I've been wanting to watch again for a very long time.
Claire Ward (Jane Sibbett) has grown concerned for her husband Mr. Charles Dexter Ward (Chris Sarandon) and decides to hire private detective John March (John Terry) to look in to what he is up to. Mr. Ward has been elusive and spending his time at an old farm house that has been in his family for centuries. The smell of chemicals and other oddities has grown so horrid that it has begun to arouse the attention of those around him. When John and Claire discover a diary kept by one of Ward's ancestors, secrets become revealed and what Ward may actually be up to is much more terrifying than anything they could have imagined.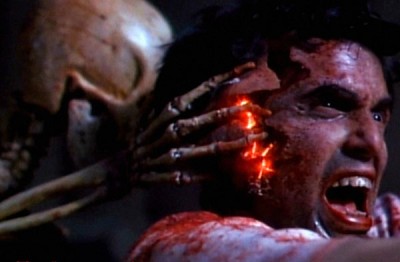 The film was based on a short story by literary master H.P. Lovecraft and actually one of the better adaptations of his work. The script was written by Brent Friedman (though I am sure O'Bannon added some of his own ideas) and captures the essence of Lovecraft. Now the film wasn't as great as I remembered as a whole, but there are some really great things in it. One being the performance of Chris Sarandon, who was able to channel the crazy like a pro. Second being the special effects work. The film moves at a deliberately slow pace, building up the tension and mystery before revealing the true nature of Ward's work. When we get our first glimpse of what that is, some truly horrifying effects appear and still holds up. While the pacing during the first 40-50min is a bit spotted at times, some of the music feels out of place, things do get much better. The films' third act is where everything begins to come together and the first and second act become worthwhile.
From the interviews I have read and seen with Dan O'Bannon, as well as comments made by some of his former colleagues, it would appear that he was a perfectionist. He practically disowned "The Resurrected" and I feel he was being a bit hard on himself. Maybe the film he had in mind was perfect much like "Return of the Living Dead". As sad as it may be, sh*t like this happens in the movie game all the time and we will never see that true vision. What we do have is a film with a bit of a slow start that ends up being pretty damn good. If you haven't seen it before, you really should check it out. **** out of 5.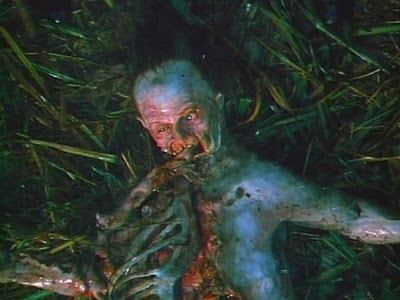 The Resurrected (1992)