Intro:
Hello my lovies!
Can I just say how impressed I am with our readers! I have gotten quite a few emails of peeps who really like our site and what we're doing. Some of the comments I will post below so you can see what's being said. Wanna be apart of it?
Send me a line and I will post it right here! On other things, I got the chance to talk with some pretty kick ass people this week.
Brian Avenet-Bradley (Director of Dark Remains) was awesome!
Did you guys know that movie was based off of real fears he had of his deceased mother coming back to haunt him?! His interview will be posted shortly so be SURE to check that out!
Actor Ben Schmitt (Quench, Only Fools Rush In)
was another guy I got to speak with. I don't care how you chop it up ladies but he is fricken hott! Plus he is funny so ya can't go wrong with that one.
His interview will be up within a few days so look out for it!
__________________________
News Quickies:
'Because who doesn't like a quickly every now and then?!'
EXORCIST being released on Blu-Ray Dec 2nd:
This happens to be a fav of mine. The most classic line of the movie "You see what she did, your —-ing daughter" makes me laugh everytime!
Cage cast for SEASON OF THE WITCH:
The film is about Knights from the 14th century who keep a girl suspected of being a witch for spreading the plague. The twist is what proves to make the movie. Critics aren't thrilled about Nicholas Cage being part of the film due to his tenancy to 'overact' but I say hell, with all the overacting we see from big Hollywood stars out in public on a regular basis, why not? Hopefully he will be wearing panties when he gets off horse!
Relativity Media in talks with Universal to buy the assets of Rogue Pictures:
*Cue announcers voice*
Due to Dai's strong feeling on the subject of big corporations buying out smaller corporations just to turn out a buck and how it compromises the very part of the horror business that she appreciates the most, she has been bound and gagged until the end of THIS quicky and will be released for the next. We dont have a big enough 'bleep machine' to cover her languge.
Thank you for your cooperation.
SPLINTER takes home 6 awards from Screamfest:
Awards include Best Special Effects, Best Directing, Best Picture.
Good job guys!
Manson and Twiggy show up to the Spike TV Scream awards together:
I don't know what exactly took place, but I heard a comment about Marilyn Manson using anal sex as a form of four play and my mind wandered off into dreamtown. What I wouldn't give to be in a Manson-Ramerez sandwich…
__________________________________________
What I'm watching:
Well, this week was a busy movie week!
I had the opportunity to watch SPLINTER and SQUEAL along with some of my favs I haven't watched in a while like PUMPKINHEAD and WOLF CREEK.
I fricken still love PUMPKINHEAD! That movie is just timeless anyway ya look at it. Although I do have t say the wardrobe was lacking in the movie but back in the day those 'threads' were totally boss. (LOL I just showed my age!)
SPLINTER was crazy! I wanna meet the actors who played 'the infected ones'. Anyone who can contort like that would be a bitch to play Twister with!
Def check out SPLINTER when it comes out! Twisted, grotesque, bloody, my perfect date movie!
SQUEAL is a very strange story about a race of half pig half redneck people who have a vendetta against mankind. No I'm not talking about my neighbors again, at least the creatures in this film seem to have some kind of a brain.
As my sister Misti said, it also has 'the Chucky doll of pigs' so that part is kind of endearing in a twisted sort of way.
Call me old fashioned, but I would have enjoyed a little more 'DELIVERENCE action' if ya get what I'm saying. haha
Complete reviews of both SPLINTER and SQUEAL coming soon to our review section.
__________________________________________
SPECIAL GUEST COMMENTARY: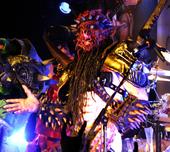 My good friend Rob Dixxx and his hott ass little wife (who just happens to be listed in our Horror Vamp section as Cherry Darling) went to the latest GWAR concert in VA. Check out what he had to say:
"Hey Rob Dixxx here, or as my lovely wife calls me, Daddy Satan….just creeping by to fill your sockets with some ghastly gore from our recent infestation at the local GWAR show here in Burlington, VT at Higher Ground. What better way to celebrate Columbus Day than with Murder and Mayhem. They killed a baby right off the bat, so we knew we were in for a show! Many stage antics were played out nicely in between playing some of my favorite songs like: America Must Be Destroyed- I' definitely agree :), Have You Seen Me, I Hate You and OF COURSE laughterama!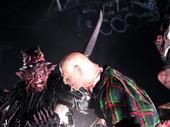 And OF COURSE there was plenty of Space Jizz for everyone…my wife got blasted right in the face with it!!!!! hahaha Even the presidential candidates and Hilary Clinton stopped by for a listen, but unfortunately none of them were as fit to rule supreme like Mr. SLEAZY P. MARTINI, so they were annihilated by Oderus and crew, which we were lucky enough to catch on camera! I would have liked to see a little more blood hit the more of the audience. I was up front, but off to the side, and the center seemed to get the most viscera, so I'll let it slide and won't track those bloated sh*t-bags down and slice em up…..this time!
HEY GWAR…MORE BLOOD!! …..all in all it was a sick show and I got some even sicker shots not only of the bad but of some hot lil babies after the show who love it in the face as much as my wife!! Enjoy!
SATAN COMANDS YOU!
Rob Dixxx
__________________________________________
Contests:
Last weeks Short Story contest proved to be a good one!
We got a lot of entries in and I have to say congrats to all of you!
Normally I would post the winner right here on 'Horror Talk' but do to graphic material and the fact I was impregnated by a Zombie Clown, the winning story will be posted in my blog on my myspace page.
So congrats to David L Tamarin for winning the DVD of TRAILOR PARK OF TERROR and the Short Story Contest! If you would like to read it go to www.myspace.com/dai_o and check out the blog!
This weeks contest is an easy one!
All you have to do is find out the list of the zombies in TRAILOR PARK OF TERROR, email me their names, and which one you would you would want to be killed by if you had the choice!
We will pick the winner randomly and that person will receive their own copy of TRAILOR PARK OF TERROR!
__________________________________________
I want to thank my special lovie TaintedXBeauty for designing my Myspace page. This girl is a fricken genius when it comes to graphic design and can make layout EXACTLY the way you want them.
Check out her pages and designs at:
www.myspace.com/taintedxgraphics
www.myspace.com/edenofdelirium
Also look for her in our Horror Vamps section here at horrornews.net!
Thanks to everyone who is supporting our site, the people we talk to, and who think I'm hott! haha Had to add that in now didn't I! Here are some of the comments readers have said. Write me too and I will get yours up next week. I look forward to it!
It's nice to see a girl in this genre with some balls.
Chris P. -UK
I love the site! Its easier to get to the places you want to see and you don't have fun fumble through crap.
Darren H. -Buffalo NY
(Dai) is like the Kathy Griffin of scary stuff. It's funny.
Saralynn G. -'Hollywierd' CA
The chicks in the 'Horror Vamps' are sexy as (*bleep*).
Matt J. -Riverside CA
Stay Twisted!
Dai