Man, I waited for months to go to this convention and the morning of it I woke up feeling like I got hit by a mac truck. I was achy and stuffy but I forced myself to take a pain pill and trudged on because I knew I needed to do this article for our website. At first I thought I was going to just die and never get thru the day but finally the pill kicked in and I was good to go. When I got there on Saturday it didn't seem like it was as crowded as it normally was but there was still a ton of people milling around looking for good deals on horror items and standing in line waiting to meet their star of choice. Everything that could go wrong for me did.
First my camera wouldn't work right, then my voice recorder was on lock and no matter what I did it would not unlock for me to use. I started to freak out inside thinking that I would have to tell Mike that I couldn't get any pics. I went outside and sat down smoking a cigarette and figured out my camera. I went back in and started to take some pictures of cool horror set ups and tables with merchandise. I promised my son I get him the Iron Sheik and Nikolai Volkoff autograph and lucky for him there was no one at their table. No line to wait in so I quickly got that out of the way. Nikolai asked me how old my son was and I when I said 16 he almost fell out of his chair telling me he thought I was 16! While in there I noticed the booth where you could get a pic with the miner from My Bloody Valentine. There was a slew of people waiting for that.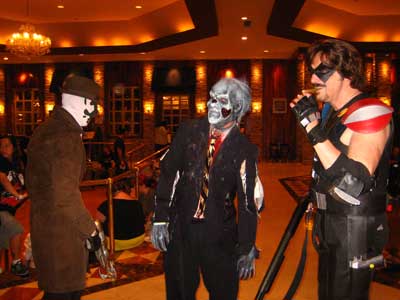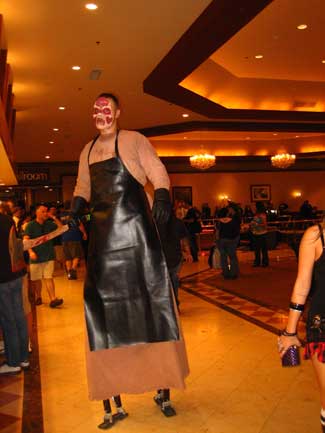 In that same room there were the actors from Sleepaway Camp and I was surprised that they didn't have more than a few people standing in their lines since that is a classic horror film. Desiree Gould (Aunt Martha), Frank Saladino (Geno), Karen Fields (Judy), Jonathan Tierston (Ricky), Paul DeAngelo (Ronnie), and the writer/ director Hiltzik. Sid Haig from House of a 1000 Corpes, Devils Rejects had plenty of admirers as well as Michael Berryman from The Hills Have Eyes and One Flew Over The Cuckoo's nest. Also in this signing room was James Dunall (Donnie Darko), Belinda Belaski (The Howling), Dee Wallace Stone (Cujo), Jennifer Blanc (Prank), and Dick Miller (The Howling). 
I walked to the next room and saw George "The Animal Steele", Shavar Ross (Friday the 13th Part V), Miguel Nunez (Return of the Living Dead, Friday the 13th Part V), Derek Mears (Friday the 13th 2009), Ron Sloan ( Friday the 13th Part 5), Carol Locatell (Friday the 13th Part V), Katharine Isabell (Ginger Snaps), Sergon O'Dassey (False Face), Ben Haeser and Buzz Hasson from Living Corpse Comics, Kelly LeBrock (Weird Science), John Astin (Addams Family), Lisa Loring (Addams Family), Felix Silla (Addams Family), Debbie Sue Vorhees (Friday the 13th Part V), Travis Van Winkle (Friday the 13th 2009), Danny Steinman (Director of Friday the 13th Part 5).
Now Outside of the venue they had a Bat Mobile you could take pictures of and pay to get a picture of you in it. Adam West (BatMan) was inside in a special room and the line was pretty damn long. Also James Marsters (Buffy the Vampire Slayer) was in there as well and his long line had a wait to get in also. I heard that he charged $40 for an autograph and $60 for a photo and than you could fork out $75 more dollars to have a 20 minute breakfast with him. Gee, doesn't seem like there is any fan appreciation there now does there. Both Marsters and Adam West were both labeled as Prima Donna's and caused many a fan some disappointment.
I walked around admiring many artists work like the guy who was painting horror characters on Xmas balls, the incredible masks, some paintings, and lots of DVDs. If you have never been to a horror convention before and are in the NJ area you need to check Monster Mania out the next time it comes around- www.monstermania.net/, I guarantee you won't be disappointed. Check out the websites address above and check back often for they will add updates and a guest list for the next one. Another thing you wanna do is save some cash, you'll be amazed at how much stuff your going to want to pick up. 
You will leave there will plenty of bags, some autographs and great memories!