Hammer is almost as well known for the way it promoted its films as for the films themselves. The legendary British production company supported each new release with eye-catching posters that have become classics of their kind.

Licensed by Coolabi, fully authorized by Hammer Films Productions Ltd., and annotated by acclaimed historian Marcus Hearn (author of the recent bestseller Hammer Glamour) The Art of Hammer is a testament to the company's pioneering mastery of film promotion and a celebration of movie art at its best.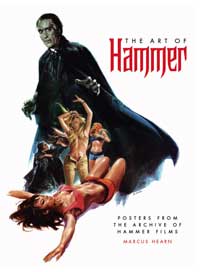 Over fifty years ago, with the release of The Curse of Frankenstein and Christopher Lee's iconic performance in Dracula, Hammer Films established itself as an institution and became the most successful British film company of all time. Now, revamped for the 21st Century, Hammer Film Productions Ltd. are producing a slate of new movies. The first of these, Let Me In, is due to be released this autumn.
Source: Dreadcentral