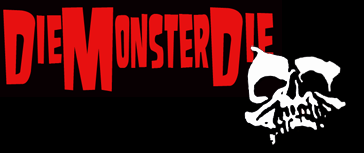 If you're like me, horror isn't just in the kind of movies you like to watch. It's in the type of clothes you like to wear; it's in the books you like to read; it's in the kind of activities you like to engage in; and it's in the type of music you like to listen to.  Now, is the horror art and entertainment that I spend my time with always the greatest examples of exceptional fare in their respective arenas? Not always… However, when a piece of horror art/entertainment is found which is exceptional in all respects, I feel it's a very special discovery.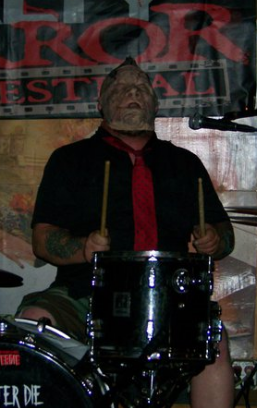 Enter DieMonsterDie (DMD), a healthy mixture of horror imagery and punk rock at its finest that definitely fits into the category of extraordinary. They are a horror-punk/rock band from Salt Lake City that follow in the tradition of Type O Negative, Alice Cooper, and The Misfits. DMD has made a commitment to horror, both with their look and with their music.
It's difficult to describe DMD 's music. It can't be put in a box that is easily defined. Why do these monsters feel it necessary to look like a small mass  of the walking dead when they take the stage? Why do they write music about monsters, hookers, and mayhem? These… I have no answer for. So I figured I'd just ask them. I was happy to get the chance to chat with Zero Delorean, the auspicious lead man of DMD, and Meatwhistle, the drummer and evangelist for DMD. We even get some comments from the illustrious Stikki Nixx, the sexy and the bassist for DMD:
Mike: Can you give the readers who may have not heard of you a history of Die Monster Die?
ZERO: DieMonsterDie was formed by Meat, myself, and bassist Raven Blades over a decade ago. We were all alumni of a band named Casa Diablo so it could be said that DMD rose from the ashes of that band. Our first release "What Is Shall Always Be" was recorded as a 3-piece band, in our rehearsal space almost immediately after the group formed. The album was well-received by the shock rock underground and the band has been rolling along ever since. For our second album "Honor Thy Dead" guitarist LaVerne LaVey joined our ranks and has been in and out of the band several times over the past decade. LaVerne was replaced by guitarist Mercury Rising and DMD released our third and best-known album "Only The Dead Will Survive" which featured artwork by Big Tony. This was the first time album graphics were created by someone outside of the band. Mercury Rising was with the group for two consecutive albums and earned his place in what is generally considered the Classic lineup. Our fourth album "A Great And Terrible Loss" was released during Mercury Rising's tenure that saw DMD supporting top-notch acts including Type O Negative, GWAR, Celtic Frost, Impaler, Genitorturers, Mortiss, Dr. Chud's X-Ward, Graves, Michale Graves, Calabrese and Dead By Day, to name a few. Shortly after the fourth albums release both Mercury and Raven departed the band to be replaced by returning guitarist LaVerne and new bassist/violinist Vladina Khalishnikova. Back in the studio for our fifth release "Fall To Your Knees", Vladina left halfway through the recording process and Raven Blades returned to finish the album. Raven imploded shortly afterward under personal issues, followed months later once again by LaVerne LaVey. Between the departures of Raven and LaVerne we recruited bassist Stikky Nixx and we've been performing as a 3-piece band since July of 2010. Currently we plan to release a new album in 2011 and we couldn't be more pleased with the new material.
Mike: How would describe your sound?
MEAT: for me a mixed c**ktail of horror punk and metal, we have coined the phrase "Graveyard Shock N Roll" as the band goes on, and the
influences that come from Zero, Stikki and I. I think it is bigger and can't be bottled into a single feel or sound.
Zero: It's hard to distill DMD down to an easy and short description. Obviously we're a shock rock band and a horror-punk band but the way we write is such a stream-of-consciousness process that just about any genre can find its way in. We're very open-minded where songwriting's concerned.
Mike: Was there a moment in your life that smacked you and you realized that you wanted to be in a band?
Meat: I think it was a mix of going to concerts at a very young age, and the good ole memories of Head Bangers Ball. those were religious times for me, I admired every single band I saw on HBB. that really inspired me to play music.
Zero: I was just a little kid and it was when I first saw the cover of KISS Alive II. I was mesmerized! Before that I had never given thought to the fact that the music I heard every day was made by actual people. When I saw that KISS album I just KNEW, "I wanna do that!".
Mike: What is it about horror in general that made you want to incorporate horror imagery and themes into your music/shows?
Meat: I love how it creates a certain mood and you get lost in the song imagining the story being told.
Zero: It all just feels like a natural fit, the horror imagery and our music. It's a universal theme that get the ladies hot. For myself, it's an opportunity to express publicly what is going through my head 24 hours a day.
Mike: What's it like being a Horror Punk/Rock band in the heart of Salt Lake City?
Zero: We are much better received than you would think, considering Salt Lake City's reputation as a religious nutjob metropolis.
Stikki: It's not much different than being in any other type of band except when after we've played a show and standing outside on State St. wearing a monster mask greeting the passerbyers all covered in blood and sweat.
Mike: What is Dr. Cyclops Records and how are you involved?
Meat: Dr. Cyclops Records is DMD's Independent record label. We own and operate a few websites: World Horror Network and Horror-Punks.com and at the time we were putting together a horror punk compilation called "The Horror Of It All Vol 1" we were contacted by Cargo Distribution, asking if we had plans to start a label. We hadn't at the time, but with the distribution in front of us, Zero and I thought what the hell. Zero came up with the name, and off we went. Because CD/Vinyl has died as of recent years, we now have moved into Digital Distribution for Unsigned and Independent bands. We are calling it Dr Cyclops Digital, and we release albums on over 600 legit digital download sites in 60 countries. Distributors which include all of the major digital retailers in the states.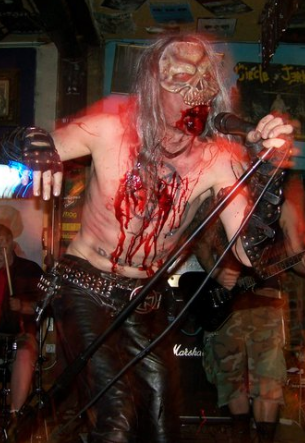 Zero: Yeah, the Dr Cyclops Digital Division is a fantastic opportunity for independent bands to get their music available with very little overhead, and totally legitimate to boot! There's a lot of shifty f*ckers out there, so bands do your research!
Mike: You've recently made a video for your song All Covered In Blood and Dressed Like a Whore… What is the song about and what can you tell us about the video?
Meat: The song is from the album we released in 2010 called Fall to your Knees, Zero can tell you much better than I could what the song is about. The video idea was a kind of voyeuristic style. You got a beautiful girl singing, dancing and cutting into her webcam, and DMD is watching.. I thought it turned out pretty good.
Zero: The song is based on the parting words of former DMD bassist Vladina to Meat and I. She got separated from the pack after a show where I was carried out in a diabetic coma. During the confusion she wound up stranded at 3AM in an unfamiliar city, all covered in blood and dressed like a whore. She survived to see the sunrise but the damage was done and she was gone. I felt terrible about it, it never would have happened if I were conscious.
Mike: Where can folks go to sample/buy your music and learn more about you guys?
Meat: The best place to go is DieMonsterDie.com where you can buy digital downloads of all of our albums for $5 apiece. We are also available for download at your favorite digital download site.
Zero: You can Facebook us too, there's a DMD page and Zero Delorean has a profile too if anyone cares to seek it out. For sh*t-tons of videos check us out on Youtube.com, there's piles of stuff at your disposal. We also have an abandoned profile in the virus-laden wasteland of Myspace for the truly brave/foolish!
All Covered in Blood and Dressed Like a Whore:
[youtube]http://www.youtube.com/watch?v=WqO48Lr4IF0[/youtube] Important DieMonsterDie Links:
•   
Official DieMonsterDie Homepage
•   
DieMonsterDie on Facebook
•   
Zero Delorean on Facebook
From getting to know the members of DieMonsterDie, listening to their music, and witnessing their shows live, it's obvious that DieMonsterDie is committed to bringing us rabid horror fans exactly what we're longing for.