Heya freaks and Minx!
Welcome to this edition of Dai Of The Dead. I am your hostess Bob and will now take you on a tour of my f*cked up little mind. So, so my name isn't Bob, but all the rest applies. ;) Quite a bit has gone on since the last column and I am excited to get to it. I know I have taken a little break from this, but what can ya do, I was a busy little goblin the past few weeks and have kinda stuck to quick articles instead of a full column. Check out what I've been up to by scrolling all the way down and clicking my name under staff.

A few quick pieces of news:
INSIDIOUS was #3 at the box office last weekend!! And considering it was at considerably less theaters than SOURCE CODE, that is a HELL OF A FEAT! Should it have been in as many, experts say it would have undoubtedly taken the #2 spot. Why not #1?? Because the retardedly cheesy bunny movie debuted the same weekend. Now why would anyone want to be scared out of their wits when you could watch an animated bunny crap out jelly beans and watch the chick from Big Bang Theory eat them?
Anyway, CONGRATULATIONS to director, and my friend, James Wan for making another hit!
We had the opportunity to interview James on THE GASH so if you haven't checked it out yet, click the link! www.blogtalkradio.com/horrornewsnet/2011/03/29/the-gash
The Hyaena Gallery put on a #Winning Event and Charlie Sheen found it "Radical"!
Last weekend Bill Shafer of the Hyaena Gallery in Burbank, CA had the store's anniversary show and picked the Warlock himself, Charlie Sheen, as the featured theme. Apparently, Charlie loved it so much that he showed up to the gallery and recorded himself speaking to each and every piece that was of him so that people who came in to see them would get a word about them from the man himself.
The video was hilarious and the show was an AMAZING success! Bill extends his genuine thanks to everyone who came out and supported the show. If you are in the Burbank area, you can still see the pieces until April 15th. If not, check it out online at www.HyaenaGallery.com
Thanks to the awesome people at Troma, I am TROMETTE OF THE MONTH April 2011!!
This is pretty kick ass :) Check it out at www.troma.com/tromettes/dai-green/
AND NOW….On with the show: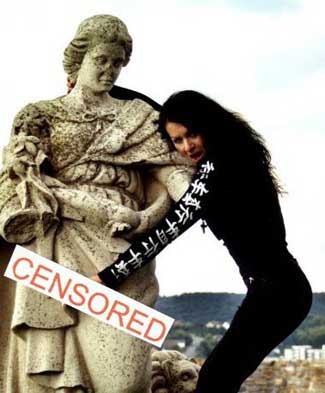 I had a chance to sit and talk to the eccentric and ALWAYS entertaining MANOUSH recently for a special interview JUST for DOTD. Manoush is one of the most outspoken, funny, and talented people that I have met in wuite a long time so any chance I have to show you guys another side of her is my pleasure. So, without further ado, here we go:
Dai – Well Hello, Mrs. Manoush! Thank you for being with me today! Tell our readers what is on your mind right now.
Manoush – what is on my mind right now? Oh god … so much at the same time … I'm preparing myself for 2 new movies that we'll shoot this year and I just revived my clothing line by making the infamous C.U.N.T shirt again … so I'm all hyper and all over the place right now … excited like a kid about everything …
Dai – CUNT shirts?! That is AWESOME! You said again, how long have you been doing these?
Manoush – actually I had only made 2 a couple of years ago .. for a movie .. but some weeks ago I posted photos of the original shirt and got a surprising lot of requests to make this shirt available …which I felt was a huge compliment .. I'm really proud and happy
Dai – Nice! What movie was that?
Manoush – it was a movie that I did in New York and Europe. The title is UNCUT – that was in 2008. The director is still cutting and editing lol
Dai – Does CUNT stand for anything specific? (Like I need a reason to wear a shirt that says cunt. I'd wear one for any reason haha)
Manoush – oh it just means CUNT. When I first made that shirt all the girls loved these shirts that had "Angel" or "Princess" and all that sweet sh*t on it and I hated these shirts; so I sat down and thought what the most offensive word in the English language might be and that was: CUNT !!!!! That shirt is only the beginning though … I love to word-collage things. So next shirts will be:"21st Century Gang Bang Gladiator", "Full metal Fag Hag", "AK 47 Messiah" "Cannibal Pervert Superstar" etc ..
Dai – HA!! That is so great. I need a collection of those ;)
Tell us about your film career thus far? How did you get into the biz?
Manoush – Oh, how did I get into the film business? That was actually more of a coincidental thing although I always wanted to be a actress since I was a child. I worked with my own bands in the 90ies but we were never really successful apart from "Full metal c.k./cop killer" in 1994 but rather notorious for our shows on stage.
So one night in late 1997 an Indie filmmaker in Germany saw one of our shows and afterwards he asked me if I wanted to be in a movie and hell yes I did. Then the offers just kept coming and here I am now… happy as a lark about being an actress.
Dai – That is actually the type of story I love to hear about how people find their way into this industry. Do you find it much like the music biz or are they different for you?
Manoush – I think both are very much alike … I think all artistic environments are very much alike … filled with passion, creativity … and sometimes insanity (which as I've observed can be quite creative too sometimes)..
Dai – I know what you mean, I have been on both sides as well. How would you describe your acting style?
Manoush – I don't think I have any particular acting style. What I do though is not getting into my character by acting but by becoming my character for the time being. I totally identify myself with the character that I have to play. Speak like her, act like her, react like her, dress like her but once the movie is finished I just slip out of that role and character and abandon it. Once the movie is done the character I played feels like a mere shell, like a corpse to me, so I just leave it
Dai – Ok, pick 3-5 of the films that you have been in and, in one sentence each, describe your character in the film.
Manoush – Oh. Ok.
1) THE SUPER: Olga – vicious, unscrupulous, vile and cold
2) La PETITE MORT: Madam Fabienne; a greedy sadist bitch
3) AVANTGARDE: Donna Sciavelli – an insane fashion designer, full of herself and full of sh*t
4) NECRONOS – THE WITCH , the personified opportunist self centered evil (like politicians)
Other than that many roles I played were similar because I got so typecast to playing evil, deranged, rotten or psychotic characters.
Dai – You seem to have a theme with the type of characters you play. Do you prefer to stay within those confines or do you someday want to branch out beyond that and do something completely different from what you've done?
Manoush – Well I would definitely love to branch out as well as carry on playing the roles that I'm typecast for. I'm always open and excited about new challenges. But if someone asked me "would those evil roles satisfy you if you were only being offered that kind of roles and nothing else?" then the answer would be NO.
I love the roles that I'm typically getting booked for but I'm hungry for new challenges, new kinds of roles too.
Dai – Thank you for opening up with me today! Tell us what are some of your projects that you have coming up that we need to keep an eye out for and all the places we can check you out.
Manoush – I can only speak about one of the new movie projects for 2011 so far which will be a thriller called "Candy's Room", written and produced by Geraldine Winters and directed by Marc Vorlander .. other projects I'm not allowed to talk about yet, but I will keep you updated of course.
My facebook is:
www.facebook.com/manoush.justmanoush
You can check out and purchase one of the CUNT shirts at:
www.fastcustomshirts.com/servlet/Categories?category=Manoush+Fashion+Massacre
Dai let me add one more thing: Thank you so much for having me !!!
Dai – No way! Thank YOU for chatting with me! Best of luck to you and can't wait to see ya in the movies!
Here is a random Just For Fun question I asked my FB friends:
Who do you think are some of the sexiest male villains in horror films that may not be as talked about as some of their counterparts?Here were some of my favorite answers:
Arnold Vosloo – The Mummy
Anthony Hopkins – Silence Of The Lambs
Julian Sands – Warlock
David Hess – Last House On The Left
Duncan Regehr – The Monster Squad
Timothy Olyphant – Scream 2
Christian Bale – American Psycho
Ralph Fiennes – Red Dragon
Johnny Depp – Sweeny Todd
Stephan Dorff – Blade
Matthew Lillard – Scream
David Boreanez – Valentine
Robert DeNiro – Cape Fear
Paul Bergin – Sleeping With The Enemy
Funny enough, a few men actually helped more list the list some of the women. I love a guy who can be cemented in himself enough to help a couple chicks decide another male's attractiveness.
Thanks everyone who contributed!!
Special Guest Contributions: 
The beautiful Bianca Barnett was able to attend this years SXSW and has prepared a quick article for your cerebral pleasure!
I will let her take the helms now ;) :
As a teenage girl, I dreamed of indie star status, attending glamorous film festivals, and even considered pursuing a degree to become a director. Emily Hagins would have been my hero for at the ripe old age of 18, she has already directed four films. Her latest endeavor, My Sucky Teen Romance, is a clever parody of the modern day vampire frenzy seen through the eyes of actual teenagers. It was selected to premiere at the prestigious South by Southwest Festival in Austin, making Hagins the youngest director to premiere there.
I had the honor and pleasure of being asked to make a cameo in My Sucky Teen Romance as myself. Working with Hagins and her crew, you would think you were working with veteran Hollywood pros, not high school kids. Filming was efficient and punctual and though soft spoken, Hagins absolutely knows what she wants from an actor and how she wants a scene to unfold. If she keeps up at this pace, she unquestionably has a long and fruitful career ahead of her.
The premiere at the famous Paramount was definitely exciting as the film was the center of much buzz. Upon arrival, I was shocked to see the massive crowd and line wrap around the theater. Of course, this made me a bit anxious as it was the first time seeing the film and the first time seeing myself on the big screen. (Yes, I am one of THOSE actors.) Would I look ridiculous? Would the crowd like the gag? Would my foray into comedy fall flat on its face? Could I hold my own with this cast of talented young performers? Thankfully, the crowd erupted in laughter during my scene and there were even a few cat calls. Success! I was relieved and enjoyed the rest of the night with the cast and crew.
It was a wonderful and emotional experience to see Hagins have such a heartfelt response from her audience. I truly admire the gusto and ambition it took for her to make her dream come to fruition. There is no doubt in my mind that My Sucky Teen Romance will receive distribution and that Hagins' career has only just begun. I am thrilled for her future and look forward to what she comes up with next.
www.cheesynuggets.com/
-Bianca Barnett
Thanks so much for that, Bianca! Make sure you guys take her advice and check it out!
BENEFIT FOR JAPAN:
Thankfully, I was able to attend the Red Carpet event at Dark Delicacies in Burbank, CA this past Thursday. Due to the horrible winds on the way up, it was uncertain if I could make it but Iput on my big girl pants and drove through the storm. (Yes, this is where you award me a metal. Haha)
Some of the special guests included:
Lance Hendrickson
Kevin Tenney
Leslie Easterbrook
Brett Wagner
James Duval
Brenda and Elisabeth Fies
John Savage
Josh Eisenstadt
Daniel Knauf
Ken Hall
(Plus many more)
With most of the headlining guests showing up, the event seemed to go off without a hitch. There was a section that fans could pay $10 and take a picture with their favorite celebrity on the red carpet along with being able to buy signed 8x10s. I was very impressed with the guests who were more than willing to sit there and talk with fans like they had been friends for years. A lot of money was raised for the people of Japan and a few mew friendships were formed. All in all, a very successful event. Thank you to Del and Sue, owners of Dark Delicacies, for being such amazing hosts once again.
To see all of the events that DD's puts on each month, visit www.DarkDel.com
That's just about all I have to say for this edition of DOTD so once again thank you SO much for stopping by and hanging out!
Have any questions, comments, suggestions, or hate mail?? Send them my way at Dai@HorrorNews.net
I would love to hear from ya! Until the next time, lovies…Xox,
Dai