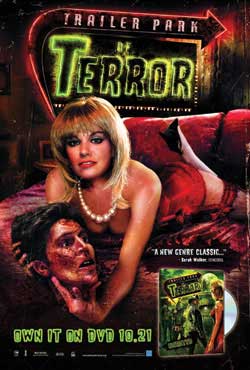 SYNOPSIS:
After getting in a crash that left their bus disabled, 6 teens and their pastor try find refuge in a abandoned trailer park. But when they realize they have walked straight into a zombie pit, refuge will be the only thing they didn't find. Based on the Imperium Comic Series.
Cast:
Nichole Hiltz – Norma
Ed Corbin – Stank
Lew Temple – Marv
Myk Watford – Roach
Trisha Rae Stahl – Loralene
Directed By – Steve Goldmann
REVIEW:
Norma was a pretty girl who desperately wanted to get away from her white trash life and start anew with her boyfriend. But when tragedy struck, she made a deal with the devil and exacted revenge on all who inhibited her trailer park. Years past and many missing persons later, a pastor was taking his group of misfit teens home from a week long church trip when he crashed into a abandoned truck that was parked in the middle of the road. Unwitting as to where they had crashed they head for a trailer park to find a phone. A beautiful temptress answers the door and invites them to stay until they can get to a phone the next morning. With no other choice, the woman and the pastor separate the kids into groups and place them into the vacan't trailers. Feeling uneasy the teens try to go to sleep until they realize that they have visitors. Who will make it until morning?
Here is a quick character rundown:
Norma – Beautiful girl with dreams of a better life until the parks group of hellions change those plans. Made a deal with the devil and changed the parks inhabitants into rotted flesh eating zombies. Marv – Low life scumbag who is in love with Norma but he shows it by torturing her and even after death can't put out that flame. Stank – The parks butcher and acclaimed jerky maker. Possum, beef, mysterious road kill, whatever it was he made it tasty.
Loralene – This tons-of-fun beauty lives for one thing and one thing only. Meat. Roach – Guitar pickin', lyric makin', good ol' boy who can turn anything into a song and entertains the park whether they like it or not.
"Welcome to the trailer park, Bitch!"
When I was told I was going to review this film I honestly made a joke of it to my friends. The punch line was 'or I'll make you watch Trailer Park Of Terror with me!'. Never have reading a review on this film (I never do, I like my opinions to be my own) I had considerably low hopes. And for that…I am such a dumbass! This movie is a grotesque, bloody, hilarious, testament to what happens when a director knows there is more out there than horror-p*rn flicks. Ok boys, don't get disappointed just yet, there are some sex scenes. But it's the kind of sex scenes that SHOULD be in our genre. Not the gratuitous boob and vajayjay shots while bent over a tree before getting sliced and diced. The sex has a reason and thank you for that. This jaw dropping thriller has some of the best FX ideas that I have seen in a while. Plus, it's funny!
Norma is like a cross between Reese Witherspoon in 'Freeway' and Sherrie Moon Zombie in 'House Of 1000 Corpses'. If I were forced to be a flesh eating sex crazed zombie, I would want to be Norma! And when you have a dead guy singing your life, a corpse trying to get it on, and someone who knows 'Everything is better fried', you can't go wrong! So in short my faithful friends, def check this movie out! I give it 4 horns!