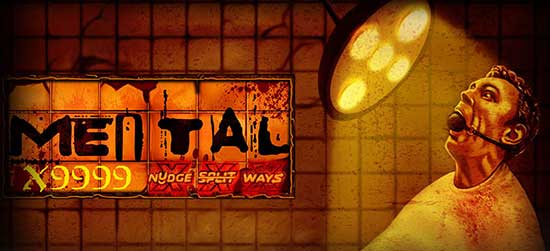 The rise of themed games isn't a recent phenomenon. In fact, many physical and online casinos have cashed in on the popularity of pop culture. This includes movies and TV shows, both of which are blueprints for casinos and developers to design engaging games based on popular societal trends.
There are thousands of themed slot machine games, ranging from Greek god-themed games to Peaky Blinders-based slot machines and a whole host of others. One increasingly popular genre of casino games is horror-themed slot games. Today we're going to explore some of the most engaging casino games we have come across – those that we will think that you, as a horror fan, will love.
Mental
The Mental slot is a new feature game and is the first of three horror-themed slot games on our list that we will explore today. The development brain behind this one has done a thorough job in filling the player with angst and dread. This really shines a light on the level of planning and design that has gone into this feature game.
This horror-themed game is what you'd expect – it's rather intense and keeps you on the edge of your seat. However, these aren't the only characteristics the game exhibits. It is also engaging and exciting. The main selling point of this game and its pivotal feature focuses on the two different modes you can set before you spin the reel. The slot game is perfectly suited and designed for mobile play, featuring a 3×3 reel structure. The gameplay is structured and loosely based on a mental institute, giving it a background setting that appeals to both the horror fan and the gambler.
The gameplay isn't too difficult to get your head around. Once you land at least three prisoner mugshots simultaneously, the free spins are activated, and the multiplier can be activated too. Every high symbol generates a cash prize, such as handcuffs, spiders or skulls. Other features can activate a free bonus round. Despite this being a new game, it is appealing and thorough, providing the horror fan with an engaging and immersive experience.
Frankenstein slot
When Mary Shelley wrote Frankenstein over 200 years ago, she never would have dreamed her fictional creation would still be so infamous in the horror genre. It is a story with crossover appeal, with fans worldwide still enjoying it.
Multiple films, adaptations and spin-off films have been made off the back of Shelley's legendary creation. This includes films such as Bride of Frankenstein, which was released over 80 years ago.
Designed and developed by NetEnt, the Frankenstein slot game is considered one of the most nerve-wracking horror-themed casino games online. This slot brings a lot of unique gameplay to the table.
This includes advanced features like linked wilds. You can activate this feature during free spins and while in the game. It can extend over two or more matching symbols. In addition, it also opens up the potential for considerable wins while participating in this engrossing slot feature.
Much like standard slot games and casino features, you can select the number of active pay lines you want to include in the game. This means that the different betting levels, coins and win lines contribute to the infinite outcomes of betting possibilities while playing this feature game. We can't recommend this one enough if you're a horror fan.
However, it is always important to note that you should gamble responsibly and not more than you can afford to lose.
Transylvania slot
No horror-themed game list would be complete without arguably the most famous horror creation of them all – Count Dracula! The theme of this game centers around being trapped in a castle, looking for an escape. Some of the features of this game include going head-to-head with vampires, unsurprisingly, and battling your way to victory. If you get a werewolf on one of your spins, this creates a wildcard game that could result in a huge win. This also applies if you land three haunted houses on the reels. If you manage to hit this combination, you set off up to 12 free spins and the potential of a staggering 10x multiplier.
This game is also designed by the guys at NetEnt, like the Frankenstein game above. Dracula is based on Universal Studios' classic 1931 cinematic adaptation of the Transylvanian bloodsucker.
These aren't the only horror-themed games we have come across, and there are plenty more to sink your teeth into online. These are just some of those we have found entertaining and believe fellow horror fans will also enjoy.