Online gambling in Portugal has taken a significant turn by creating a horror gaming experience. The horror slots are popular in giving an adrenaline rush, similar to horror movies. The use of the internet and technology has made this possible for horror fanatics to have something to smile about because they can enjoy games from as little as $0.01 to $100 and play their favorite online horror slots.
Such platforms give room for the nervous to get bold where they practice to their perfection. Online slots are fast-paced and engage players fully by creating a unique effect that is better than land-based casinos. According to our expert, Victoria Oliveira (check profile), below is a list of horror online games Portuguese enjoy at their convenience.
Blood Suckers
This is one of the creepy slots that gamblers crave because of the scary graphics. NetEnt has customized vampires and bats that bring out the frightening experience. The game is very engaging; softhearted or squeamish types should expect a chill down the spine once they get going. As the name suggests, players get to see blood and actions that scare them out of their wits.
The smiles made are out of multiple winnings, not the images displayed on the screen. Although horror fanatics enjoy more, curious players can step in and test their boldness. The online slot is exceptional and has five reels, three rows, and 25 pay lines. It is also one of the games that you will find on casinoportugal.online/ which reviews top casinos for Portuguese players.
Circus of Horror slot
The online slot is top-rated in Portugal for its ability to have 243 pay lines and five reels. GameArt developed the game. The visual graphics in Circus of Horror change simultaneously, flashing different various horror graphics. The online slot has high volatility and a 96.38% RTP. Players enjoy multiple bonuses such as free spins, Sticky Wilds and Stacked Wilds. The incredible game suits players that love horror-themed games with big jackpots.
Lost Vegas Slot
The incredible gameplay settles around a dimly lit hall of the famous Las Vegas traditional casino. The horror-comedy slot was created by Microgaming and allows players to play as a zombie or as a  survivor. Both modes create an exciting atmosphere for players. As a zombie, players experience living dead characters such as Vegas showgirl and a Zombie Elvis.
In survivor mode, gamblers use brandishing weapons to stay alive. Gamblers enjoy free spins and 243 ways to win. Players enjoy slots with as little as 0.30 to 45 per spin. They are required to get a minimum of three Scatter to activate the free spins. The horror slot ranks high due to its classic zombie theme, free spins, options to switch between survivor and zombie and four bonus features.
Frankenstein Slot
Frankenstein slot is among the scariest horror-themed slot games today. The exciting game consists of 5-reel and 20 pay line slots developed by NetEnt in conjunction with Universal Studios. The game revolves around the iconic 1931 movie that holds one of the best interpretations of the Gothic novel by Mary Shelley.
The introduction grabs the right eyeballs by displaying the epic graveyard that earned the movie a cult position. The game features The Monster, Dr. Frankenstein, Fritz, and the jar that holds the abnormal brain. The online slot has a 96.6% return to player rate, medium variance, making it safer for players who mind their budget.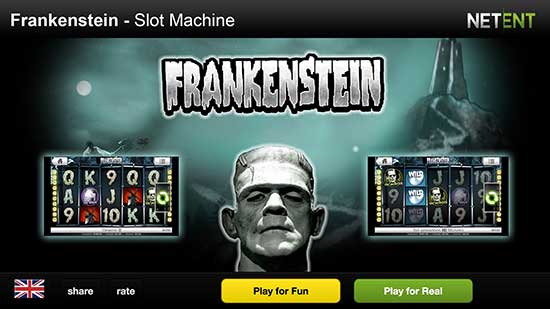 Transylvania slot
The online slots attempt to stand out from the crowd of creepy horror-themed games by incorporating creative powers that develop a unique title, bonus games, free spins, and multiplier bonuses.  Players enjoy visuals with gothic effects such as dripping candles, Bible, crucifix, stake and hammer, and a bottle of potion.
The red color sets the pace for the slot and calls for the bravest to spin the reels. Symbols include sharp-toothed vampires, a more rewarding werewolf, spider, and the haunted house.  The online slot is compatible with mobile devices; thus, players enjoy it at their convenience.
There are many reasons why people enjoy watching or playing horror slots. The sight of blood, vampires, and eerie sounds create an adrenaline-pumping fright. Both games and horror movies give the purpose to entertain and scare the audience. It doesn't matter if you prefer to play on your computer or phone. There are numerous games within the horror genre, but the above five should be on your bucket list if you would like to get entertained and scared.