Dating sites make it easy to find a compatible partner, but one of the most difficult things is choosing the right one, especially if you are looking for mature relationships. There are some preconceptions about online dating being the game for a younger audience but in reality, mature individuals are just as likely to be seeking partners on different online dating services. There are so many to choose from. Let's say after the brief google search you decided to try maturetenders platform. But how can you know if it is the right fit for you? With that being said, it might be a good idea to check out a mature tenders review that will provide an overview of what's available. Once you've decided to join, the next hurdle will be impressing the other site members. How about breaking the ice by displaying your knowledge of popular cinema? Try recommending Korean horror movies – if you meet a fellow enthusiast, you'll have so much to discuss on your first date. Here are our five current favourites.
Train to Busan
Train to Busan was a phenomenal success upon its first release in 2016, earning almost $100 million at the box office, for a basic budget of $8.5 million. Seo Seok-woo is a divorced father who is determined to make things up to his daughter after a fallout, by taking her to visit her mother in Busan. Alas, a leak at a nearby chemical plant has set in motion a terrible zombie apocalypse. There are multiple nailbiting situations as the train they are traveling on is attacked by rampaging hordes of undead in this fantastically entertaining flick.
Alive
Alive might be yet another South Korean zombie feature, but it is given an interesting modern twist that will keep you and your partner captivated on date night. Oh Joon-woo happens to be alone in his family's apartment when a horrific disease begins spreading, the primary symptom of which is that it causes anyone infected to transform into a deranged cannibal who will attack and eat anyone in the vicinity who isn't infected. Because most of the action takes place in claustrophobic settings, the tension never lapses.
The Mimic
A series of unsettling events occur that immediately set the viewer on edge. First of all, while driving into mountains at nighttime, a couple argue, before hitting a dog. The man pops its body into a trunk, but inside here is his bloodied and trussed wife. This sets in motion a captivating plot where the action remains unrelenting throughout the film's 100-minute duration. As well as the unfolding action, there are frequent disturbing voices of unseen loved ones returning from the spirit world. The unnerving feature will certainly keep you intrigued on date night.
The Host
The South Korean monster movie smashed box office records upon its first release in 2006, becoming the highest-grossing film from that country at the time. The plot centers around a US pathologist who orders his Korean assistant to dump poisonous formaldehyde into a drain seeping into a river. This causes fish to die, but also initiates the intermittent appearances of a mysterious amphibian that has a murderous intent, and begins attacking people. It might not be the most subtle of horror movies, but there's nothing like rampaging fantastical creatures that spend most of the time lurking in the shadows to keep you on the edge of your seat!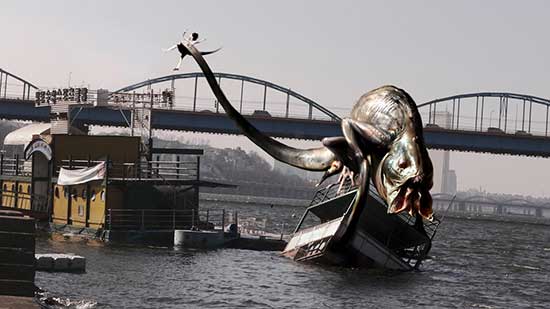 Thirst
The final choice of movies for your date evening is a good old-fashioned vampire thriller. In the storyline, the Roman Catholic priest happens to fall in love with his best friend's wife. He also dabbles in a medical experiment whilst trying to discover a vaccine for a deadly virus. Unfortunately, the only outcome of this failed enterprise is to cause him to transform into a vampire. As well as being thrilling entertainment, this film has been highly regarded by critics, winning the Jury Prize at the Cannes Film Festival in 2009. So grab some popcorn and snuggle on the couch!