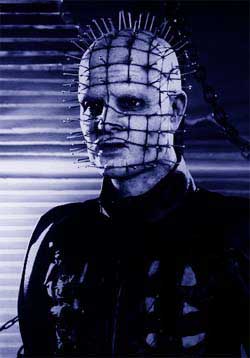 Hellraiser: Revelations follows two friends who unleash Pinhead, who becomes their master of pain. Apparently, one of the friends has a change of heart. He backs out on his oathhopingto swap himself out with one of his friend's family members. Steve kicks off the mayhem while on a backpacking trip in Mexico with his friend Nico.

On their trip the duo are presented with a choice to "experience a reality beyond current existence"thanks to the infamous puzzle box. Pinhead becomes his master.
The story continues as Nico realizes that he's commitment to Pinhead forever, and thus attempts a daring switch plan to release himself from the puzzle box. But apparently things go wrong as he's turned into "Pseudo-Pinhead."
This Pseudo-Pinhead is such a devoted servant of Pinhead, he mimics his appearance as closely as possible and revels in the pain that leads to his pleasure.
Source: arrowinthehead.com