Horror is a very diverse movie genre. It features some of the biggest flops in cinematic history, it is notorious for the subpar performances, but it also encompasses some very special films that have succeeded in building a unique atmosphere. In fact, it is for gems like these that horror fans still have faith in the genre. These films have created special worlds, which demand to be experienced as deeply as possible. A great way to expand the connection is to watch them while enjoying some CBD goodies. This will inspire you to see new facets of the stories, to notice subtle details in the cinematography, but also to immerse yourself in the atmosphere of the film. Here are 5 stellar candidates for your watchlist:
Candyman, Candyman, Candyman, Candyman… saying his name a fifth time in the mirror will summon him, or so they say around Cabrini Green. Is there any truth to this urban legend? We watch Helen find out in this gripping film spanning from the brilliantly twisted mind of Clive Barker. The cinematography, the soundtrack, the delightfully 90's feel, and the mystic presence of the Candyman make this movie a very thrilling experience, so prepare to be astonished! The story also has a very strong social component, which gives Candyman an undeniable depth. In fact, horror mastermind Jordan Pele has made a "spiritual sequel" to the 1992 film, which is coming out this year.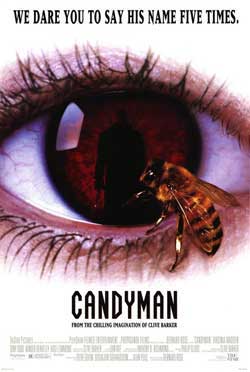 To expand your journey in Candyman's world, you can add some CBD goodies to your movie experience.  Organic CBD Nugs has some premium products that will not induce a psychedelic high. The smokable hemp flower available on their website will make you calmer and more perceptive, which will get you deeper into the atmosphere of the film.
David Lynch's Twin Peaks is probably one of the most complex worlds ever created in horror history. Exploring it requires quite a bit of commitment, as there is also a 3-season series to go through, but it's worth it, every step of the way. What makes Fire Walk with Me unique is the fact that it is a delight for the fans of the Twin Peaks series and for newcomers alike.
If you haven't seen the TV series, then this film introduces you to one of the most iconic characters in the horror genre, Laura Palmer. You get to experience her dramatic journey facing Bob, a terrifying presence that gets hold of her life. At the end of the film, you have an entire series to look forward to, as the stories of Twin Peaks continue to unravel.
On the other hand, if you've already seen the first two seasons of the Twin Peaks series, then you already know a lot about Laura Palmer. You've met her through the stories and the memories of those who loved her in the town of Twin Peaks. Each character reveals a facet of Laura's personality, and all of these put together help you understand her. But in the series, you only get to see Laura as the others saw her. In Fire Walk with Me, you finally get to see Laura Palmer herself, as she actually was.
There are two possible ways to experience it and it is entirely up to you how you want to shape your Twin Peaks journey. It will be worth it every step of the way, we promise. To make this even more exciting, keep in mind that you also have The Missing Pieces to look forward to, which features scenes cut from the original version of the film.
Gore Verbinski's The Ring is a remake of Hideo Nakata's Ringu, but, unlike so many other remakes, it has managed to surpass the original film precisely by creating a special atmosphere that draws the viewers in from the very first scene. The film unfolds at a very rapid pace, as Rachel Keller, portrayed by Naomi Watts, has seven days to find and stop Samara Morgan before she and her son die at her hand. The colors, the scenery, and the soundtrack help create a very damp and moist mood, which is revealed to be closely connected to Samara's character. This particular atmosphere it creates makes this film unique in the horror genre. Prepare for a horrific experience, and, for your own peace of mind, shut down your phone during the movie.
These three films are cult classics and each of them creates an atmosphere that you will surely remember for a long time. So sit back, relax, and hit play, if you dare! You're in for a chilling ride!