Whilst the likes of bingo Paypal and most gambling sites and slots have a more relaxed feel to them, horror themed slot needs to be entertaining enough for you to play it, but also not be too scary so you fear it too much. The combination of serious and fun needs to be correct and here are five slots that get the mix spot on.
Blood Suckers
Inspired by the theme of vampires, Blood Suckers raises the adrenaline and the chances of earning some good money. Five reels and 25 paylines are included with ghoulish sounds to accompany them.
A gory bonus game enables players to slay vampires to earn cash rewards whilst the impressive return-to-player (RTP) of 98% ensures it's one of the most popular slots to play.
Day of the Dead
Based on a Spanish carnival that goes by the name of El Dia De Muertos (the Day of the Dead in English), this slot features a party of skeletons. One of the most entertaining slots out there, Day of the Dead boasts upbeat and lively music alongside food, candles and jiving dead people with up to 96 free spins and special features of wilds and big multipliers.
A national celebration holiday of Mexico for those that have passed on, Day of the Dead has 720 possible wins, making the slot sombre but satisfying.
Lucky Count
A more heartily horror slot, Lucky Count still has a typical vampire theme like Blood Suckers, but its basic cartoon images and a lighter atmosphere ensures that there is little to scare a user despite the use of blood goblets and haunted castles.
A bonus round of three multipliers and 40 bonus free spins means there is plenty to sink your teeth into – if you'll pardon the pun.
Ghoul's Gold
The name itself highlights a comedic aspect of this slot with Ghoul's Gold presenting the user with a bonus round, a plethora of wilds and a progressive jackpot all whilst trying to prise the cash away from an ill-tempered ghost.
A supernatural theme and a three-reel slot, Ghoul's Gold is unlike many other three-reel games in that not all of the maximum coins have to be bet to earn the progressive jackpot.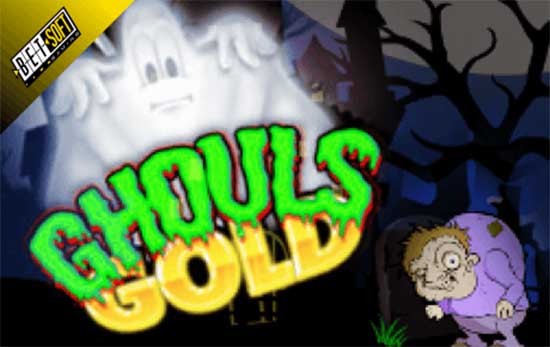 Under the Bed
Its title says it all; a more jovial take on those pesky monsters living under the bed, this slot has 3D imagery, giving the game a much more entertaining feel to it.
Under the Bed has five reels and 30 paylines as well as good graphics which gives this slot an almost cartoon feeling to it rather than a betting game.