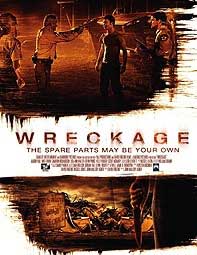 Aaron Paul, Cameron Richardson (below), Lisa Ann Walter, Scoot McNairy, Bevin Prince, Mike Erwin, Kelly Kruger, Jordan Yale Levine, Roger Perry, Travis Aaron Wade, Justin Allen and Ruthanne Gibson all star in John Mallory's new flick Wreckage.
Well after their car breaks down during a drag race in the middle of nowhere, and Jared, Kate, Rick, and Jessica find themselves stranded in a wreckage yard.
Meanwhile, the local sheriff's office receives notice that there is an escaped convict prowling the streets. As the thriller unfolds, the teenagers start to mysteriously disappear one by one.
[dailymotion]http://www.dailymotion.com/video/xebskb_wreckage-trailer_shortfilms[/dailymotion]
Source: arrowinthehead