You're probably having the usual long mundane day at the office and just seek the incentive to keep you on your toes and give you the thrill of a lifetime. What better way to keep yourself entertained than a game that might set about haunting you at the end but still give you the thrill you seek for? Oh, and if you get too scared easily, you can still opt for a more laidback thrill with Betway online betting. If you don't – keep on reading.
Scary games are a dime a dozen. However, those really scary games are a tad rare to find. In this piece, our friends at Betway have rounded up some of the best ever launched. Simply find that secluded area, don those headphones and enjoy the spooks.
Resident Evil 7
A departure for the long-running series, Resident Evil 7 gives off an even more eerie action. Set up in the haunted Baker's mansion in Louisiana, it gives up the third-party camera and the usual combat zone last seen in Resident Evil 7.
Here, most of your focus will be creeping around this house, evading Jack Baker and his disturbed family while trying to save your wife. So instead of getting to face and blow off a cavalcade of zombies, you get to play cat-and-mouse with the Baker family whose sole goal is to hunt you down.
IMSCARED
To go into heavy details of this game will be to spoil a lot of things. What could be said of this game though is that it gives off itself as a "metahorror" game that will be sure to keep you on your toes.
The game thrives on surprises and trickery. Know that this game leans towards the 90s horror games and themes with its general makeup and file-bugging mechanism. Also don't expect that you'd jump through various scares to get to your destination, after all that's what most games make you do.
Simply know that it plays with your emotions by leaving you in a confused world and aggravating you. Honestly, you might feel cheated at the end of the game but this game is guaranteed to keep you off your seat.
Amnesia: The Dark Descent
If you were thrilled by the horror of the Penumbra series, wait till you get to the spooky world of amnesic Daniel who wakes up in a castle that looks practically deserted at the beginning.
This game gives of a horrific intense atmosphere with background eerie sounds, rumbles behind the walls of the castle and nightmarish grotesque figures through the candlelight. Of course, you get your monster all fit to creep you out and chase you through the corridors and keep your heart racing right on your seat.
Though these figures might be less scary once you real familiar with the intricacies of the game but Dark Crescent is one of the games of horror that is sure to keep you thrilled and quite scared when played in VR mode.
Silent Hill 2
If you found the original Silent Hill movie a tad unsettling, I'm certain its second installment would define the word disturbing to you. Here, you get to walk through the deserted town of Silent Hill as James Sunderland seeking answers to a lot of questions.
This game majorly plays with your mind especially as you walk further into town to be confronted by monsters like Pyramid Head and nurses that just refuse to stay dead. However, the real horrors come to play when James' inner demons a chance.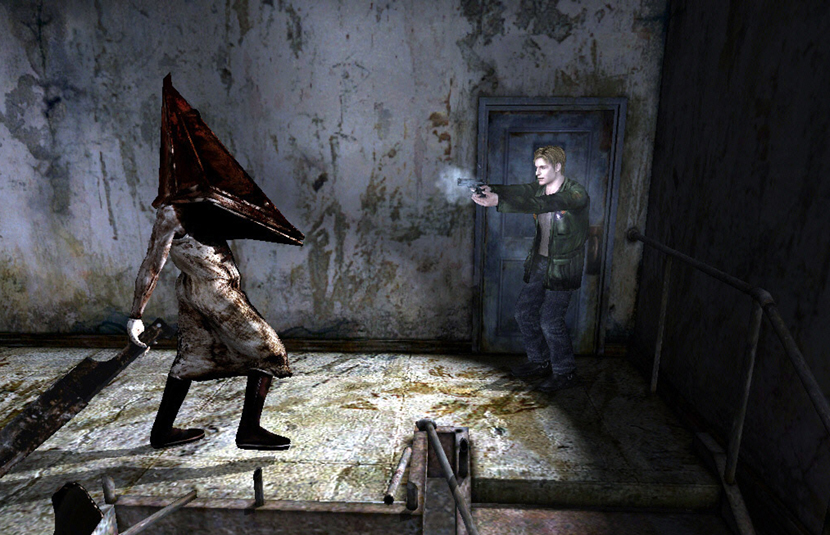 Stories Untold
This game simply weaves around four imaginative horror experiences, that is bound to keep you awake at night or at least make sure you keep the lights on before going to bed. Keep in mind that each experience is credited with different kinds of retro tech that will be sure to give off that spooky feeling you're after.
To give off full details of the game would be to spoil it as it also thrives on your surprises. However, you'd see the first episode open to a rather old CRT monitor showing off a horror text. Not long after you see that, the whole environment starts to change abruptly and mirror your actions.
No real gaming controls are needed. What you get is a bulk of imaginative noises and eerie sounds that would keep you so engrossed in it that when you'd nearly get off your chair when interrupted.