SPF 69 Entertainment presents HORRORHUT!
HorrorHut is an online entertainment show featuring view submitted feature length and short films. HorrorHut's style is a tribute to the late night horror shows of yesteryear. Our hosts showcase independent work from filmmakers all over the United States. Between breaks, the hosts discuss the films in more detail, check out unique products from horror artisans, interview guests and so much more!
"After 11 years, over 10 different sets of hosts, script rewrites, set constructions, set destruction, and even creative differences, I'm excited to finally announce that HorrorHut is debuting. To say this has been a passion project is an understatement. The fire to get this kicked off again after a year hiatus was that one of my biggest inspirations return to horror hosting, Joe Bob Briggs. His revival on Shudder, the film time I was actually able to "watch live", made me remember why I fell in love with the concept and why I wanted to do something in tribute to Monstervision, but also something was was unique." -Patrick Farmer, Creator and Producer
HorrorHut is hosted by Kara Petterson and Alejandro Villanueva
The show is produced by Patrick Farmer, Ali Berry, Dakota Thomas and Shelby Jones
The first episode is available now at www.horrorhutshow.com. It features five short films from directors Waylon Bacon and Dakota Thomas.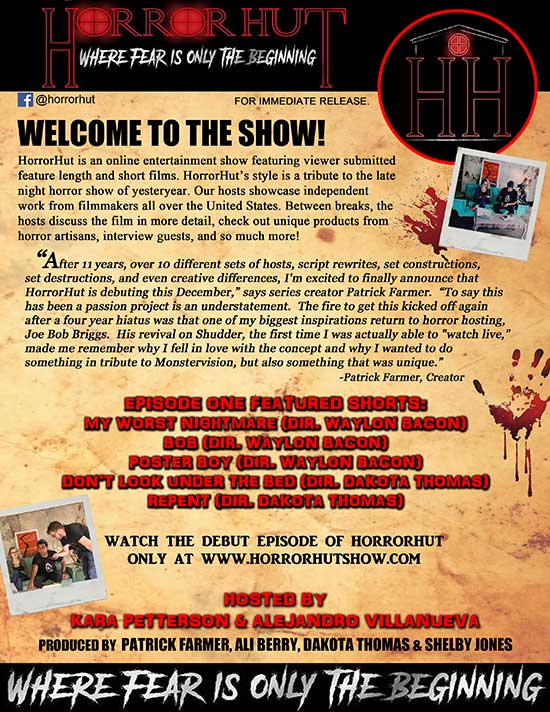 Featured Shorts:
My Worst Nightmare (dir. Waylon Bacon)
Bob (dir. Waylon Bacon)
Poster Boy (dir. Waylon Bacon)
Don't Look Under the Bed (dir. Dakota Thomas)
Repent (dir. Dakota Thomas)