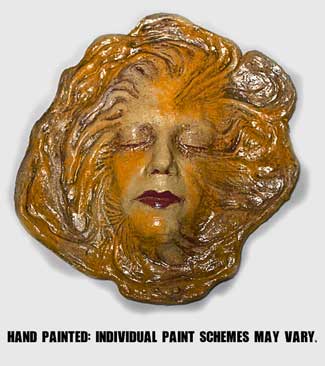 Anomaly Effects, the special make-up effects lab based in Western New York which has worked on such films as THE PERFECT HOUSE and the currently lensing zombie anthology DECAYED, is now taking Pre-Orders for the "Limited Edition Debbie Rochon Floating Face Replica" from Gregory Lamberson's film SLIME CITY MASSACRE. The replica is cast from the actual mold used for the film, sculpted by R,J. Sevin. Each unit is cast by Andrew Lavin, hand painted by Arick Szymecki, and comes with a numbered Certificate of Authenticity signed by Debbie Rochon. Only 1,000 units will be produced.
In SLIME CITY MASSACRE, Rochon portrays Alice, a recovering drug addict who's carved out a survivalist existence for herself in the post apocalyptic ruins of Slime City. When Alice imbibes "Zachary Devon's Home Brewed Elixir" and consumes some "Himalayan Yogurt," she melts into a pool of orange slime and inhabits an old bathtub, her disembodied face rising from the goo to communicate with her lover, Mason (portrayed by Lee Perkins). The Debbie Rochon Floating Tub Face Replica was used in these startling scenes.
"I am thrilled to share my face with all the Slime Heads out there!" says Rochon. "It's an honor to be involved with Slime City Massacre the movie, and now to be able to sell my Slime likeness from one of the film's finest moments is a dream come true!"

"I love RJ's sculpture," says Lamberson. "The melted slime along the edges of Debbie's face is very reminiscent of some of the creatures in FROM BEYOND. Anomaly Effects has created a very beautiful, reasonably priced product for collectors, Debbie's fans, and SLIME CITY fans."
Anomaly plans to ship the first batch of faces in October, just in time for Halloween.
Anomaly FX – www.anomalyfx.com/
 Ordering Info – www.anomalyfx.com/store
 Debbie Rochon – www.debbierochon.com
Greg Lamberson – www.slimeguy.com